Umananda Temple – Introduction
Umananda Temple is an example of rich Indian tradition and heritage. Dedicated to Lord Shiva, the temple is situated on the Peacock Island in the middle of the Brahmaputra River, Umananda Temple is one of the most famous ancient temples in Guwahati, the temple gives a blend of holy vibes, natural scenery with a sense of historical touch.
History of Umananda Temple
The temple was earlier known as Umamanda Devloi, which means 'the abode of Lord Shiva.' The temple was built by Bar Phukan Gadadhar Singh in 1694 AD. The order was given by Raja Gadadhar Singh, one of the greatest kings of the Ahom kingdom to build this temple.
When the Mughal rule was established in Kamarupa, it is said that the Umananda Temple received donations from the Mughal emperors, Jahangir and Aurangzeb. Later, in 1897, an earthquake destroyed it, and a wealthy local merchant rebuilt it for devotees to worship.
Also Read: Kanipakam Temple, Chittoor: History, travel guide and how to reach
Architecture of Temple
The Umananda Temple is intricately designed to be accessed via a winding flight of stairs. The temple is dedicated to Lord Shiva, but it also has shrines for ten other Hindu deities and religious figures.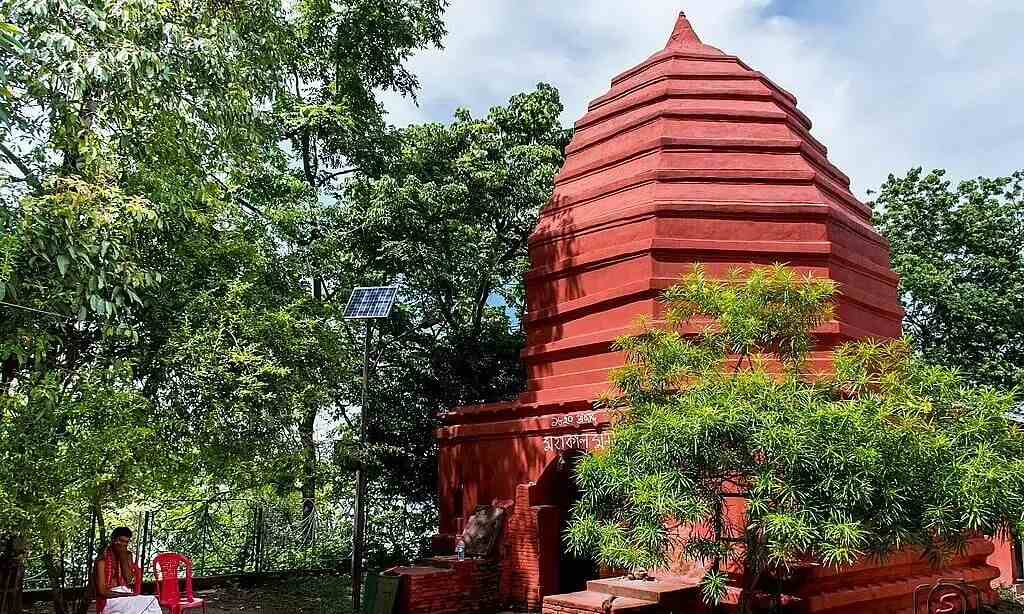 Idols of Lord Surya, Lord Ganesha, Lord Shiva as well as the ten avatars of Lord Vishnu are also situated in the inclusive Umananda temple complex. The temple truly epitomizes the mastery of the great Assamese craftsmen and architects. The Sanctification surrounds the rock which is believed to be the resting place of Lord Shiva where he sat and meditated.
Also Read: Kurudumale Ganesha Temple, Kolar: History and Travel Guide 
Tourist Attraction near Umananda Temple
The surroundings of the Umananda Temple are beautiful, making it an ideal place for nature lovers. Apart from Lord Shiva, there are idols of ten other Hindu deities in the Umananda temple. Apart from being one of the top places of worship in Assam, the temple is a great place to sit back and healing with the beauty of this place. Apart from this temple, there are endless tourist attractions nearby which attracts the tourist. Kamakhya temple, Navagraha Temple, Nehru stadium, Assam State Museum, Basishta Temple, Guwahati Planetarium, Guwahati war cemetery, Wildlife Sanctuary are some of the attractive tourist places near this temple.
Best time to visit this Temple
October to March is the best time to visit this temple. For the best experience, visit the temple during Maha Shivratri, as it is celebrated with great pomp here. This festival is of utmost importance here, which celebrates the marriage of Lord Shiva with Goddess Parvati.
Also Read: Kodungallur Bhagavathy Temple – History, darshan and how to reach
How to reach Umananda Temple
By Train- You can easily reach this place by train. Guwahati has a major railway junction from where you can get trains for almost all regions of India.
By Air- You can also reach here by aeroplane. Guwahati has an international airport located just 15 km from the city. Here you can get flights to almost every region of the world.
By Road- You can also reach here easily by taking any taxi or bus. As Guwahati is located at a distance of 15 km from Dispur, 98 km from Shillong, 107 km from Udalguri, 30 km from Sualkuchi, 350 km from Kohima, 485 km from Imphal.
Subscribe our TFI Dharma YouTube channel to watch Devotional videos because we are here to serve Sanatana Dhrama: TFIDHARMA