Poicha Nilkanth Dham Temple – Overview
Nilkanth Dham Temple is a beautiful and attractive temple dedicated to the Lord Nilkanth. This temple is situated in Poicha, Gujarat, which is the west part of India. Nilkanth Dham has been constructed on the banks of river Narmada in Poicha.
This temple is also known as Swaminarayan Temple. Lord nilkanth dham temple has been built by Swaminarayan Gurukul of Rajkot, a replica of this temple that is the second model of the temple has been built in Patdi, it is known as Mini Poicha. Poicha Dham Temple was constructed in the year 2013. In 2014 this temple was opened for tourists and devotees.
Architecture of Temple
The architecture of Poicha Nilkanth dham, temple is built in Hindu style. Nilkanth temple is built in an area of ​​about 105 acres. The temple is divided into two parts namely Nilkanth Dham and Swaminarayan Temple. A huge statue of Lord Nataraja is installed at the entrance of the temple. A big and beautiful lake has been built inside the campus of the temple.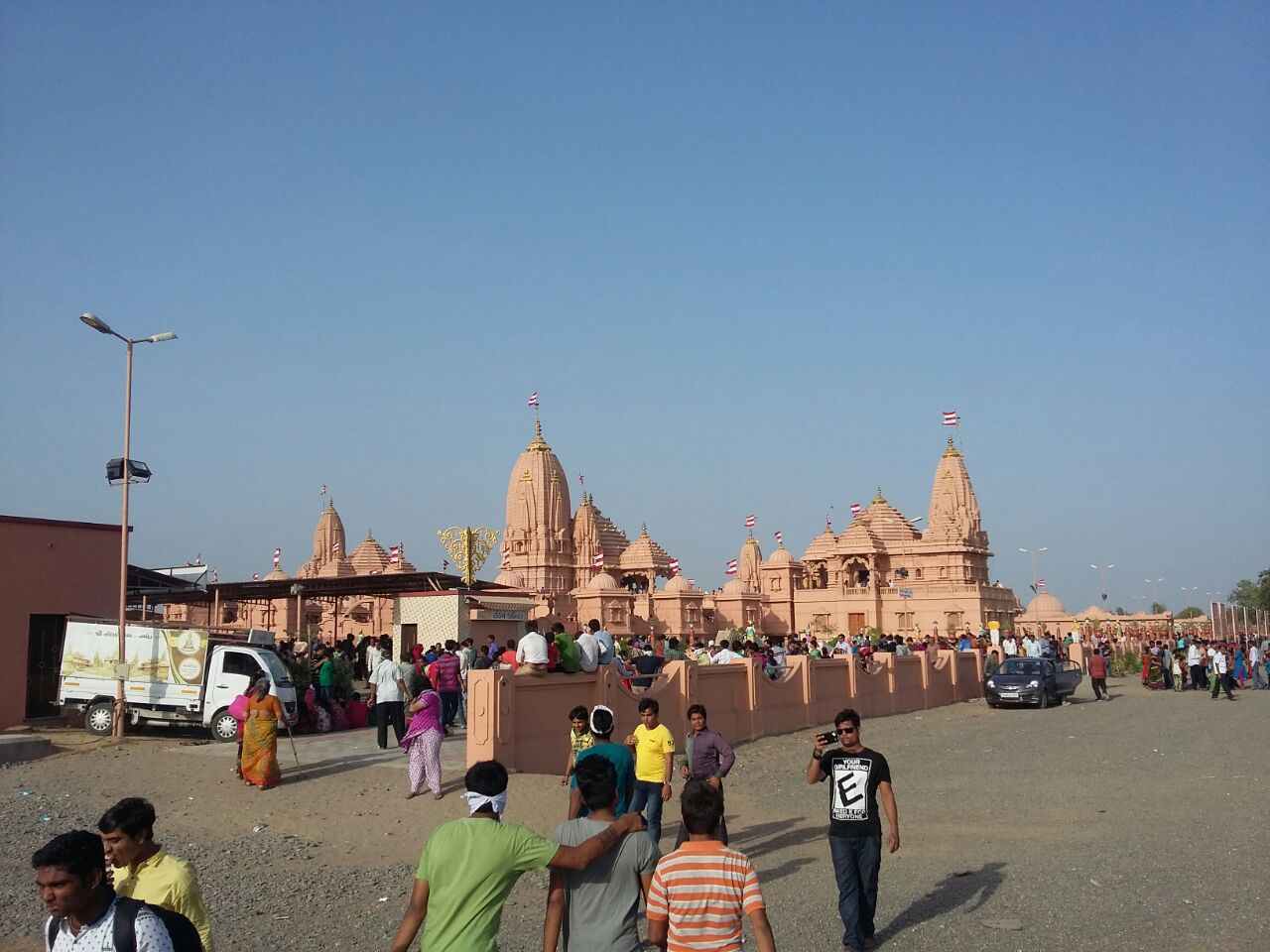 Also Read: Ammapalli Temple, Hyderabad: History, travel guide and how to reach 
Best time to visit Poicha Nilkanth Dham Temple
Poicha Nilkanth Dham Temple can be done at any time of the year. Nilkanth Dham is built on the banks of river Narmada that's why you can come to visit this temple in any season. This temple is at such place in which you will not face any problem related to. If you go to Nilkanth Dham in the summer season, you do not feel the heat because of the Narmada River near the temple.
Food and shopping arrangements in the premises of temple
Very good arrangements of food have been made in the temple for tourists and devotees in Swaminarayan Temple. But for temple food you have to pay some fee which is less than private hotels. Apart from this, a food court has also been made at this place where tourists can buy fast food. This facility has been made available for devotees and tourists who came to visit this temple. Shopping center is also available for tourists to shop in the premises of Poicha temple.
Also Read: JK Temple, Kanpur History, Travel Guide and how to reach
How to reach Poicha Nilkanth Dham Temple
By Air- You can easily reach Nilkanth Dham temple by air. The nearest airport to Nilkanth Dham is located in Vadodara. Vadodara airport is situated at a distance of about 66 km from Nilkanth Temple. After reaching the airport, you can take a private taxi or rickshaw to reach Poicha temple.
By Train- You can also easily reach Poicha Nilkanth Dham Temple by train. The nearest railway station of Nilkanth Dham is Rajpipla, which is located at a distance of about 13 km from Nilkanth Dham.
By Road- You can also reach easily Nilkanth Dham by road as the road to Poicha Dham is very well connected to other cities of country. Nearest bus stand of Poicha is in Rajpipla. You can travel by bus from other cities. From Rajpipla you can take help of private vehicle to reach Neelkanth Temple.
Also Read: Umananda Temple: History, tourist attractions and how to reach
FAQs
How much time required to visit Poicha Temple?
It takes about 7 to 8 hours to see Poicha temple completely. If you stay in this temple for the night then it will be very good for you because you can experience the beauty of the light show of the temple and the peace of the night.
What are another Attractions near Nilkanth Dham Swaminarayan Temple?
Kuber Bhandari Temple which is at a distance of 0.98 km and Shri Narmadeshwar Shri Laxmi Yantra Temple which is at a distance of 4.89 km are the two most important attractions near the temple.
Subscribe our TFI Dharma YouTube channel to watch Devotional videos because we are here to serve Sanatana Dhrama: TFIDHARMA