Tirupati Balaji Temple Darshan 
Tirupati Balaji Temple is located in Chittoor district of Andhra Pradesh state. Tirupati Lord Venkateswara Temple is one of the most visited temples among all pilgrimage centers present in India. In this article we are going to talk about Tirupati Balaji Darshan, travel guide and how to reach.
Tirumala which is one of the seven hills of Tirupati is also mentioned in the ancient Vedas and Puranas. An 8 feet high idol of Lord Venkateswara can be seen in this temple. Sri Venkateswara Temple is said to be a temple of seven hills spread over an area of ​​26 kms.
The construction of Tirupati Balaji started in 300 AD. From time to time many emperors and kings have played an important role in the construction of this temple. The main role in it was of the Maratha general Raghoji Bhonsle in the 18th century. Tirupati became the main center of Vaishnavism in the fifth century.
Also Read: Vajreshwari Temple Chamba History, travel guide and how to reach
Architecture of the Temple
The temple has been built in Dravidian architecture. Its construction work was done from 300 AD. The sanctum sanctorum of the temple is called Ananda Nilayam. In it Lord Venkateswara is in standing posture and facing east. The idol of Lord Vishnu in Tirupati Balaji temple was not made by anyone but has appeared from the ground itself.
The three entrances to the temple lead to the sanctum sanctorum from outside. Mahadwar is called as Padikavali. 50 feet, five-storied temple towervis built over the main gate of the Temple. The second entrance is provided through Sampangiprakaram.
In that a three storied gopuram has been constructed over the vendivilli. It has seven Kalams on its top. Bangaruvili is called the Golden Gate or the third gate. This gate enters the sanctum sanctorum directly. On either side of the gate are two tall copper statues of the gatekeepers Jaya-Vijaya.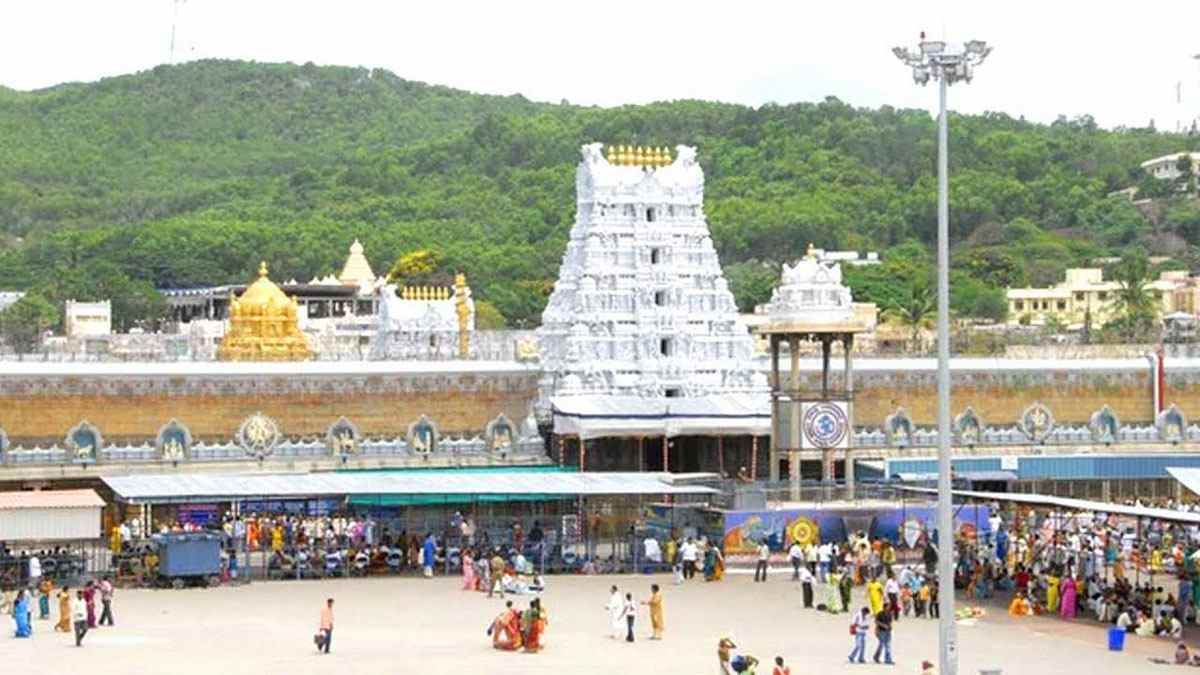 Also Read: Hoysaleswara Temple Karnataka history, travel guide, and how to reach
Best time to Tirupati Balaji Darshan visit
Tirupati temple is full by tourists throughout the year. But the best time to Tirupati Balaji Darshan visit is from September to February. Tirupati is not said to be good to visit in the summer season. The winter season is ideal for sightseeing and visiting temples. Because at that time here the weather is pleasant. That time marks the beginning of Brahmotsavam, one of the auspicious festivals of Tirupati in September.
Why Hair is donated to Tirupati Balaji Temple?
The tradition of donating hair in Tirupati balaji temple is very old. According to Hindu belief, the reason for giving hairs is that Lord Venkateswara repays the debt taken from Kuber. It is believed that Lord Venkateswara gives you ten times more than that price of hair that we give there. The tradition of offering hair in Balaji temple Tirupati is called Mokku. Every year 20 thousand people donate their hair here every day.
Also Read: Thousand Pillar Temple: History, Travel guide and how to reach
How to reach Tirupati Balaji for Darshan
By Train- Tirupati Railway Station is well connected to all major railway stations in South India. Tirupati has 3 railway stations: Renigunta, Tirupati Main and Anantharajupet. Many express and superfast trains run from there to major cities of the country. You can hire a bus or a taxi from here to reach your preferred destination in the city.
By Road- Traveling by road can be a very thrilling experience for you. Because Pune, Bangalore, Delhi and Bangalore are very well connected by road. Tirupati has regular bus services to nearby cities in the states of Andhra Pradesh, Karnataka and Tamil Nadu.
By Air- The nearest airport to Tirupati is located at Renigunta which is at 15 km from the main city. Ranigunta airport has been made international level airport by the central government. From there, direct flights are available for major cities like New Delhi, Visakhapatnam and Hyderabad. You can easily reach temple from here by taking the help of a bus or a cab.
Subscribe our TFI Dharma YouTube channel to watch Devotional videos because we are here to serve Sanatana Dhrama: TFIDHARMA