Rani Sati Temple, Jhunjhunu – Overview
Rani Sati Temple is a very famous Hindu pilgrimage site located in Jhunjhunu district of Rajasthan. In this temple a large number of devotees and tourists come every day to pay obeisance to Goddess Sati.
Rani Sati Temple is one of the few temples in India which is dedicated to a particular person rather than a deity. The temple is situated on the hills of Jhunjhunu which also offers a panoramic view of the entire city which adds to the charm of the temple.
In Hindu beliefs, it is believed that Queen Sati immolated herself after the death of her husband. Since then, Rani Sati is famous in the history of Rajasthan by the name of Dadiji. Rani Sati is also called by other names like Narayani Devi and Dadiji by the devotees.
Rani Sati Temple Timings
| | |
| --- | --- |
| Timings | Darshan/ Aarti Details |
| 5:00 am | Temple opening hours, Aarti |
| 5:00 am -12:45 pm | Darshan |
| 12:45 pm | Aarti |
| 1:00 pm | Temple closing Hours |
| 1:00 pm – 3:00 | Temple remains closed |
| 3:00 pm | Temple reopens |
| 6:00 pm (around) | Sandhya Aarti (changes with sunset) |
| 6:00 pm – 9:45 pm | Darshan |
| 9:45 pm | Sayan Aarti |
| 10:00 pm | Temple Closing Hours |
History of Rani Sati Temple
If we look at the history of Rani Sati Temple Jhunjhunu, it takes us back about 400 years from today. According to the evidence and legends found in the temple, the presiding deity of the temple is Rani Sati who was a Rajasthani female queen.
The real name of Rani Sati was Narayani which was named after her birth. It is believed that the husband of Narayani Devi or Rani Sati is killed during a war, after which Rani Sati avenges her husband's death and commits Sati along with her husband. After which people also started considering Narayani Devi as the form of Adi Shakti. In this way, gradually people's devotion towards Narayani Devi increased and she was worshiped as Rani Sati.
Also Read: Marudhamalai Temple, Coimbatore, Timings, Travel Guide and History
Architecture of this Temple
Jhunjhunu Rani Sati Mandir is a grand temple situated on the hills of Jhunjhunu which is also a center of attraction for its architecture. The interiors inside the temple are decorated with exquisite frescos and glass mosaics that depict the entire history of the place.
The Rani Sati Temple complex also has Hanuman Temple, Sita Temple, Thakur Ji Temple, Lord Ganesha Temple and Shiva Temple. There are also twelve small Sati temples in the main temple. A huge statue of Lord Shiva is situated at the center of the complex and is surrounded by lush green gardens.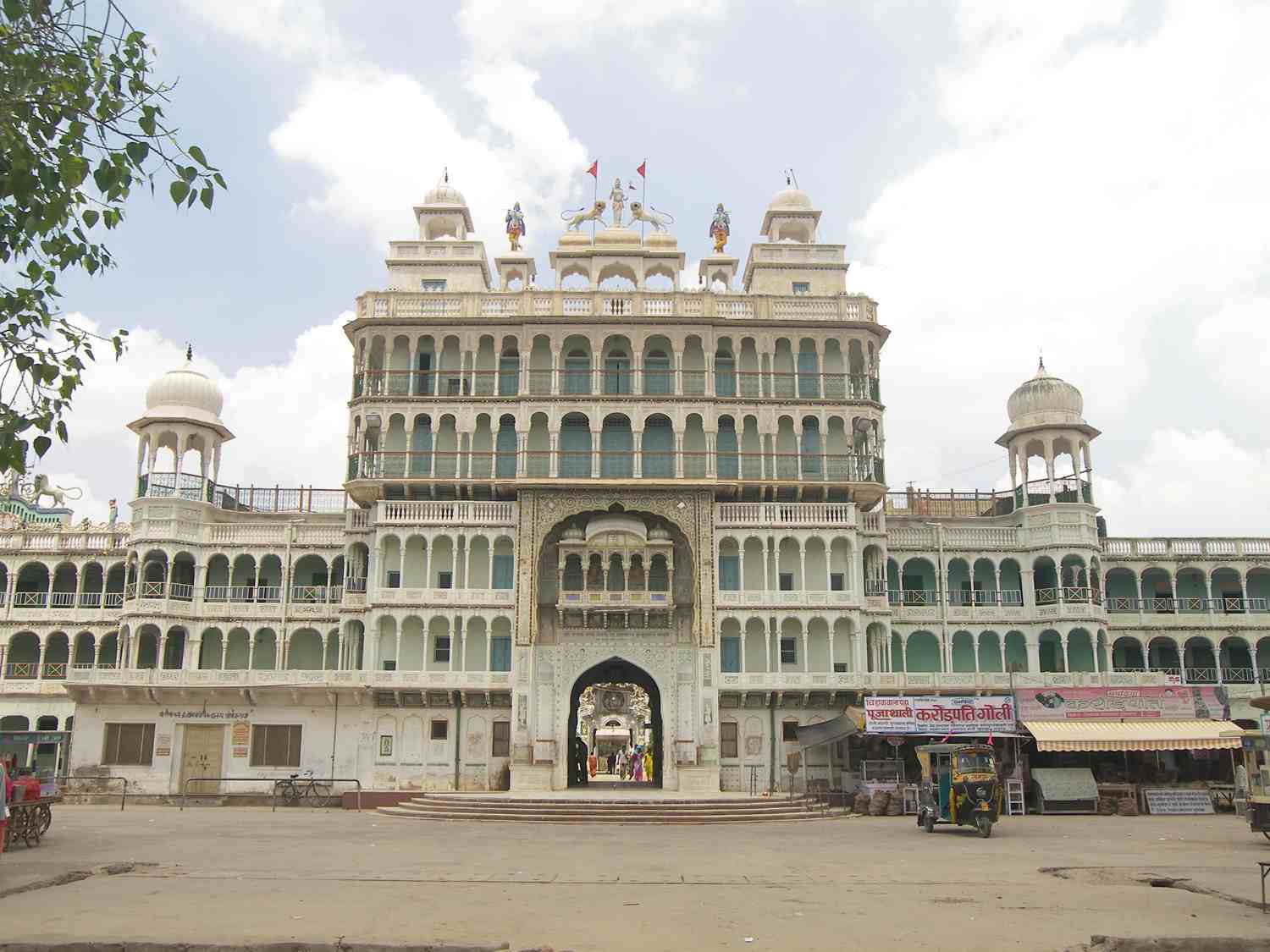 Tourist attractions near Temple
Along with this, Khetri Palace, Lohargal, Modi and Tiberwal Haveli are also another famous tourist places to visit in Jhunjhunu. You can also explore these places when you visit Mandir.
Also Read: Laxminarayan Temple, Delhi: Timings, History, Travel Guide and How to reach
Best time to visit Rani Sati Temple
You can visit Jhunjhunu at any time of the year, but if we talk about the best time to visit Rani Sati Mandir Jhunjhunu, then it is considered to be in the winter season after the rains. During this time the weather of Jhunjhunu is quite pleasant and travel friendly.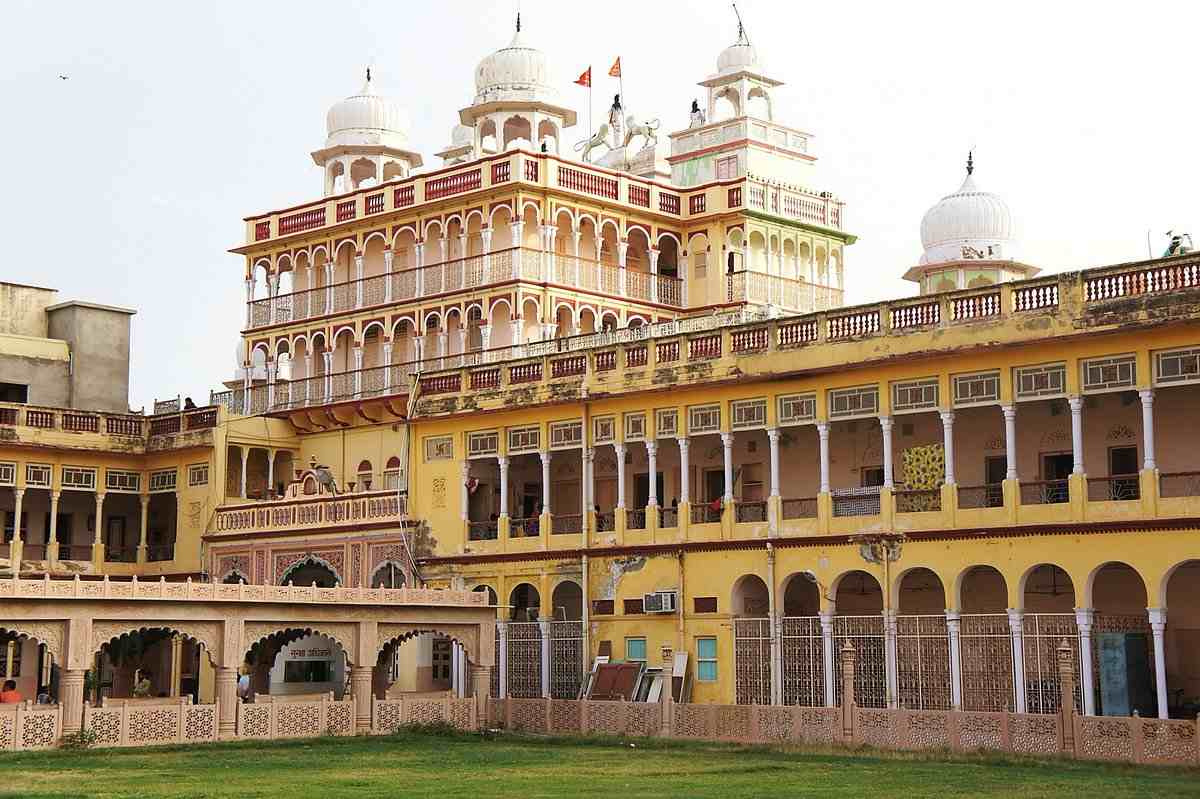 Also Read: Poicha Nilkanth Dham Temple – History and Travel guide
How to reach Rani Sati Temple, Jhunjhunu
By Air- There is no direct flight connectivity to Jhunjhunu. To travel with flight, you have to take flight only for Jaipur. Jaipur Airport is the nearest airport to Jhunjhunu which is located at a distance of about 185 km from Jhunjhunu. From here you can easily reach this temple by using local bus or taxi.
By Train- Traveling to Temple by train is the most preferred as Jhunjhunu has its own railway junction which is located at a distance of just 6km from Temple. You can easily reach to Temple in about 20 minutes by auto, taxi or other local transport from outside the railway station.
By Road- Traveling to Rani Sati Temple Jhunjhunu by road is also very easy and convenient because Jhunjhunu is connected to almost all the cities of Rajasthan by road. Buses were runs from most of the major nearby cities for Jhunjhunu, through which tourists can easily reach Jhunjhunu. You can also reach here by your personal car or by taxi.
Subscribe our TFI Dharma YouTube channel to watch Devotional videos because we are here to serve Sanatana Dhrama: TFIDHARMA