Laxminarayan Temple, Delhi – Overview
With a glorious history of nearly 80 years, Birla Mandir is one of the oldest architectural marvels of Delhi. Laxminarayan Temple is Located near west of Connaught Place area. The temple is completely dedicated to Lord Vishnu or Lakshminarayan, who is the preserver of the world.
Laxminarayan Temple is also famous by another name Lakshminarayan Temple. The timeless paintings, motif designs and white marble splendour here are breath-taking. Lord Vishnu is among the epics Brahma, Vishnu and Mahesh, the supreme powers of the universe.
History of this Temple
Built in the year 1933 by the Birla family, Laxminarayan Temple is now one of the famous places in Delhi. Maharaj Udaybhanu Singh laid the foundation stone of this temple, and the entire construction took place under the guidance of Pandit Vishwanath Shastri. After the construction was completed, a yajna gave the temple a spiritual glory, which was concluded by Swami Keshav Nandji.
The Delhi Lakshmi Narayan Temple is the home of Lord Narayan, standing with his consort Goddess Lakshmi and that is the reason for its name. During 1933 to 1939, the famous industrialist of Delhi, Baldev Das Birla along with his sons built this popular religious place. And it was inaugurated by the Father of the Nation, Mahatma Gandhi. And people of all castes and creeds can visit this holy temple which is now the pride of Delhi, the capital of India.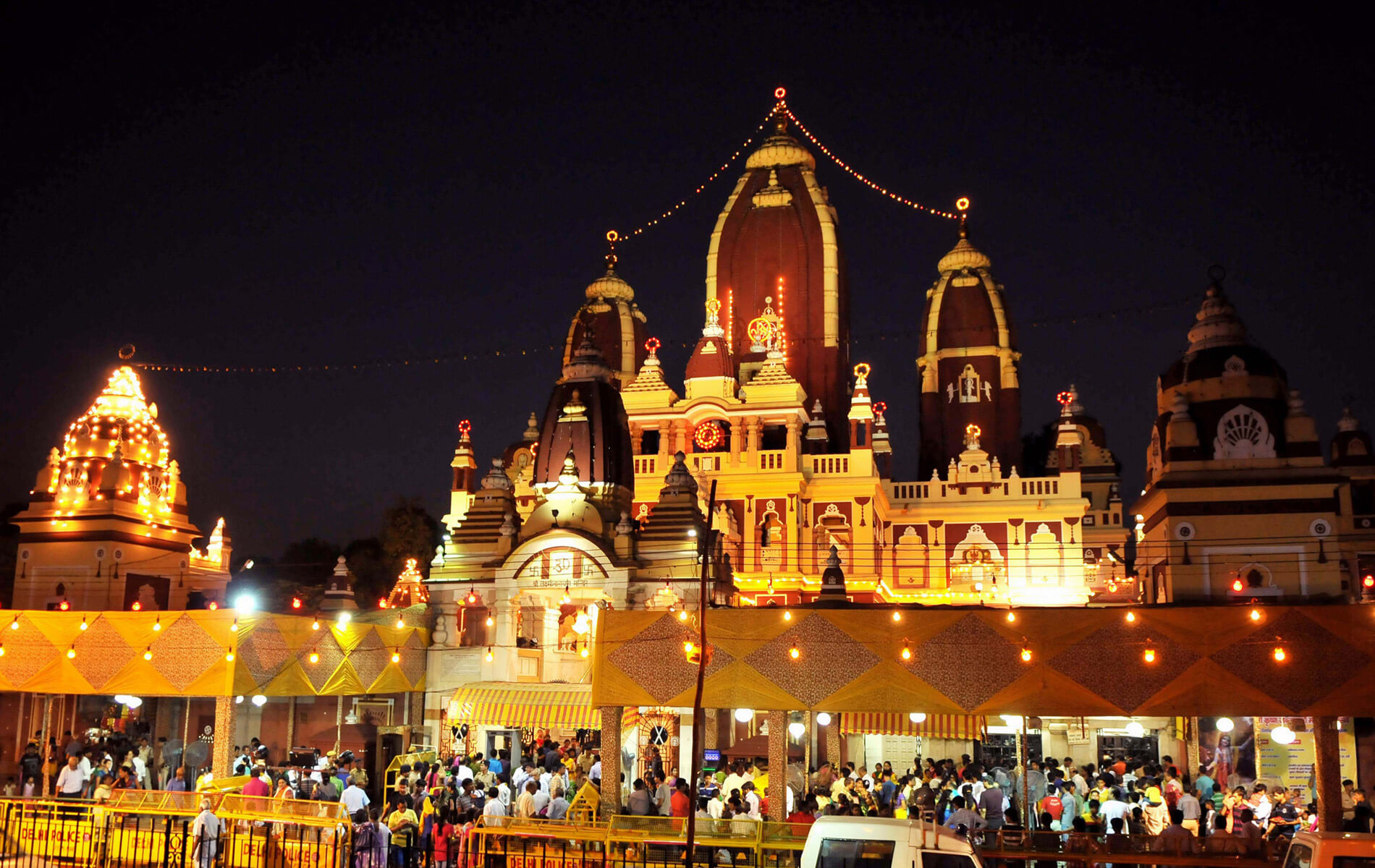 Also Read: Kaleshwar Mahadev Mandir Paragpur, Timings, Travel Guide and how to reach
Laxminarayan Temple Timings
Day
Timing
Monday
4:30 am – 1:30 pm
2:30 pm – 9:00 pm
Tuesday
4:30 am – 1:30 pm
2:30 pm – 9:00 pm
Wedesday
4:30 am – 1:30 pm
2:30 pm – 9:00 pm
Thursday
4:30 am – 1:30 pm
2:30 pm – 9:00 pm
Friday
4:30 am – 1:30 pm
2:30 pm – 9:00 pm
Saturday
4:30 am – 1:30 pm
2:30 pm – 9:00 pm
Sunday
4:30 am – 1:30 pm
2:30 pm – 9:00 pm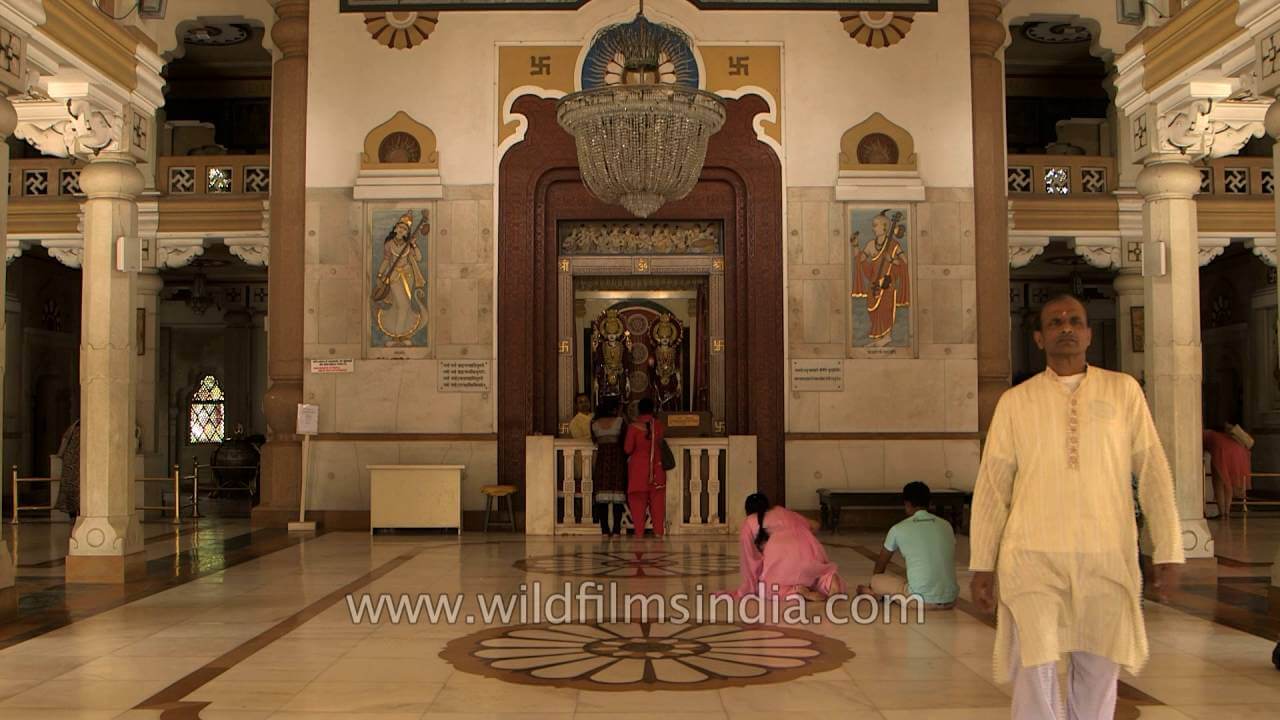 Also Read: Sharda Mandir Satna, Timings, History, Travel Guide and How to reach
Place to visit near this Temple
Gurudwara Bangla Sahib
Gurudwara Bangla Sahib is one of the famous Gurudwara located in Delhi. People come from far and wide to pay obeisance at Gurudwara Bangla Sahib located in Connaught Place. Even people from different countries visit this place of worship to attain peace. There is a lake in the middle of the Gurdwara. Here langar is serves to around 25-30,000 people daily. It is one of the best places to visit in CP with family.
Madame Tussaud Museum
Madame Tussaud is a museum in Delhi where you will see wax figures of people ranging from Bollywood stars to sports masters, leaders of history, Hollywood stars, musicians and more. If you want to have a new experience while staying in Delhi, then you must visit Madame Tussauds in Delhi. You can have a unique, memorable experience here by capturing perfect shots with your favorite stars.
Jantar Mantar
You must visit Jantar Mantar near this Temple. This historical building was built by Maharaja Sawai Jai Singh of Jaipur to know the time in a day, as it was possible only by tracking the movement of the sun. To know the exact date and time, you must understand the astronomical instrument kept at Jantar Mantar in Connaught Place.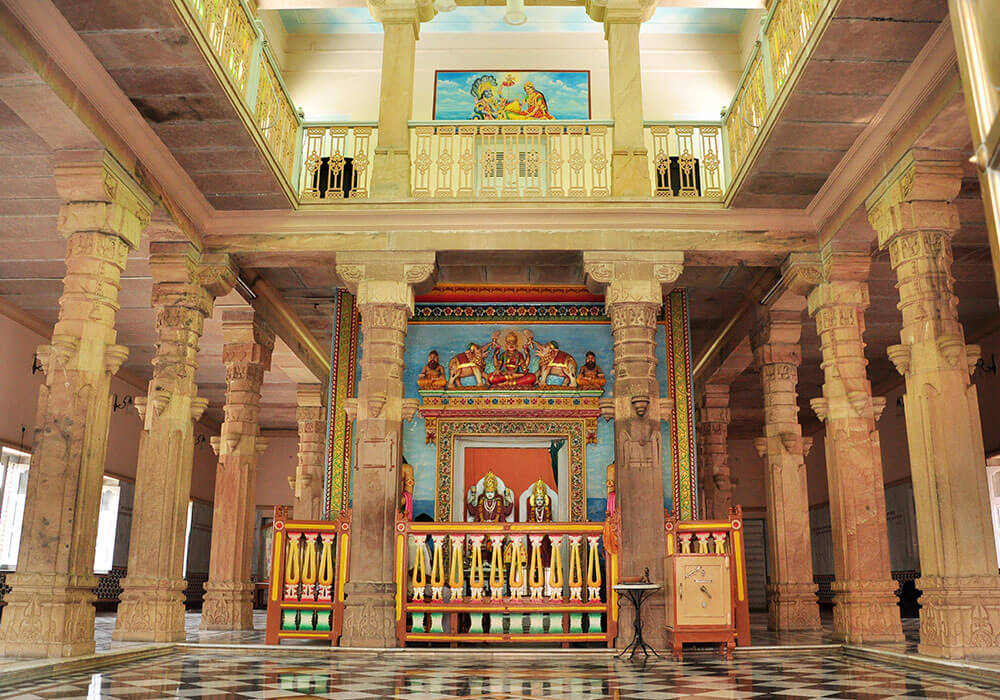 Also Read: Kadampuzha Devi Temple, Timings, History, Travel Guide and How to reach
How to reach Laxminarayan Temple
By Buses – you can find a bus stop just outside the temple, from where buses runs frequently. Popular DTC bus numbers going to Laxmi Narayan Mandir Delhi are 216, 610, 310, 729, 966, 990A1, 871 and RL77 from different routes.
By Metro – The nearest metro station to Birla Mandir Delhi is at RK Ashram Marg Metro Station. It comes on Blue Line and is at 1.8 km from main temple. You can also easily reach here by taking an auto.
By Taxis and Auto rickshaws – There is also a good taxi and rickshaw network for Birla temple Delhi. Cabs from Uber and Ola are also easily available to book from many parts of the country.
Subscribe our TFI Dharma YouTube channel to watch Devotional videos because we are here to serve Sanatana Dhrama: TFIDHARMA