Shree Narayani Dham Temple, Alwar – Overview
Narayani Mata or Shree Narayani dham temple is a multi-prestigious temple of Alwar situated on the edge of Sariska National Park, about 80 km from Alwar and 14 km from Amanbagh. In this temple Narayani Mata is considered to be the incarnation of Sati, the first wife of Lord Shiva.
The small hot water spring on the side of the temple makes it more popular. Shree Narayani dham temple is the only temple of Sain Samaj in India whose sanctity is considered equal to the temples of Mount Abu, Pushkar and Ramdevra. This temple remains an important center of their faith for the Sain community.
History of this Temple
According to believes Narayani Mata is believed to be an incarnation of Sati, the first wife of Lord Shiva. It is believed that when Narayani was going to her in-laws house for the first time, a snake bit her husband midway on the way home, which led to his death.
Narayani was so stricken with grief that she sat beside him and prayed to Lord Shiva to either give life to her husband or allow her to commit sati with her dead husband. Her devotion to Lord Shiva and her desire to be reunited with her dead husband was so strong that Shiva sent his sacred fire to cinder them both. And she had become sati along with her husband. Since that time the Shree Narayani dham temple of Narayani Mata is believed to have been established there.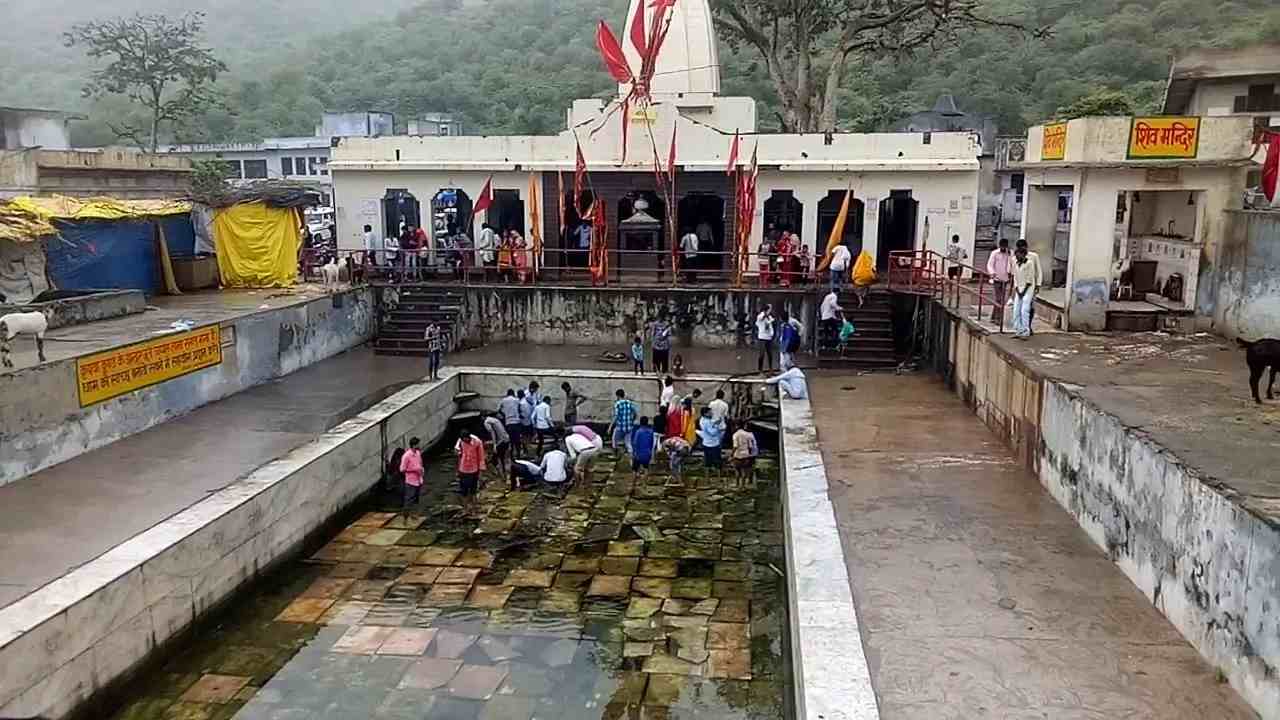 Best time to visit Temple
The best time to visit Shree Narayani dham temple is considered to be from November to March. Because the weather is pleasant during this time, which makes your journey exciting and you can easily visit around the temple.
Also Read: Bhoo Varaha Swamy Temple Kallahalli: Timings, History, and Travel guide
Tourist Attractions near Shree Narayani dham temple
Bala Fort- Bala Fort or Alwar Fort is located in the Aravalli range above the city of Alwar. This fort is one of the major tourist places of Alwar city. This fort is situated at the top of 300 meter high rock in the city of Alwar which provides a majestic view of the city.
Silisedh Lake- Silisedh Lake is one of the beautiful lakes of Rajasthan which is one of the popular places in Alwar. Away from the hustle and bustle of the city, Silisedh Lake remains a famous picnic spot for tourists for peace, relaxation and entertainment.
Also Read: Prati Balaji Temple Pune: Timings, History, how to reach and travel guide
Sariska National Park– Spread over an area of ​​about 800 sq km, Sariska National Park nestled in the Aravalli hills is one of the top places to visit in Alwar. Covering grasslands, dry deciduous forests, rocks and rocky landscape, Sariska Wildlife Sanctuary is now known as Sariska Tiger Reserve. The reserve is famous for its majestic Royal Bengal Tigers.
Apart from these places there also many places like- Neelkanth Mahadev Temple, Bhangarh Fort, Sariska Palace, Kesroli Alwar, Vinay Vilas Mahal Or City Palace, Vijay Mandir Palace, Pandupol Temple, Moosi Maharani Ki Chhatr.
Also Read: Sundha Mata Temple: History, Travel guide and how to reach
How to reach Shree Narayani dham Temple
By Air- There is no direct flight connectivity to Alwar. The nearest airport to Alwar is in Delhi which is located at a distance of 165 km. You can hire a bus or taxi to reach Alwar from Delhi airport and then take a taxi or bus from Alwar to reach Narayani Mata Temple.
By Road- Regular bus services are available from various cities of the state to Alwar. Regular buses are available on this route, be it day or night. From places like Jaipur, Jodhpur etc. You can reach Narayani Mata Mandir Alwar by hiring a taxi or cab to Alwar or by traveling in your own car.
By Train- The nearest railway station to Narayani Mata Temple is Alwar Junction. Which is the main railway station of the city with regular trains operating from many major cities of India and the state. so, you can reach Alwar by train and from there you can take bus or taxi to reach Narayani Mata Temple.
Subscribe our TFI Dharma YouTube channel to watch Devotional videos because we are here to serve Sanatana Dhrama: TFIDHARMA