Triyuginarayan Temple, Rudraprayag – Overview
Triyuginarayan Temple is a Hindu temple located in Triyuginarayan village of Rudraprayag district in the Indian state of Uttarakhand. Triyuginarayan Temple is completely dedicated to Lord Vishnu but this temple is famous as the place of marriage of Lord Shiva and Parvati.
The Triyuginarayan Temple houses a 2 feet idol of Lord Vishnu (Narayan), along with – Lakshmi, the goddess of wealth and Saraswati, the goddess of knowledge. Triyuginarayan Temple is a popular and important pilgrimage center for Hindu. Yuga and Narayana is a name of Lord Vishnu. That's why this place has been named 'Triyugi Narayan'.
History of this Temple
Mata Parvati empress Lord Shiva for marriage by performing severe penance and Lord Shiva accepted the proposal of Mata Parvati. It is believed that the marriage of Shiva-Parvati took place in Triyuginarayan Temple.
Lord Vishnu performed the duty of being the brother of Mother Parvati and got her married. Brahma ji was the priest in this marriage. Shiva-Parvati got married in front of Triyuginarayan Temple by taking rounds of the fire pit. The flame continues to burn in that fire pit even today. This flame is considered to be the symbol of Shiva-Parvati marriage; hence this temple is also called Akhand Dhuni temple.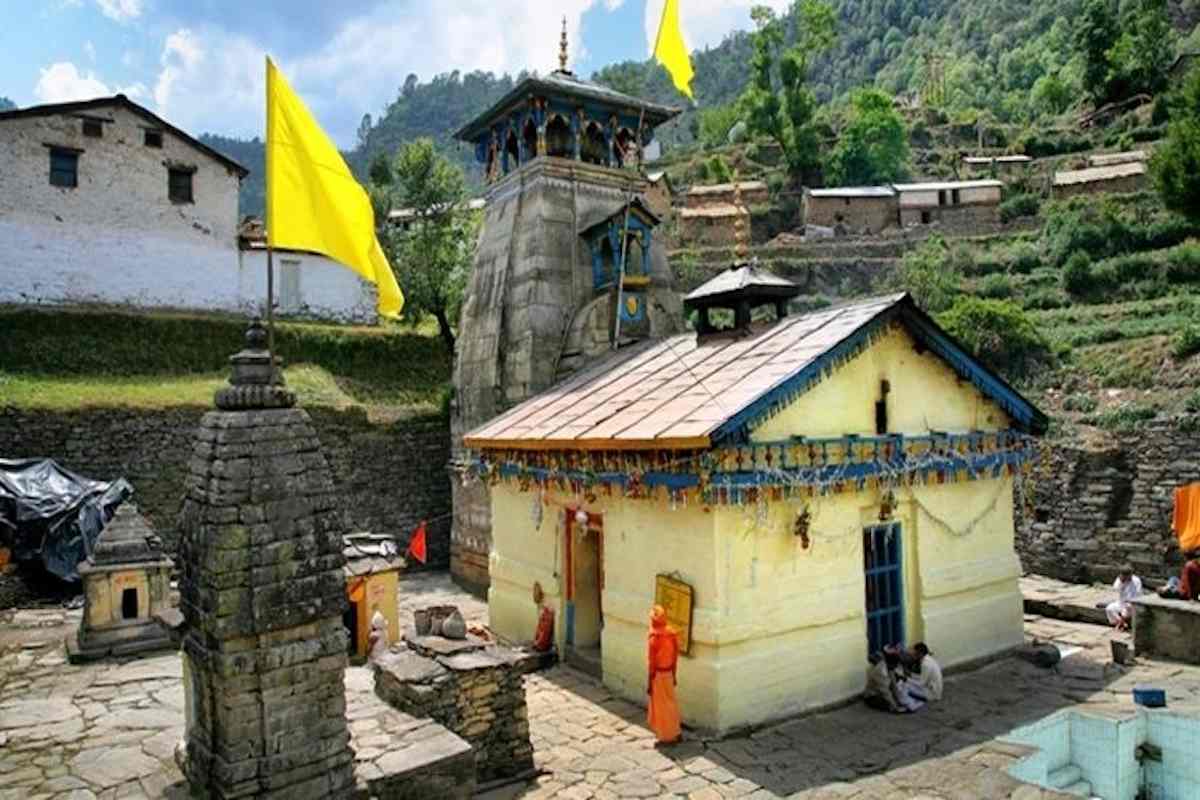 Also Read: Kalabhairaveshwara Swami Adichunchanagiri Temple: Timings, and Travel Guide
Three Famous ponds near temple
There are also three ponds near Triyuginarayan Temple. Saraswati Kund is said to be the source of water in all these kunds.
Brahma Kund: – In this Kund, Lord Brahma had taken bath before marriage and after taking bath appeared in marriage.
Vishnukund: Before marriage, Vishnu ji had bathed in this kund.
Rudrakund: All the gods and goddesses present in the marriage took bath in this kund.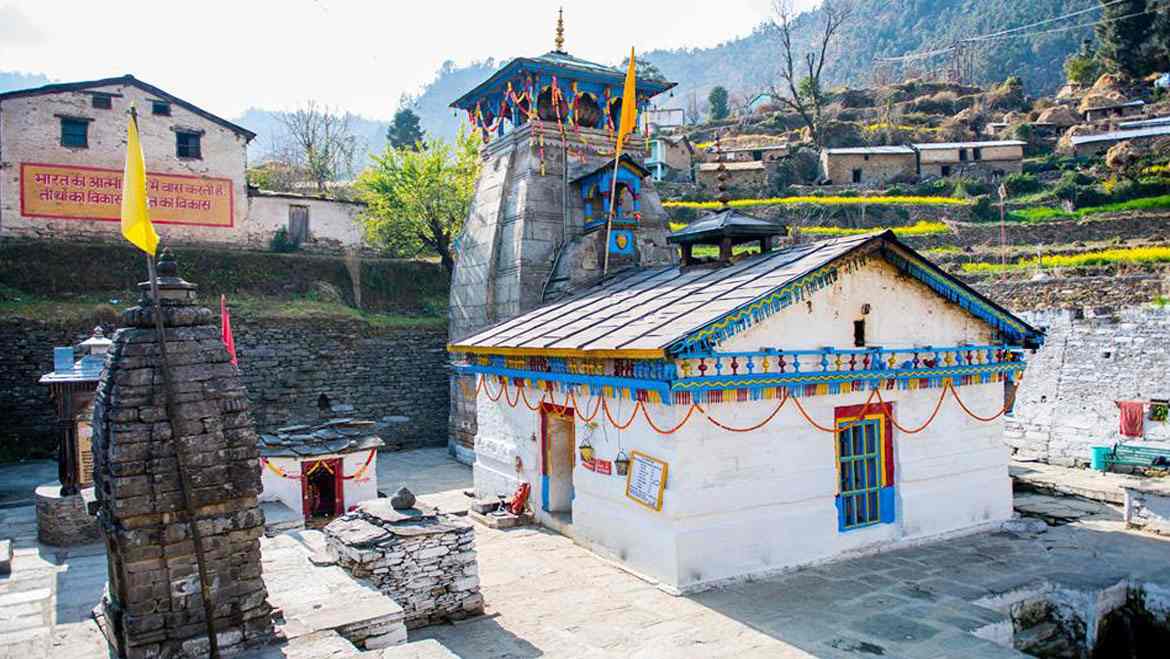 Also Read: Akshardham Temple Jaipur: Timings, Travel Guide, and How to reach
Tourist attractions near Triyuginarayan Temple
Deoria Tal
Deoria Tal is a crystal lake, situated at a distance of 3 km from Sari at an altitude of 2438 meters above sea level. This is the same lake where a Yaksha questioned the Pandavas according to legend. Sari village is the last bus terminus of the Chopta-Ukhimath route. Deoria Tal can be reached after trekking 2 km from this place.
Gangotri
Gangotri is a popular pilgrimage centre which is located in the Uttarkashi district of Uttarakhand. This place is situated at the banks of Bhagirathi River at an altitude of 3750 meters above sea level in the Himalayan ranges. Gurumukhi is the source of river Ganga, which is situated at a distance of 19 km from Gangotri. River Ganga is known as Bhagirathi at its origin.
Kedarnath
Kedarnath is located in Rudraprayag district of Uttarakhand. This place is situated in the Garhwal Himalayas at an altitude of 3584 meters above sea level. The Kedarnath Temple, considered one of the holiest sites in Hinduism. This is the highest of all the 12 Jyotirlingas. The magnificent Mandakini river flows near the temple.
Ukhimath
Ukhimath is a pilgrimage site which is situated at an altitude of 1311 meters above sea level. This is situated in Gopeshwar-Guptkashi road in Rudraprayag district. Due to heavy snowfall during winters, the main temple of Kedarnath is closed. And this time the deity Omkareshwar temple worshiped. This place is named after the daughter of Banasura, Usha. You can enjoy the view of the snow-capped Himalayas from this area.
Jakholi
Jakholi is an important tourist destination which is located in Rudraprayag district.  This is a small village surrounded by beautiful mountain ranges, so you can enjoy trekking in this village. Chamunda Devi Temple and Rudranath Temple are the places of interest located near this place. Another tourist place Tilvarathe is situated near this place.
Also Read: JK Temple, Kanpur History, Travel Guide and how to reach
How to reach Triyuginarayan Temple
If you want to visit Triyuginarayan Temple you have to reach one of these three main cities of Uttarakhand Dehradun, Rishikesh or Haridwar by any means of transport like air, train or bus.
Then from there local bus, taxi or car facility will be available to go to Sonprayag or Guptkashi. When you reach Sonprayag, there are routes for Triyuginarayan Temple, Gaurikund, Kedarnath Temple and Vasukital all three. Triyuginarayan temple is located at a distance of 12 km from here.
Subscribe our TFI Dharma YouTube channel to watch Devotional videos because we are here to serve Sanatana Dhrama: TFIDHARMA