Trudeau has never been a politician or in several cases, a good leader that ever had a clear vision for diplomacy. Whatever narrative the US or any other western nation sets in, Justin has quietly followed the line without any voice.
Take for instance, the Russo-Ukraine war, or the Haitian debacle, Canada under Trudeau has simply done what the United States or other western nations have called for. But this time, Trudeau is jumping on a net beneath which there is a raging inferno. Justin Trudeau is attempting to meddle in Tehran's affairs despite the fact that the Iranian government is sitting just like a badger to launch a devastating attack on the West.
For the last 11 months, United States President Joe Biden is trying everything according to his capabilities to reach a consensus with the Iranian government over the JCPOA deal. He along with other western leaders attempted to first lure, then bribe, then punish, and then discriminate against the Iranian government.
However, Iran didn't settle down with the United States because it knew that the US is doing all this because the west is in desperate need of oil. Iran humiliated Biden and allies like Macron and Olaf Scholz by turning JCPOA into a deadlock. But in recent times, the west has found a godsent opportunity to thwack Iran, the Iranian protests. The protests have undoubtedly rocked the boat for the imams of Iran and the west is adding fuel to the matter in order to isolate Iran globally, yet again.
At this moment, Iran is piqued and looking to take up the cudgels against the West, and Trudeau is ensuring that the Iranian wrath lands on Canada.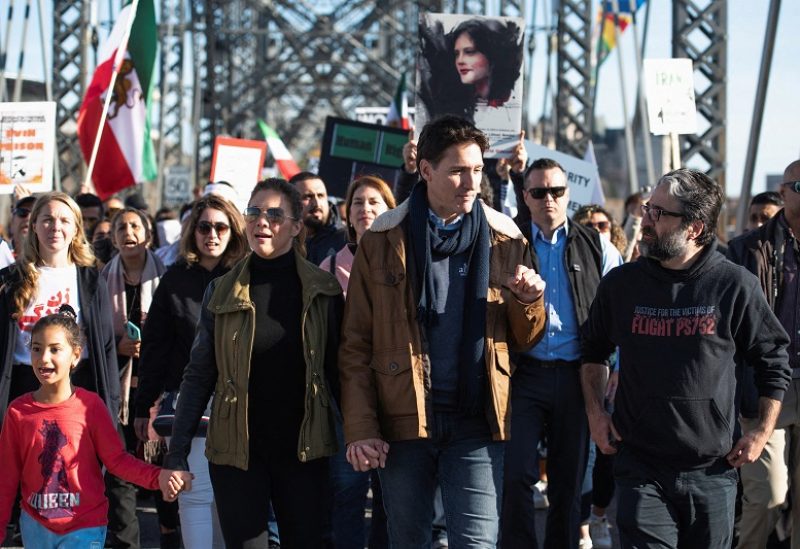 Trudeau pokes his nose in Iran
 Canada has nothing to do with JCPOA and the Iranian protests. Yet, he is provoking Iran. last month, Canadian Prime Minister Justin Trudeau and his wife took to the streets in Ottawa with other party officials and followers to express his support for protesters in Iran. The demonstration in Ottawa attended by Trudeau and Sophie Grégoire Trudeau was one of several held in Canada and around the world in support of Iranians who are protesting the death in September of a 22-year-old woman Mahsa Amini while in police custody.
During the protests, the Canadian PM stressed, "The women in Iran, daughters and the grandmothers and the allies ..they are not forgotten, we are with them. Canada is with them. We will stand with you. I'll march with you, I will hold hands with you." He also ran the fake news first that Iran executed 15000 Iranians in one day. The dull-witted leader deleted the tweet a few hours later.
Two weeks later, Trudeau imposed sanctions on the Iranian regime and declared IRGC a terrorist group. Canadian regime also purposely targeted Iranians, by denying several of them citizenship. These solid statements and actions were profoundly run by Canadian media to show what Canada feels about Iran. But it appears Iran is utterly triggered by Trudeau's unwanted actions.
Read More: Canada, China, India and more: Justin Trudeau should get the inaugural "Trudeau Awards for Hypocrisy"
 Iran gets active in Canada
Immediately after Trudeau's non-sensical doings, the Iranian regime locked Canada in its cross-hairs. According to a media report by CBC, members of the Iranian intelligence network are trying to hire private investigators in Canada to conduct surveillance on anti-regime activists and the Canadian government.
This all is happening at a time when, the Iranian government has stepped up its efforts to kidnap and kill government officials, activists, and journalists around the world, according to government documents and interviews with 15 officials from, the US, Europe, and the Middle East, who spoke on the condition of anonymity to discuss sensitive information.
Read More: Canada's embarrassing loss of face in Panama
Canada, has long been a target of foreign meddling. National security is severely undermined and requires a major makeover. Despite this, Trudeau has crossed swords with the Iranian establishment, and by actions, it appears that Tehran is coming for Ottawa. This one blunder could cause problems for Canadians in the near future.