Ragigudda Anjaneya Temple, Bangalore
The Ragigudda Anjaneya Temple is a temple dedicated to Hanuman in the Jayanagar 9th Block suburb of Bangalore. Ram, Sita, Lakshmana, Hanuman temple have same Shivalinga in Ragigudda temple. There is Ragigudda Hanuman temple on a hill.
A small shrine is dedicated to Ganesha, Navagraha, and Rajarajeshwari at the base of the hill. It also hosts the holy Hindu trinity on the side of the richly carved rock-cut Ragigudda Sri Prasanna Anjaneyaswamy Temple.
History of this Temple
The hill hosting the primary deity Sri Prasanna Anjaneya Swami is believed to have been made from heaps of ragi (millet) and hence was called "Ragigudda". During this era, the holy trinity of Brahma, Vishnu and Shiva expressed their desire to be near.
On the hill and turned into neighboring rocks. Trimurti is now carved on these three stones. The temple was established in 1969. Every year in December, Sri Hanuman Jayanti Ragigudda festival is marked at the Ragigudda Anjaneya Temple as a 12-day affair of grandeur, attended by over 35,000 pilgrims.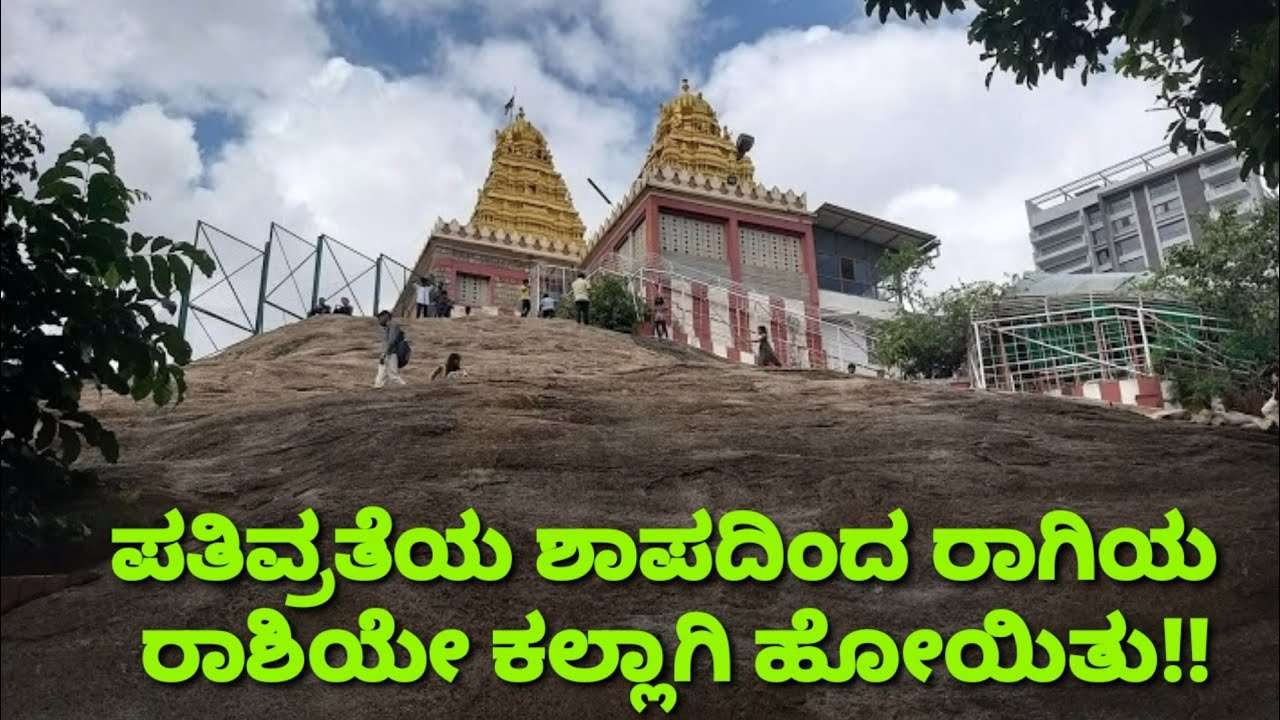 Also Read: Rajarajeshwara Temple, Tamil Nadu: Timings, History, Travel Guide and How to reach
Ragigudda Anjaneya Temple Timings
Ragigudda Anjaneya Temple opens at 8 am in morning and close at 11.30 am and in Evening it opens at 5 pm and close at 8.30 pm.
| Days | Temple Darshan Session | Darshan Timings |
| --- | --- | --- |
| Daily | Temple Opening Timing | 04:30 |
| Daily | Morning Darshan Timings | 08:30 to 11:30 |
| Daily | Temple Break Timings | 11:30 to 17:00 |
| Daily | Evening Darshan Timings | 17:00 to 20:30 |
| Daily | Temple Closing Timings | 21:00 |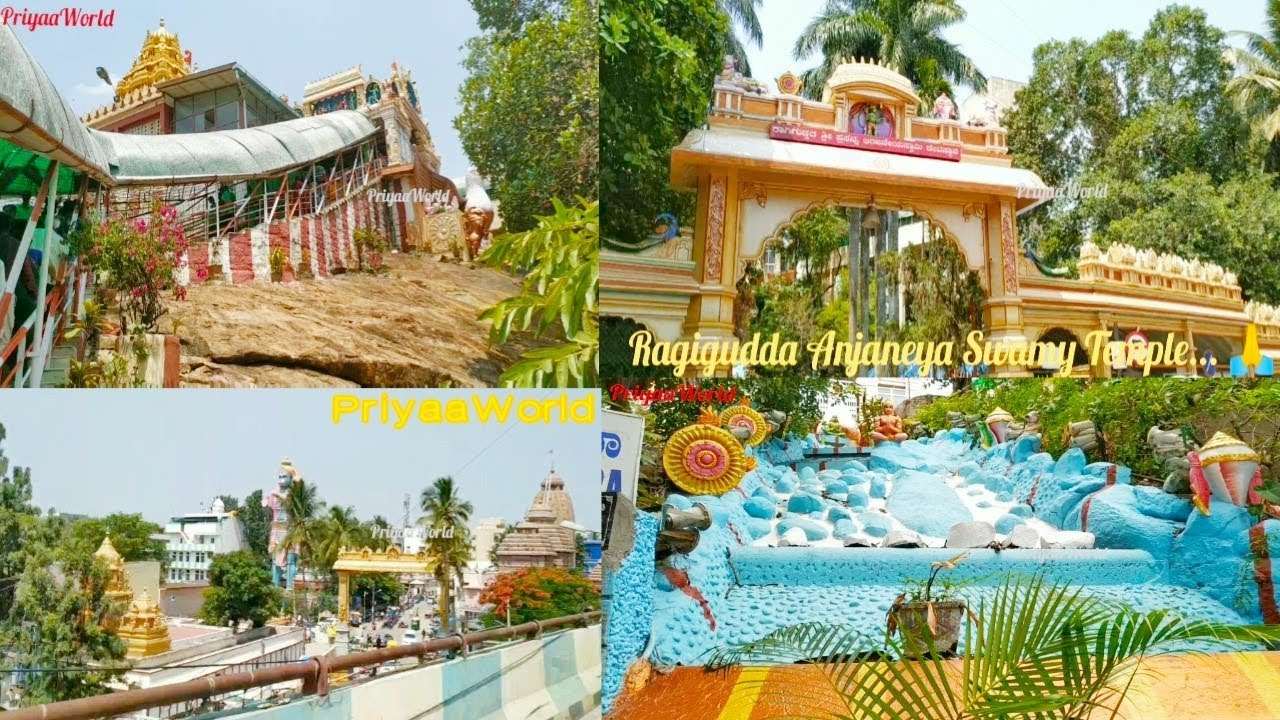 Also Read: Ramdara Temple Pune, Timings, History, Travel Guide and How to reach
Place to visit near Ragigudda Anjaneya Temple
Bangalore Palace
One of the most stunning and famous monuments of Bangalore is the two-storied granite Bangalore Palace, which is visited by millions of people. This palace will take you back to the time of the Wodeyars who were the most influential dynasty in South India.
This palace was built in 1887. The lifestyle of the Wodeyar dynasty is still evident in the wood carvings, captivating architecture, vine-covered walls, ornate pillars and arches, and beautiful chandeliers.
Cubbon Park
One of the famous landmarks of Bangalore is Cubbon Park,often referred to as Sri Chamarajendra Park. It was first developed in the year 1870 by Richard Sankey, the British Dominant engineer in Mysore at that time. The park's 300 acres are home to a variety of artistically pleasing buildings and statues of famous personalities. It also has abundance of flora and fauna.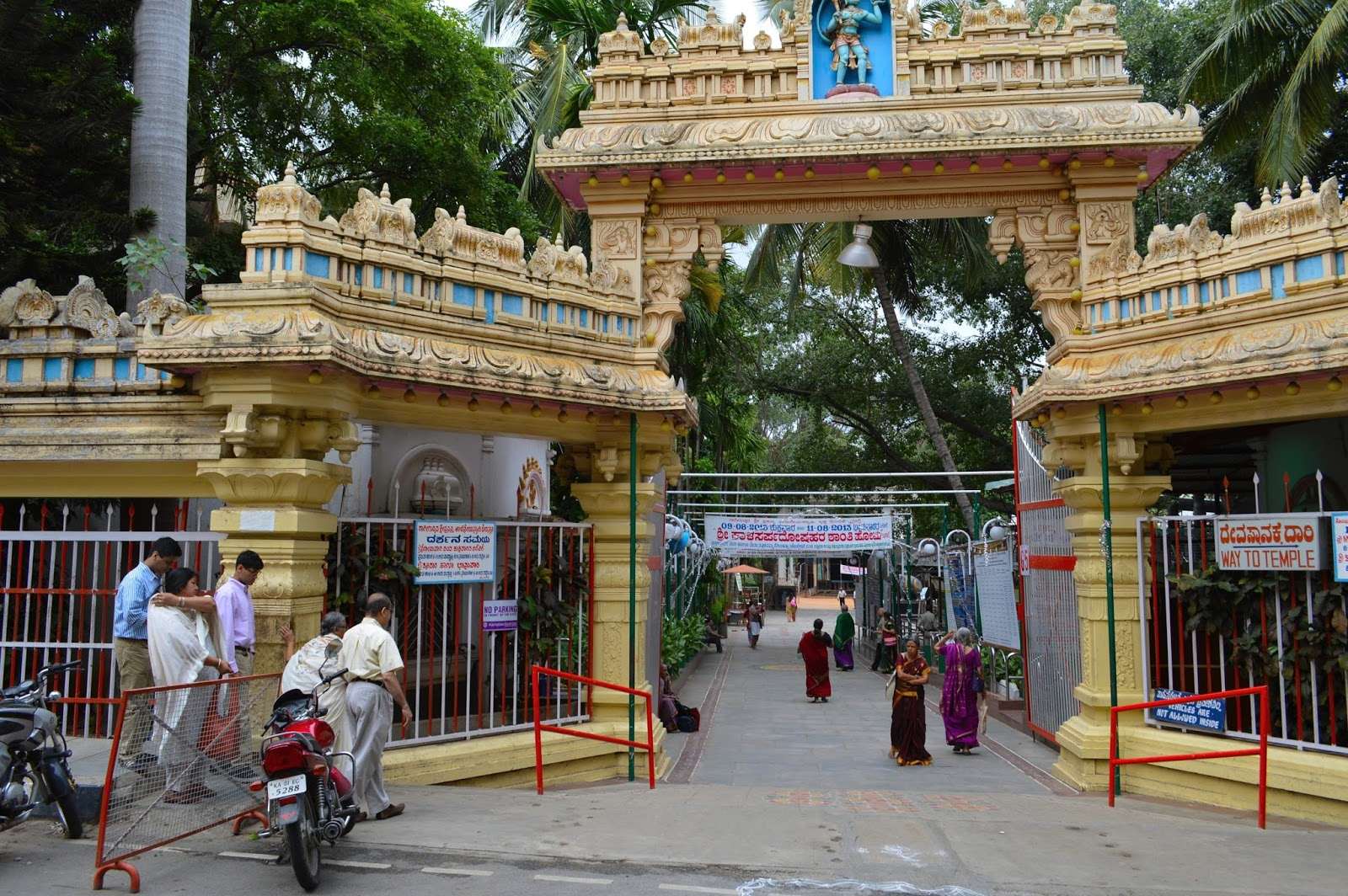 Lal Bagh Botanical garden
Lal Bagh is one of the most prestigious botanical gardens in India. It houses an unusual glass house that hosts two flower shows every year, which fall on 15 August (Independence Day) and 26 January (Republic Day). The largest collection of exotic tropical plants in India can be found at the Lalbagh Botanical Garden, which also houses a gorgeous lake.
Sankey Tank
Sankey Tank is one of the prime places for nature lovers in Bangalore. It is a man-made tank located in the western area of ​​Bangalore. This water tank, built in 1882 by Colonel Richard Hiram Sankey of the Madras Sappers Regiment. This water tank is one of the best places for some peaceful time in the city of Bangalore today. The tank includes a park and a swimming pool. You can also take a boat ride here.
Also Read: Pithapuram Temple Timings, History, Travel guide and how to reach
How to reach this Temple
By Air- The nearest airport to the Ragigudda Anjaneya Temple is the Bangalore International Airport. From here you can easily reach this temple by using local transport services. Jayanagar Metro Station is the nearest metro to the temple.
By Road- Apart from cab services, public bus facilities are also available to reach this temple from different parts of the country.
Subscribe our TFI Dharma YouTube channel to watch Devotional videos because we are here to serve Sanatana Dhrama: TFIDHARMA