Pithapuram Temple – Overview
Puruhutika Devi Temple is located Pithapuram, Andhra Pradesh, and is 20 km from Kakinada and 75 km from Rajahmundry. It is known as one of the 18 Shaktipeeths in India.
Pithapuram Temple is popular for the temples of Kukkuteswara Swami, Kuntimadhav Swami, and Sri Pada Vallabha Anagha Data Kshetram, Agraharam, Sri Venu Gopala Swami Temple.
History of this Temple
Puruhutika Devi was worshiped by Lord Indra. When Indra betrayed Ahilya (wife of Gautama Maharishi) on the way to Gautama Rishi and was cursed by Maharishi. Indra lost his testicles and also got vaginal marks all over his body.
He felt really sorry and prayed to sage Gautam. The sage informed and accepted that the yoni marks would appear like eyes so that Indra would henceforth be called Sahasraksha. Indra lost his testes. He wanted to do good to them back. He left his kingdom, went to Pithika Puri and did penance for Jaganmata.
After a long time, Jaganmata appeared to him and blessed him with prosperity and testes. Indra was really satisfied and prayed to her in the form of Puruhutika Devi. After a long time, Jagadguru Shripad Vallabh took birth in Pithapuram. He also worshiped Puruhutika Devi and also made his identity. He is the form of Dattatreya. And Pithapuram is also considered as Dakshina Kashi.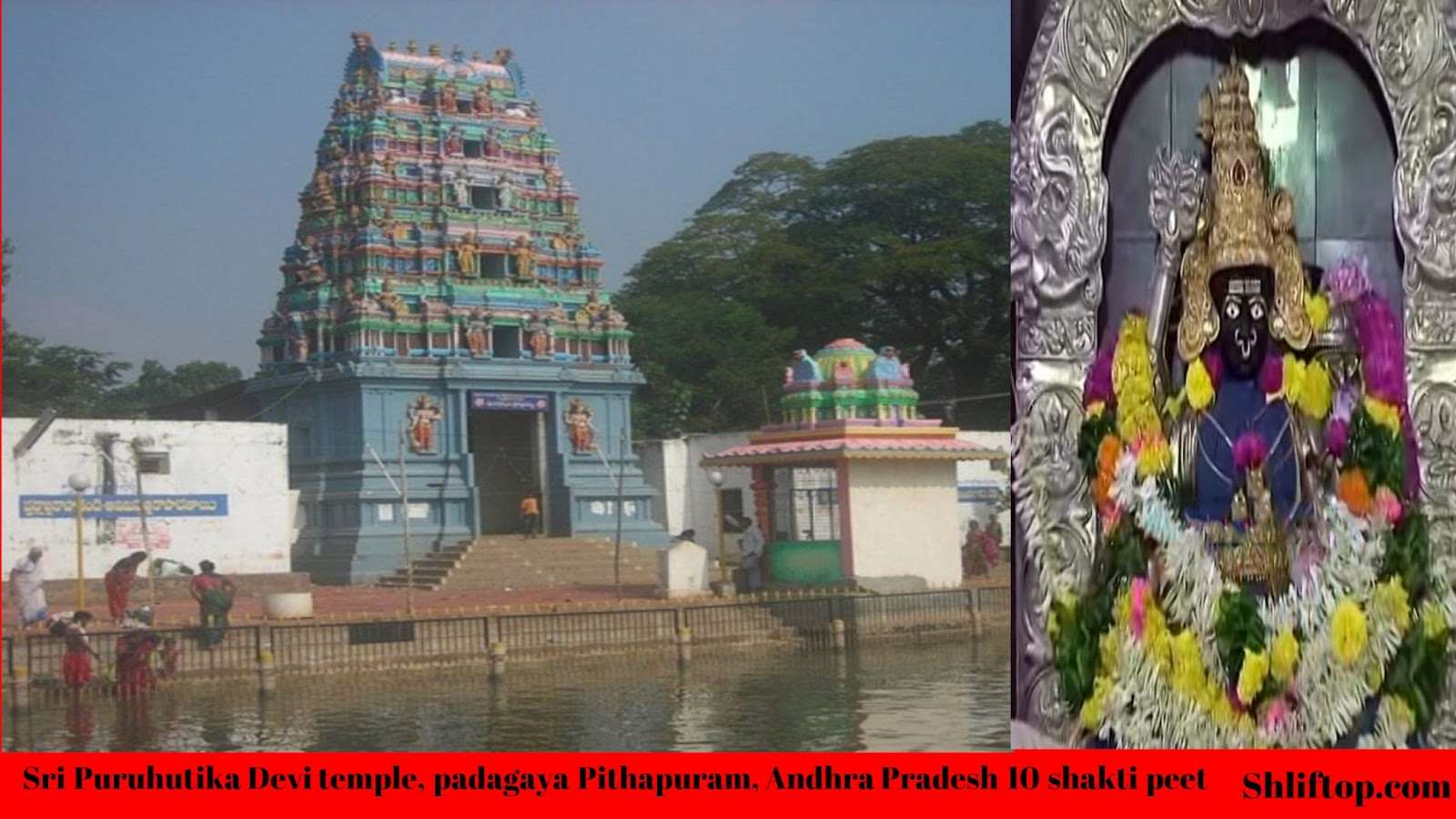 Also Read: Kabbalamma Temple, Bangalore: Timings, History and Travel guide
Place to visit near Pithapuram Temple
Anantapur – Anantapur is one of the biggest cities of Andhra Pradesh. 6 rivers pass through this city. Earlier it used to be a part of the Vijayanagara Empire, due to which many historical places and temples are present here.
The famous Lepakshi temple of the world is present here. There is a belief about the temple that when Ravana was abducting maa Sita, the wife of Lord Rama, Jatayu fought at this place. This place is one of the World Heritage Sites of UNISCO.
Ongole: Ongole is very famous for the Hindu temples built in the 17th century. This is one of the old cities of Andhra Pradesh, people spend their time peacefully on the streets here. Friends, once you go here, you will completely dissolve in the atmosphere here. Here almost every street has ruins of a fort which reflects the rich history of Ongole.
Also Read: Boyakonda Gangamma Temple, Timings, History, Travel Guide and how to reach
Cuddapah: Cuddapah means door in Telugu. The forts here are famous all-over South India. The fort of Gandikota and the fort of Siddwatan are prominent here. Friends, you will be surprised to know that Kadapa is included in those 20 cities of the world where there is a nuclear fuel reserve. On going to Cuddapah, you can visit the caves of Cuddapah, you will get complete amalgamation of nature and history.
Pithapuram Temple Timings
This temple opens at 05.30 AM in morning to 12.30 PM in afternoon and then from 4:30 PM to 7:30 PM in evening.
Also Read: Simhachalam Temple Visakhapatnam Timings, History, Travel Guide and How to reach
How to reach Pithapuram Temple
By Air- The nearest airport from this temple is Rajahmundry Airport which is well connected with regular domestic flights to Delhi, Mumbai.
By Train- The nearest railway station to the temple is Pithapuram railway station. From here you can easily reach this temple by using local transport.
By Road- Pithapuram is connected with major cities of the country, You can easily get regular buses from these major cities of the country. It is located 20 km from Kakinada and 75 km from Rajahmundry.
Subscribe our TFI Dharma YouTube channel to watch Devotional videos because we are here to serve Sanatana Dhrama: TFIDHARMA