If we have to mention one of the biggest issues of Africa that it desperately needs to get out of, it has to be its food insecurity. The number of Africans being affected by its food crisis is staggering. An estimated 140 million people in Africa face acute food insecurity and at least one in five Africans goes to bed hungry. It's unfortunate that a continent otherwise rich in minerals has to face such catastrophic conditions. However, a few African countries hold promise and taking steps in the right direction. Recently Madagascar has accidentally pointed at Africa's hidden potential when President of Madagascar, Andry Rajoelina has sought investment from Morocco in the fertiliser sector as part of its efforts to achieve farming self-sufficiency.
Rajoelina said, "We are seeking Moroccan fertilisers as well as investments in the fertilisers' sector," as per a report. "We need the expertise of all, notably the Moroccan agri-food industry," he added.
According to the Madagascar President, the setting up of a fertiliser production plant is "a priority" in Madagascar's Emergence Plan as some 80% of Malagasy people depend on 31% of Madagascar's 8 million-hectare arable lands.
Morocco's aim to end food insecurity
Morocco's state-owned phosphate and fertiliser producer company, OCP, has plans to address food security on the African continent. OCP is building blenders across the continent to customise fertilisers, as well as soil nutrient and ammonia production plants in Nigeria and Ethiopia.
Further, OCP will also allocate 4 million tonnes of fertilisers for the African market next year. It has plans to boost output capacity to 15 million tonnes in the same period.
OCP is the world's biggest producer of phosphates-based fertilisers and it expects fertiliser sales in Africa in 2023 to double compared with 2021, it said in a statement.
Its fertiliser production is already showing signs of steady growth. The company saw fertilisers production this year at 11.9 million tonnes, up from 10.8 million tonnes in 2021, and it hopes to add another 3 million tonnes of annual output capacity in 2023.
For a continent dealing with an acute food crisis, Morocco's expertise in fertilisers can be used to increase food production in Africa. Morocco has the potential to help the continent to transform itself into a food surplus one. Many African countries such as Côte d'Ivoire, Ghana, and Kenya, have already become agricultural export powerhouses, with a net agricultural trade surplus of more than $5 billion per year.
OCP is already taking vital steps and is helping African farmers through various programmes. As per a report, more than 1 million African farmers have benefitted from OCP programs. It has launched a program aiming at bringing customised fertilisers closer to the African market with fair prices and has rolled out training programs on best practices to improve output.
The OCP group has also set up schools to train farmers. These schools are known as OCP School Labs and they offer African farmers training courses to improve soil productivity and sustainability. Over 420,000 benefited from these courses so far.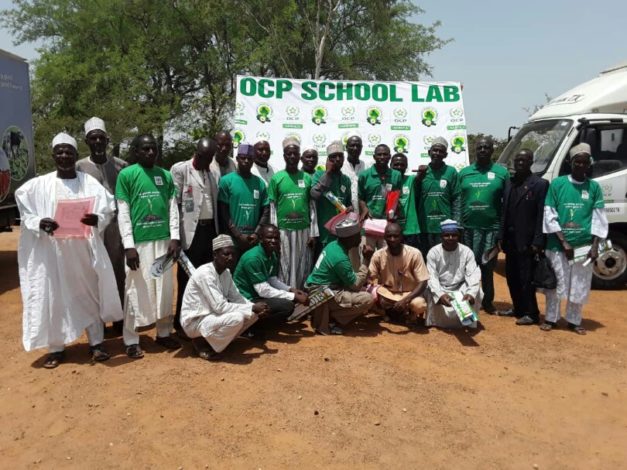 OCP has also signed a memorandum of understanding with the African Union Commission and the African Union's Development Agency to address Africa's food security. OCP has also collaborated with the Economic Commission for Africa (ECA) to promote innovation along the agricultural supply chain, financial innovation, including new concepts to attract capital markets, and also the promotion of science, technology and innovation at the service of African agriculture.
More importantly, it is the small-scale farmers of Africa who produce the bulk of the continent's food. However, unseasonal weather and a 30% hike in fertiliser prices due to a global shortage, threatened their production. At such a time, OCP came to their rescue by rolling out a fertiliser relief programme covering 20 African countries.
This could be the continent's largest ever private sector fertiliser relief programme. The multi-pronged relief programme involves making 550,000 tonnes of phosphate-based fertiliser available to small scale African food farmers either free or at greatly reduced cost.
Read More: Zimbabwean farmers crush the West in the ongoing sanctions war
Thus, in conclusion it can be said, all of these measures taken by Morocco's OCP brings hope to Africa. OCP's unwavering commitment to Africa signals the continent's confidence to liberate itself from the colonial past. Countries like Zimbabwe have also been able to increase their food production despite years of cruel Western sanctions on it, showing the fact that Africa has the potential to address its food insecurity on its own.
Further, Morocco's mission to make Africa food self-sufficient has yielded great results so far and now, Madagascar seeking investments from Morocco only shows its growing importance for the continent. With such regional collaboration we can hope Africa will not just produce enough food for itself but soon will also be able to feed the entire world.