Uganda for long has been dependent on Chinese loans to fund its infrastructure projects.  However, recently there have been some tensions simmering between the two countries and after Uganda's recent fallout with China, the IMF has rushed to Uganda's help. But, what does it mean for Uganda, whose economy is already strained due to mounting debt?
IMF's assistance to Uganda
As per a report, the International Monetary Fund has approved two reviews of a financing agreement with Uganda that allow for the immediate release of about $240 million to the East African country. Furthermore, in December 2022, Uganda and IMF staff reached an agreement for the combined second and third reviews of its 36-month Extended Credit Facility, paving the way for the release of the financing, which brings total disbursements under the arrangement launched in June 2021 to $625 million.
In the last few years, Uganda has been taking increasingly large amounts of debt, particularly from China, to finance energy, transportation, and other infrastructure. Further, Uganda is banking on expected oil revenue to clear the debt.
Uganda's precarious economic condition
As per a report, the portion of domestic revenues Uganda is using to service its public debt rose to 30% in October 2022 from 24% in October 2020 thereby putting undue pressure on public finances. The Central Bank of Uganda has also expressed concern over the rising cost of debt repayments which means there are growing "liquidity pressures on the domestic revenues to finance the domestic debt liabilities at the expense of other priority budgetary items".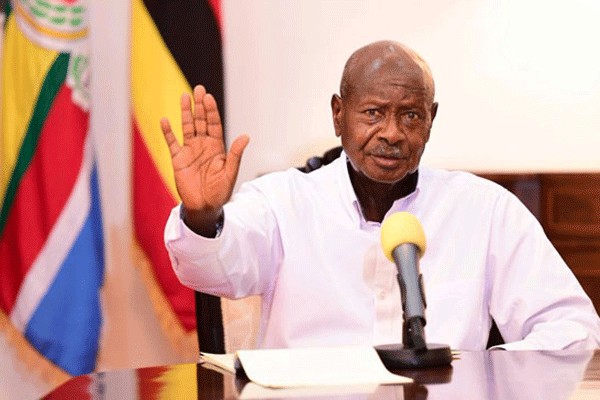 According to Uganda's finance ministry's projections economic growth for the country will be 6% in 2023/24.  The government has predicted that it will borrow some $2.6 billion for that fiscal year. Further, the external debt which was projected to hit $1.3 billion annually also remains a major strain on international reserves. To this point, the Ugandan economy is under pressure from mounting debts and immediate redressal is required by the government to save its economy from falling apart.
Read More: China just stole $1.44 billion from Uganda's coffers and the government is sleeping
Uganda's dependence on Chinese loans
In its quest for development, Uganda has been taking massive loans from China to finance energy, transportation,  and other infrastructure projects. Similarly, China has been actively involved in building some of Uganda's crucial infrastructure projects as part of its Belt and Road Initiative. As per a report, this has led to China owning about 20% of Uganda's debt, equivalent to around $1.6 billion.
There were also allegations that China would seize Uganda's only international airport, Entebbe International Airport if the government of Uganda failed to service a $200 million loan. This indicates China's usual debt-trap strategy and many African countries have been victims of this, sometimes also amounting to relinquishing sovereignty.
Recently, frustrated with Chinese financing delays, Uganda canceled its US$2.3 billion deal with China Harbor Engineering Company to build a 273km (170-mile) rail line from the capital Kampala to the Kenyan border town of Malaba. While Uganda terminated its contract with China, it turned to China's rival Turkey for building the railway project.
Read More: Turkey Pips China in Ugandan Railway Project
A similar approach has been adopted by IMF, wherein the US-backed IMF has come to Uganda's rescue after its fallout with China. Furthermore, China has become a tough competitor to the IMF in providing loans to fund various projects in Africa.  Interestingly, reports suggest, African countries also find China's loan conditions to be far less onerous than the IMF's.
At a time when countries like Kenya have shown the way forward and pushed for greater regional cooperation to solve Africa's issues on their own without depending on outside powers, Uganda too must follow suit and pave the way for greater regional self-sufficiency and reduce dependence on foreign powers.