We all grew up watching the beautiful tales of Disney princesses and cartoon characters. Whenever the name Disney comes to our mind, a sense of nostalgia emerges all of a sudden. However, over the years one of the most beautiful aspects of our child has turned into a hub of political propaganda and appeasement.  Disney's recent actions have not only ruined our childhood memories but also detached our conscience from morality. While Disney continues to embrace and forcefully impose the flawed principles of left-wing ideology, its hypocrisy on the issues of Chinese authoritarianism exposes the shallowness of its false cause. Apparently it is not leaving any chance to satisfy the unreasonable demands of Xi Jinping's regime and its leftist maniacs.
Disney has removed an episode of "The Simpsons", which includes a reference to China's forced labour camps in the Xinjiang province, from its streaming platform in Hong Kong. A scene in the second episode of the new season shows the character of Marge Simpson cycling on a bike with an instructor in front of a virtual background of the Great Wall of China. In the scene, the instructor says, "Behold the wonders of China. Bitcoin mines, forced labour camps where children make smartphones, and romance."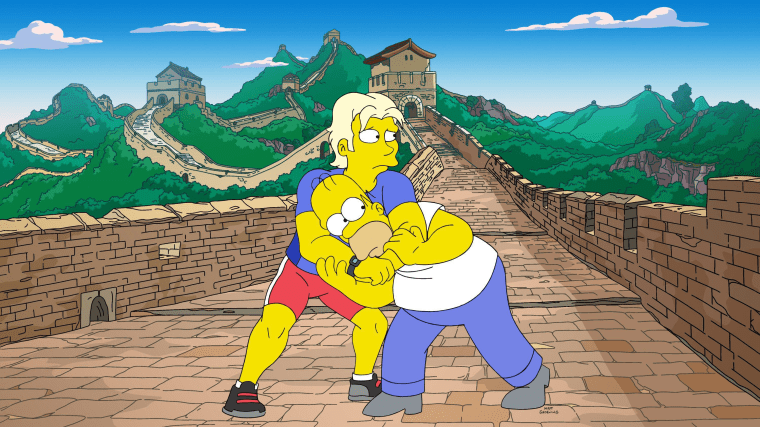 Following which there was a huge controversy, several media outlets then reported that the episode which first aired in October last year has been taken down from the Hong Kong version of Disney+. However, the episode is available to watch in other countries. The removal of the episode comes in the backdrop of the implementation of the contentious national security law in Hong Kong in 2020 by the puppet regime which is controlled by mainland China. The law allows Chinese authorities to go after anything which they perceive as seditious and promoting secessionism. A spokesperson of the Hong Kong government stated that the national security law applies to everyone and those who refuse to abide by it are prosecuted. He further noted that there is a separate film censorship law for the exhibition of movies.
Disney turning a blind eye to injustice
Disney is running its business in a politically unpredictable country. Because China is an authoritarian country, it has a stringent system of draconian regime and a structure of centralisation which has eroded every sign of political dissent. Xi Jinping's arrival has intensified the repression of political opposition and civilian dissent in China. In fact, according to Freedom House, Communist China has intensified its efforts to exercise control at home since President Xi took office in November 2012. It has, for instance, set up a sophisticated propaganda effort and created a vast monitoring infrastructure in the country.
The constitution was amended during the 2018 People's Congress to eliminate presidential term restrictions and provide Xi unrestricted power. Since assuming leadership in 2013, Xi has consolidated his power, driven out domestic political rivals, and endorsed initiatives to bolster control over civil society.
Beijing is dependent on a police control apparatus overseen by Communist Party officials which works to eliminate all the "enemies" of the government. Human Rights Watch claims that the government has arrested and charged hundreds of political activists and advocates for human rights.
All forms of mass communication in China are under the Communist Party's total control, especially the electronic media. Despite being an advocate of 'freedom of expression'- Disney is playing a puppet to Chinese Communist Party.
Complicit in Uyghurs' victimization?
Apart from lack of democracy, another reason why China is notorious all over the world is its heinous treatment of the Uyghur community. Since 2017, the Chinese government has imprisoned over a million Muslims in re-education camps against their will. Uyghurs, a mostly Turkic-speaking ethnic group primarily found in China's northwest region of Xinjiang, make up the majority of those who have been jailed. In addition to the detentions, Uyghurs in the area have experienced additional rights violations including strict surveillance, forced labour, and coerced sterilisations.
The most frequently used phrases by international media outlets and researchers are reeducation camps and incarceration camps. The Chinese government refers to the facilities as "vocational education and training centres." They are referred to as concentration camps by certain campaigners. A number of investigations have uncovered that the detainees were made to swear allegiance to the CCP, give up their faith in Islam, sing songs of praise for communism, and study Mandarin, according to numerous exposés. Some people claimed they were subjected to settings like prisons, with cameras and microphones recording everything they did and said. Others said that they experienced torture and sleep deprivation while being interrogated. Women have spoken about sexual assault, including rape.
However, Disney, which is very politically active in other countries, particularly in the US, has so far refused to take a stance against the injustice happening in China. The company is infamous for taking up controversial issues of political and social nature, its silence on the barbarity and dictatorship of the Chinese government contradicts its credibility. Disney has not only remained silent in the face of persistent atrocities committed by China but has also taken numerous actions which signal to its complicity in the crimes committed by Beijing. The hyperactive Disney, which does not shy away from promoting its left-wing agenda and indoctrinate children, has left no stone unturned in satiating the needs of the brutal Chinese regime. This was seen in Mulan.
Mulan, the 1998 Disney animated film that was based on a real-life young woman who stepped into her father's army position after he was wounded, was a huge hit. The legend of Hua Mulan is frequently regarded as an entertaining, culturally absorbing narrative, but in the 2020 live-action remake, the charm was lost after the credits. Disney honours eight government agencies in Xinjiang, at the end of the movie. Security officials in Turpan, in eastern Xinjiang, and the "Publicity Department of CPC (Communist Party of China) Xinjiang Uyghur Autonomous Region Committee" are among the parties mentioned. There is growing agreement that these officials and institutions authorised the alleged genocide of the Uyghur community.
Read more: Mongolia's biggest shock to China is here
Similarly, Disney's filming in Xinjiang drew ire from viewers everywhere, including members of the US Congress. Senator Josh Hawley (R-MO) wrote to Disney CEO Bob Chapek and referred to it as "an affront to American values" that the corporation was ready to "place profit over principle" by "whitewashing" the ongoing genocide. A second letter to Chapek, signed by 19 Republicans and Democrats, demanded information regarding Disney's collaboration with Xinjiang government organisations.
A deeper, more pervasive Chinese government control throughout the American film industry was revealed with the Mulan remake, which also brought forth many unwarranted charges that Disney was involved in Chinese Communist Party genocidal attempts. For decades, Disney and all of Hollywood have been self-censoring stories, characters, and dialogue behind closed doors in order to appease the Chinese government.
In a recent in-depth investigation, the free speech advocacy group PEN America details how American filmmakers, Disney prominently among them, actively modify, replace, and remove portions of movies in an effort to avoid offending Chinese regulators. For American studios, entering the Chinese film market now involves avoiding any mention of Taiwan, supporting Chinese claims to the South China Sea, and avoiding any mention of minorities.
Disney killed itself
However, ironically the same Disney, which turned a blind eye to the actual injustice in China and funded the perpetration of human rights abuses in China, has turned into this politically hostile hub of left-wing maniacs who are intent on eradicating any reasonable and rational principle of conservatism and right-wing ideology. It is very hypocritical on the part of Disney that on the one hand it is staying silent, in the case of China, where it is supposed to speak up against political injustice and on the other it is politicising its products and services as well as forcing its employees to embrace the problematic ideology of left-wing extremism.
In fact, the persistent toxic environment of liberal propaganda in Disney prompted a group of employees to speak out in an open letter. The employees emphasised in their letter that Disney ostracises workers and audiences which doesn't agree with its political inclination.
In a statement, the employees said, "The Walt Disney Company has come to be an increasingly uncomfortable place to work for those of us whose political and religious views are not explicitly progressive." They further elaborated, "We watch quietly as our beliefs come under attack from our own employer, and we frequently see those who share our opinions condemned as villains by our own leadership."
Disney is also funding a campaign called "Reimagine Tomorrow" to promote so-called underrepresented voices of people who question their gender, label anyone who talks about science as "homophobic" and most importantly identify and repress the voices of political, religious and social conservatism in the company.  While left-leaning employees and cast members are given outright freedom to further their nefarious agenda, they also target any worker who believes in the right-wing ideology and use corporate influence of the company to go after people with conservative values.
Disney crossed all limits when it decided to go after a law in Florida enacted by the democratically elected government of governor Ron DeSantis. In March last year, the Florida legislature passed a law which forbade teachers in public schools from teaching about sexual orientation and gender identity to students from kindergarten to third grade.
Now any rational and sensible person would agree with the fact that teaching about sexuality and gender identity to kids is not at all appropriate. However, Disney believes otherwise. Yes, you heard that right. In fact, the CEO of Disney, Bob Chapek, not only attacked the law but also propagated a lie that the legislation will hurt LGBTQ children in schools.
The stupidity cannot be obvious here. Disney too is propagating wokism. But all hell broke loose when Disney stated that it will get the Florida law, titled Parental Rights in Education Act, repealed.
Disney lives under the illusion that it is taking a stance against injustice by making such fruitless endeavours. However, its real sinister face was unveiled in 2021 when it decided to remove another episode of The Simpsons.
The sixteenth season of the show jumped from episode 11 to 13. This is because the 12th episode has a reference to the Tiananmen Square massacre of 1989. The animated show mocked the suppression of political dissent, the character of Homer, who takes his family to China, comes across a placard which reads: "On this site, in 1989, nothing happened."
Therefore, Disney is not what it used to be, its credibility has been destroyed by its numerous misdeeds. The submission of its morality to Xi Jinping and blatant display of hypocrisy in the US has turned the once-adored Walt Disney Company into a tool of advancement of authoritarianism and a vehicle of left-wing propaganda. Several people have decided to unsubscribe from Disney's platforms for the sake of their sanity, soon the world will unsubscribe from the whole company.
Read more: Taiwan friends a new ally in the Balkans