Leaked Pentagon documents: With subtlety, the Pentagon has hinted at the conclusion of the Ukraine war and exposed the fate of President Zelensky in some fancy terms. How? Watch the report to know more.
The United States finds itself in a precarious position as over 100 confidential intelligence leaked Pentagon documents have surfaced on Discord, a supposedly secure messaging platform, since early March. These papers, captured in photographs that appear to have been crumpled and then smoothed out, contain sensitive information pertaining to the war in Ukraine, Russian military activities, as well as the Middle East and China.
Startlingly, some of these leaked Pentagon reports have been stamped with the highest levels of secrecy, including materials from the Central Intelligence Agency. Upon reviewing the leaked Pentagon documents, it has been discovered that some were compiled by the Joint Staff's intelligence wing, J2, and provide a summary of global issues derived from various U.S. intelligence systems.
Despite the revelations contained in these documents, it remains unclear to what extent they may have been tampered with, and by whom. The Federal Agencies have opened an investigation into the matter and found the real culprit. This is one of the biggest exposures and leaks from the Pentagon in recent times. However, more than the USA, US' newfound ally, Ukraine, is quite angry. The ongoing conflict between Russia and Ukraine has now been revealed in a way that has never been possible before, thanks to these leaks. The pages contain a plethora of information about the Battle of Bakhmut, including specifics about casualties, weapon deliveries, and military tactics. There are more alarming revelations in the leak that could be troublesome for Ukraine.
No Air Defences!
Ukraine is on the verge of a perilous air defense crisis, according to recently leaked Pentagon reports. The majority of the nation's anti-aircraft missiles will soon be destroyed, with a deadline set for the first week of May. Kyiv has long pleaded with the West for more air defense systems as it faces the terrifying prospect of Russian air superiority.
An alleged Pentagon presentation from February 28 claims that Ukraine is using up its supply of 200 S-300 missiles and 69 Buk missiles each month at an alarming rate. According to the article, if this rate of fire continues, the nation will run out of Buk ammunition by the end of the week, and its supply of S-300 weapons by May 3.
While Ukraine has received some aid in the form of German Iris-T and American NASAMS anti-air systems, their limited number and missile consumption rate of 64 per month make them an insufficient replacement for the Soviet-era platforms currently in use.
Read More: Zelensky says yes to Polish Invasion of Ukraine! 
As the leaked Pentagon documents suggests, these newer systems cannot cover as much territory as the S-300s, leaving Ukraine in a precarious position as they struggle to source additional missiles.
No Chance of Winning!
But wait, that's only the tip of the iceberg. According to the Pentagon, Ukraine is in for something even worse.
The Washington Post's report on allegedly leaked US intelligence documents offers a sobering perspective on the eagerly anticipated Ukrainian counteroffensive. The "top secret" documents cast doubt on Kyiv's capacity to amass the manpower and supplies required to support significant military operations in the upcoming months.
Additionally, the leaked Pentagon documents reveals that Ukrainian forces plan to seize territory in the south and east in an apparent effort to obstruct Russian forces from moving from Crimea. However, the intelligence evaluation foresees only "modest" success in achieving those objectives. The Pentagon sees major shortfalls in Kyiv's forces and their ability to reclaim territory, raising serious concerns about how Ukraine will succeed in winning against Russia.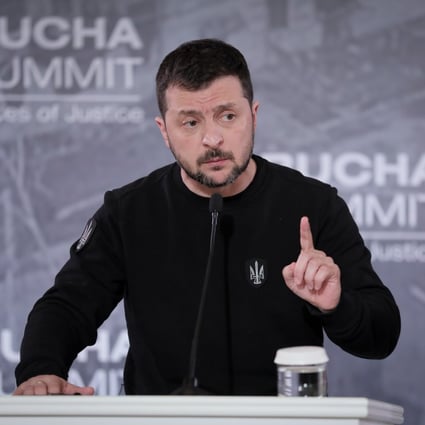 It is an open secret that the United States has emerged as Ukraine's top source of security assistance in the face of Russia's renewed and expanded invasion of that country on February 24, 2022. More than Russia and Ukraine, it is Russia and the USA.
The United States has generously committed to providing $34 billion in security assistance to bolster Ukraine's territorial integrity, safeguard its borders, and enhance its interoperability with NATO, starting from Russia's initial invasion of Ukraine in 2014 through February 27, 2023. Surprisingly, since the war in 2022 began, the Biden Administration has already committed over a trillion in security and military assistance. The USA is singlehandedly the largest contributor to the Ukraine war. However, it is surprising that the Pentagon's stance on the chances of winning differs significantly. How did such crucial information get leaked online on social media platforms so easily?
Make no mistake, it is highly likely that the Pentagon deliberately leaked the files online, and it makes sense too.
Read More: Ukraine's Big Plan to defeat Russia gets derailed by Putin's Hackers
The Pentagon operates under the auspices of the President, yet it retains a measure of autonomy and independence from the White House. The Secretary of Defense, who presides over the Department of Defense, is appointed by the President and serves as a critical consultant on military and defense affairs. However, the Secretary also possesses their own responsibilities and jurisdiction within the department. In truth, there have been instances where the Pentagon has officially amended or modified Presidential decrees without forewarning. Recently, the leak of such alterations appears timely, as domestic pressures within the US make it increasingly arduous to sustain aid to Ukraine.
Trouble for Biden and Democrats
The Biden administration and Democrats are facing challenges in their efforts to aid Ukraine. These difficulties are compounded by a series of issues, including the rising popularity of former President Trump, which many attribute to the Democrats' own missteps. Additionally, the collapse of the SVB bank, economic downturn, and soaring inflation to unprecedented levels have created a hostile political climate for foreign aid.
Read More: Unprovoked aggression and fake news: How Biden and Zelensky are prolonging a war that Russia clearly doesn't want
Furthermore, the prolonged conflict in Ukraine has become increasingly unpopular, drawing comparisons to the Vietnam War. Given these challenges, providing subtle cues to Ukraine makes sense, as it could allow Zelensky to prepare an act that protects his interests in case Biden loses political support.
Zelensky's future in Ukraine is uncertain and precarious. It is widely recognized that Ukraine faces significant challenges in its struggle against Russia, which has effectively seized control of Eastern Ukraine. The United States acknowledges that abruptly abandoning Ukraine would be a humiliating concession and would bolster Russia's image as a dominant force in the region. Therefore, the recent online leaks have been intentionally orchestrated to convey a message without making much noise. At least, that's how it seems right now.