South America, the often silent player in the realm of geopolitics has finally spoken up, and its message is loud and clear. 
In a really spectacular turn of events, South American nations have joined forces to cancel Ukrainian President Volodymyr Zelensky, delivering a resounding blow to the EU's plans. 
The stage was set for a bilateral meeting between the EU and South American nations on July 17th. The EU, known for its fervent support of Ukraine, saw this as an opportunity to enlist Latin American nations in its war efforts. 
However, instead of support, Ukraine was met with a fierce backlash from the Community of Latin American and Caribbean States (CELAC), forcing the EU to dis-invite Zelensky from the forthcoming joint summit. This dramatic move has sent shockwaves through the international community, revealing the growing discontent with Western agendas in the region.
The Vehement Opposition 
Initially, Spain extended an invitation to Zelensky, but CELAC leaders vehemently opposed it, leading to its retraction. The magnitude of CELAC's objections became evident when it purged every reference to Ukraine from a joint declaration proposed by the EU.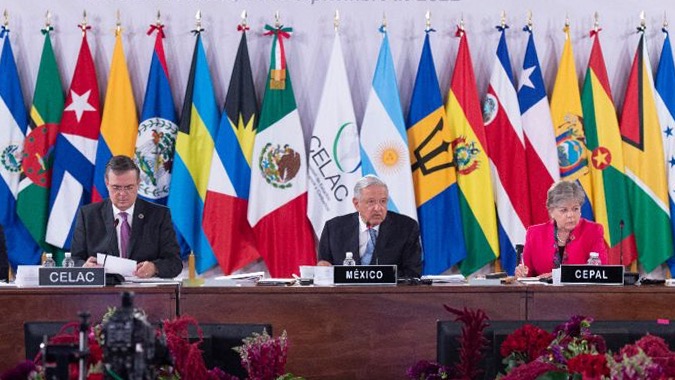 Now, in a bold move, the CELAC sent back a counter-proposal that completely deletes any mention of Ukraine. Instead, it emphasizes the need for diplomatic solutions to conflicts, peace, stability, and the region's priorities. The EU, however, insisted on condemning Russia's actions in Ukraine and supporting Zelensky's peace platform, which the CELAC rejects outright.
Read More: Latin America challenges US sanctions on Cuba
A European Problem 
Latin American countries have consistently expressed their desire to stay out of what they perceive as a European problem. The region has made it clear that it does not wish to be dragged into conflicts that are not of direct concern to them. 
For CELAC, this summit should address pressing regional issues, such as a stalled trade pact with the EU and reparations for the damages caused by slavery.
This cancellation of Zelensky is not an isolated incident. Latin American nations have repeatedly criticized Western interference and unwanted initiatives. The US sanctions on Cuba have been a frequent target of condemnation, with many asserting that the United States has overstepped its boundaries. 
Brazilian President Lula Da Silva, known for his outspoken nature, has been a vocal critic of the US on the global stage.
However, even considering this history, the derailment of the Ukraine push is nothing short of historic. Zelensky had prepared for a high-profile public relations campaign in Latin America, hoping to garner support for Ukraine's cause. Instead, he was met with swift and decisive cancellation.
South America's firm message to the EU and the world is crystal clear: your problems ain't our alma matter. Latin America will not be manipulated or coerced into supporting agendas that do not align with its own priorities. 
It demands respect for its autonomy and the addressing of issues that truly matter to its people. The cancellation of Zelensky serves as a wake-up call, highlighting the growing disillusionment with Western dominance and the need for a more balanced approach to international relations.
Read More: Mexico's fight against gun trafficking takes it to a US Court
This is a continent that stayed quiet for long periods, but when it spoke, it did so with conviction and authority. The cancellation of Zelensky may be just the beginning of a new era in which South America asserts its influence on the global stage, demanding to be heard and respected.
Watch More: