The West finds itself restless as Russia's influence expands in a resource-rich region that had been of interest to the US. Following the earlier coup in Niger, another in Gabon has surfaced, unsettling Western powers. This military takeover further underscores the shifting dynamics and geopolitical competition in Gabon.
How did the coup unfold?
On Wednesday, a military power shift unfolded in Gabon as President Ali Bongo's re-election was confirmed by the election authority. Uniformed army personnel announced their takeover on national TV, declaring the election results invalid. This coup entailed border closures and the dissolution of governmental bodies, including both parliamentary houses. 
The ousted president, Bongo, was put under house arrest with family and medical staff. His son, Noureddin Bongo Valentin, along with six others, faced arrest for "high treason." A video from Agence France-Presse depicted Bongo in a library-like setting, expressing uncertainty about the situation. Meanwhile, General Brice Oligui Nguema, previously the late President Bongo's bodyguard, was named the transitional leader by the junta. The developments reveal a significant shift in Gabon's political landscape and evoke questions about stability and governance in the region.
Read More: Burkina Faso delivers another jolt to France's influence in Sahel
Why so many coups?
Multiple coups in the last three years across former French colonies in Africa – Mali, Guinea, Burkina Faso, Chad, Niger, Tunisia, and now Gabon – raise concerns about a potential setback to the continent's two-decade democratization process. Historically, coups were common in postcolonial Africa, often citing corruption, mismanagement, and poverty as reasons for government overthrow. 
Political analyst Remi Adekoya suggests that escalating competition for resources may be driving this trend. Such conditions contribute to recent coups, resonating with disillusioned young Africans seeking change due to perceived corruption. Celebrations in Gabon and similar reactions after Guinea's coup two years ago underscore the readiness for transformative shifts amid concerns about governance and leadership.
What has the West said?
"The Gabon coup has been widely criticized in the West. United Nations Secretary General Antonio Guterres also condemned the coup Wednesday, according to his spokesperson. Guterres expressed concern over "reports of serious infringements of fundamental freedoms" during the contested election, but urged all parties to respect the rule of law and human rights.
US State Department spokesperson Matthew Miller said Wednesday the United States is "strongly opposed to military seizures or unconstitutional transfers of power," and urged coup leaders to "preserve civilian rule." He added: "The United States stands with the people of Gabon."
European leaders made similar statements; the United Kingdom condemned the coup and urged the government to be restored, while the European Union's top diplomat warned that a coup would "increase instability in the whole region.""
West's growing fears
For an extended period, the West's grip on West Africa remained formidable. Yet, this stronghold is progressively eroding. Notably, France's abrupt withdrawal from Mali marked a significant setback. The Sahel region also witnessed France grappling with another setback. Recent events indicate Burkina Faso following Mali's trajectory, raising prospects of another geopolitical challenge for France.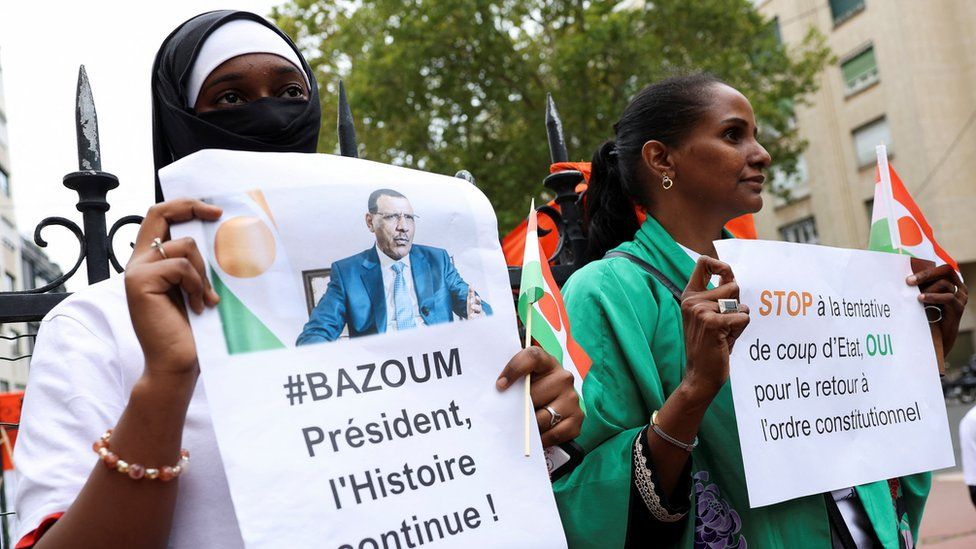 The recent coup in Niger led to President Mohamed Bazoum's removal, unsettling the West due to Niger's strategic significance as a host to a French military base and major uranium producer. Russia's influence has grown, triggering anti-French sentiment with protests across the nation. As Russia's presence increases in Africa, geopolitical dynamics are unsettling Western powers.
Read More: Russia backed citizens of Niger come out in the streets to protest 'Pro Jihadi elements' in the government
Europe's Energy Security Under Threat
Gabon, a significant oil producer, intensifies Western concerns as oil supplies shrink from Russia and Iran. The apprehension of losing footing in Gabon compounds these worries. Mounting instability in the Sahel region jeopardizes Europe's energy security, potentially sparking a new energy crisis reminiscent of Russia's impact in Ukraine. 
Notably, Europe's uranium imports from Niger also fall under Russia's sphere of influence after the military coup. This confluence of factors amplifies uncertainties, prompting reevaluation of geopolitical strategies in a complex energy landscape.
The West's diminishing influence in Africa is evident, as the continent grows weary of its directives. This sentiment is reflected in the increasing embrace of Russia by African nations, coupled with a rejection of Western influence. Africans' receptiveness to Russia marks a notable shift. As African countries assert their autonomy and reshape their alliances, the West's dominance wanes, highlighting the evolving dynamics in the continent's global engagements.
Watch More: