Kosovo's Prime Minister, Albin Kurti, has urged the European Union (EU) and the United States (US) to materialize the 'Ohrid Agreement' prior to the 2024 Elections. 
Mr. Kurti underscores the need for swift implementation of the agreement that facilitates mutual de-facto recognition and normalization of relations between Kosovo and Serbia, preferably by the spring of the following year.
Progress toward the Ohrid Agreement encountered obstacles when violence erupted in northern Kosovo, an area with a significant ethnic Serb population. This violence ensued after Kosovo appointed ethnic-Albanian mayors who had been elected in local elections that the Serb community boycotted.
It's noteworthy that, despite these challenges, Prime Minister Kurti acknowledges the EU and the US's intent to support Kosovo. 
However, there is a shared objective to diminish Serbian influence from Russia in the region. The situation remains dynamic, and the achievement of the Ohrid Agreement by the specified timeline will be of significant interest to international observers.
What is Ohrid?
The Ohrid Agreement holds significant importance for Kosovo, as it represents a major achievement aligning with its aspirations. This agreement, also known as the March agreement, entails several key provisions:
Both parties commit to recognizing each other's official documents and national symbols, encompassing passports, diplomas, license plates, and customs stamps.

In addition,  Disputes between the two parties will be resolved exclusively through peaceful means, with a commitment to abstain from the threat or use of force. Neither party can represent the other in the international arena.

 Serbia will not raise objections to Kosovo's accession to any international organization. Moreover, Kosovo and Serbia will establish permanent diplomatic missions in each other's capitals.
It is noteworthy that the Ohrid Agreement represents a joint effort by Kosovo, the United States, and the European Union to persuade Serbia to acknowledge Kosovo's sovereignty. However, it is important to mention that Serbian President Aleksander Vucic has not formally endorsed this agreement.
Kosovo's Complex History: From Creation to Controversy
Kosovo's quest for recognition is driven by its unique historical background, characterized by a lack of natural borders and a turbulent past. Prior to its establishment as an independent entity, Kosovo functioned as an autonomous province within Serbia, operating within the framework of Yugoslav governance.
The region was marked by a notable ethnic Albanian majority, and ethnic tensions between Albanians and Serbs persisted since the Yugoslav era. 
The culmination of these tensions manifested in the Kosovo War, a brutal and bloody conflict that began in 1998. This period witnessed intense armed confrontations, ethnic violence, and substantial casualties on both sides.
Efforts to resolve the conflict escalated in 1999 with NATO intervention, although this move paradoxically led to further escalation. Consequently, Kosovo's path to statehood is characterized by a complex historical context, making its legitimacy a subject of debate and contention.
NATO's Stance in Kosovo: Peacekeeping or Provocation?
NATO played a huge role in the Kosovo conflict, which had both intended and unintended consequences. The NATO airstrikes aimed at ending the conflict in Kosovo, but they resulted in collateral damage, including civilian casualties and the destruction of civilian infrastructure in Serbia. The bombing of the Chinese Embassy in Belgrade in 1999 stands out as a tragic incident that led to 30+ civilian deaths.
NATO's use of cluster ammunition during the conflict drew condemnation from the international community. Additionally, the NATO intervention unintentionally triggered retaliatory actions against Serbian civilians by ethnic Albanian forces in Kosovo.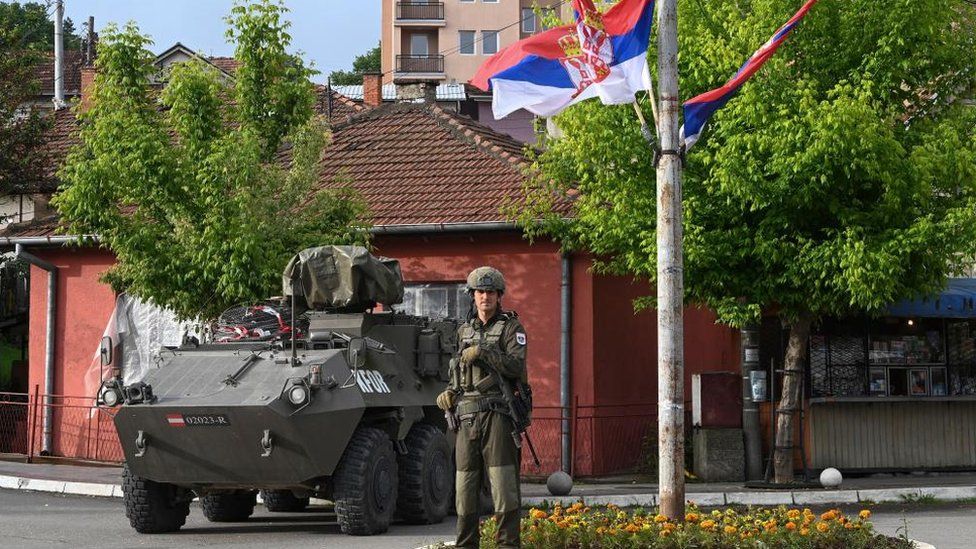 Following the conflict, NATO maintained an active presence in the region, with approximately 3,000 troops stationed there. 
The Obama Administration in 2009 recognized Kosovo's independence as necessary, and as part of NATO's peacekeeping efforts, Kosovo continued to host NATO troops on its soil. Despite these developments, tensions between Kosovo and Serbia persisted, underscoring the enduring complexities of the region's geopolitical landscape.
Read More: Kosovo and Serbia could become a single country but, the West doesn't want to give up its goldmine
Trump's Game-Changing Policies in the Kosovo Region
The Kosovo-U.S. relationship witnessed a significant shift during Donald Trump's presidency. Unlike his predecessor, President Trump pursued a diplomatic approach rather than displaying military strength toward Serbia. This diplomatic approach yielded positive results, as it contributed to an improvement in Kosovo-Serbia relations.
Under President Trump's administration, Serbia agreed to work on improving its ties with Kosovo. In return, Kosovo took the step of suspending its efforts to seek membership in international organizations. This diplomatic stance marked a departure from previous strategies and represented an attempt to find a peaceful resolution to the longstanding issues between Kosovo and Serbia.
President Trump's approach was aimed at fostering stability and reconciliation in the region, and it had notable impacts on the dynamics of Kosovo-Serbia relations during his time in office.
Trump played a pivotal role in compelling Serbia and Kosovo to enter into a peace accord. This agreement placed a strong emphasis on fostering economic cooperation, encompassing increased trade, investments, and infrastructure projects.
Key provisions within the accord included the establishment of new transportation links, such as a highway and railway, connecting Kosovo and Serbia. 
The aim was to create a comprehensive framework for both nations to collaborate on various matters, including energy, telecommunications, and property rights.
The agreement was widely viewed as a significant step toward enhancing stability in the Balkans and addressing longstanding issues between Serbia and Kosovo. While tensions temporarily eased after Trump's brokered deal, it became apparent that the sustainability of the agreement was uncertain in the long term.
Biden and Kurti: Reigniting Tensions in Kosovo's Powder Keg
However, in 2020, a significant shift occurred in Kosovo-U.S. relations when Albin Kurti assumed power. Kurti openly opposed the approach taken by the previous administration under Donald Trump. 
Kurti asserted that Trump had been pressuring Kosovar authorities to engage in a "land swap deal," which would involve conceding Serb territories back to Serbia.
Additionally, during the 2020 elections, Kurti endorsed Joe Biden and encouraged Albanians in the United States to vote for him and for Kosovo. Joe Biden's victory marked a departure from the Trump-backed agreement.
Under the Biden administration, in conjunction with Kurti and EU leaders, a different approach emerged. This approach involved applying pressure tactics on Serbia, including warnings of potential sanctions and the possibility of additional troop deployments, to achieve certain diplomatic objectives.
Read More: "Kosovo is our problem," Serbia asks Germany to mind its own business
Back to Ohrid 
In March 2023, talks between Serbia and Western powers led to the creation of a new agreement known as the Ohrid Agreement. 
However, Serbian President Alexander Vucic declined to formally sign it. Subsequently, violence erupted in Serb municipalities following Prime Minister Kurti's appointment of Albanian mayors in those areas. 
Now the immediate tensions have subsided, and Kurti is eager for the agreement to be implemented promptly.
Due to Prime Minister Kurti's concern that Donald Trump, an anti-Kosovo and anti-Islamist former U.S. President, might return to power in 2024, he is urging President Biden to expedite a deal. 
Nevertheless, it is unlikely that Biden will prioritize this request, given his involvement in more significant matters, such as the Ukraine situation and domestic politics.
Kosovo's apprehension about Donald Trump's potential return for a second term stems from several factors. Trump appears to be in a strong position for a re-election bid, while President Biden's approval ratings have declined significantly. 
With over 60% approval among GOP voters, Trump holds a substantial advantage over Biden, who only garners 38% approval among Democrats for a 2024 re-election.
Read More: Kosovo was always illegal now it's also an orphan
Kosovo has had contentious interactions with Trump due to his strong stance on Islamic terrorism, which has provoked Kosovan reactions. Furthermore, Trump's unwavering support for Serbian unity in the 'Land Swap' deal raises concerns.
The fear in Kosovo is that a second Trump term might roll back progress and return the region to its pre-2008 status, effectively making it an autonomous region with limited autonomy and no international recognition once again. 
Watch More: