Ukraine's President Zelensky has made notable changes in his administration, including the removal of his Defense Minister over allegations of corruption. This decision, based on unproven allegations, has raised questions about the credibility of his government. What's more intriguing is the appointment of Rustem Omerov as the new Defense Minister, a move that seems paradoxical given Omerov's alleged corruption. 
Ukraine's New Defense Minister
Rustem Umerov, a 41-year-old Crimean Tatar, has assumed the role of Ukraine's defense minister, taking over from Oleksii Reznikov. Umerov's involvement in Ukrainian government efforts since 2020 to formulate a strategy for ending Russia's occupation of Crimea is noteworthy. In September 2022, he became the head of the State Property Fund and successfully reformed and boosted its operations, achieving increased state property sales amid the ongoing conflict.
Umerov is recognized for his negotiation prowess, having participated in crucial discussions with Russia following the invasion, as well as U.N.-brokered wartime agreements and prisoner exchanges. His career began in the private sector, initially in Ukraine's mobile industry before establishing his own investment company and foundation.
Read More: Zelensky's Cabinet Overhaul is All About Crimea
From Critic to Alleged Corrupt
Ukraine's recently appointed Defense Minister, Rustem Umerov, finds himself entangled in an investigation by the nation's anti-corruption bureau stemming from his prior role as the head of the State Property Fund (FGIU). The High Anti-Corruption Court (VAKS) has mandated the National Anti-Corruption Bureau (NABU) to scrutinize Umerov and two former FGIU deputies over allegations of abusing their power in dealings with Tsentrenergo, a state-owned electricity-generating company in Ukraine.
The complaints against Umerov and his associates revolve around accusations of concealing the sale of electricity at prices below the market rate and impeding an investigation into embezzlement. Furthermore, the controversy related to FGIU's decision to remove independent members from the Tsentrenergo supervisory board is part of the complaint.
Despite this corruption investigation, Umerov assumed the role of defense minister following the dismissal of the previous minister, Aleksey Reznikov, by President Zelensky. The president cited the necessity for "new approaches" within the department. This development raises questions about the selection process and the potential implications of having a defense minister under scrutiny for alleged misconduct.
Reznikov Out, Omerov In
Zelensky recently made significant changes to his Cabinet, most notably replacing Defense Minister Oleksii Reznikov with Rustem Omerov. Reznikov's skepticism regarding the feasibility of regaining control of Crimea from Russia and his criticism of the Ukrainian army's capabilities under Zelensky's leadership played a role in his dismissal.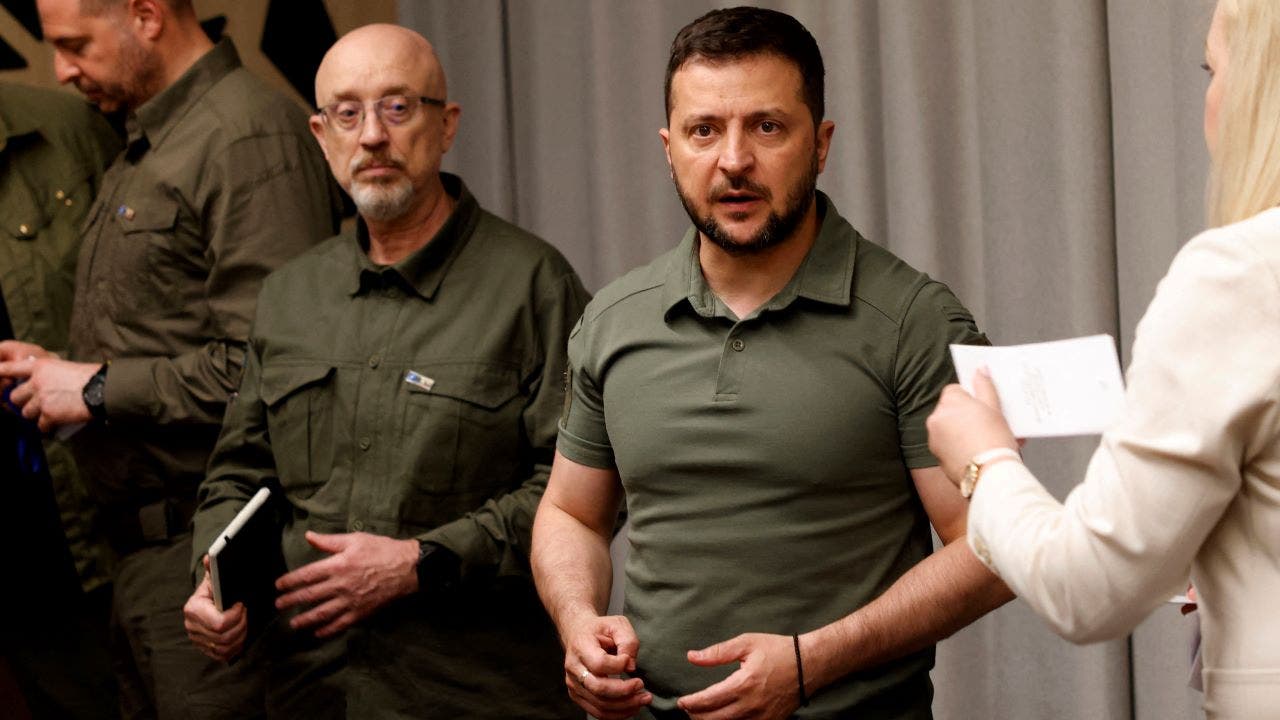 This decision reflects a shift in leadership within Ukraine's defense establishment and may signify a new approach to addressing the ongoing conflict in Crimea and the broader region. Omerov, known for his expertise on Crimea, has been appointed as the new Defense Minister, with Zelensky emphasizing the need for fresh approaches and better engagement with both the military and society.
Read More: It's almost certain that Reznikov will be the new president of Ukraine
This change comes at a crucial time, with Ukraine facing ongoing conflict and challenges related to its territorial integrity, particularly concerning Crimea. However, what has garnered attention is the irony of Zelensky firing Reznikov on charges of corruption and then appointing someone who is allegedly corrupt, raising questions about the selection process and its implications.
In a surprising twist, Zelensky has shown Defense Minister Reznikov the door due to his outspoken criticism. Yet, the replacement, Rustem Omerov, comes with allegations of corruption. It's a curious move, as Zelensky seems to have traded one challenge for another. The plot thickens in Ukraine's political theater.
Watch More: