US President Joe Biden's immigration policies are hurting the American citizens but now he is hell-bent on settling those illegal immigrants in the red states. The move comes even as illegal immigrants pose a threat to the security of the common American and also have been caught red-handed producing hard drugs and empowering drug cartels in the US.
Joe Biden has brought an immigration crisis upon the US and the southern states have been paying the price. The new administration halted the construction of the border wall and halted the Migrant Protection Protocols that required migrants to remain in Mexico while awaiting processing. And then, the Biden administration, as reported comprehensively by TFI, has also ensured that ICE is defanged, thus creating a citizenship pathway for at least 11 million illegal immigrants pushing for a new wave of the immigration crisis.
Read More: Immigration Crisis in the southern states; Joe Biden's administration living in denial
As news broke of a potentially large influx of illegal immigrants bound for Gila Bend, Arizona, Mayor Chriss Riggs told Fox News on Monday that he is very worried about the escalating crisis at the Mexican border.
He said, "that his town ‒ about halfway between Sonoyta, Sonora, Mexico and Phoenix ‒ is essentially being made into a waypoint for illegal immigrants captured by federal authorities. He told host Charles Payne that Gila Bend was already "very economically poor," and that it lacks even the most basic support for what he fears would be a costly unfunded mandate.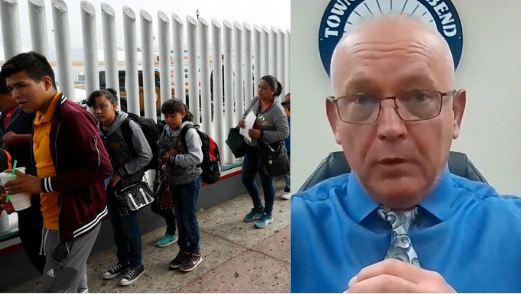 Riggs said, "We can barely afford to take care of the people that we have here and our community now, and as of this second, the Border Patrol advised us that they're going to drop people off here and do sort of like: 'They're your problem'. We just do not have the ability to care for these people. Quite frankly, it's going to cost us tens of thousands of dollars a year to be able to just to provide them with a bottle of water and a sandwich when they get dropped off."
Moreover, the federal government has also not provided any crucial data such as coronavirus infection rates of the migrants, the number of migrants Gila Bend can expect to see, or any other basic data.
The mayor said, referring to a community just north of his downtown that is populated mostly by members of the Tohono O'odham tribe, "I have a lot of seniors and elders here between Gila Bend and San Lucy Village that are susceptible to COVID. We have not seen the outbreak that other areas have seen in Arizona, yet we're going to get punished for their (the Biden administration) choices."
Moreover, According to Cochise County, Arizona Sheriff Mark Dannels, Biden's policies are not only welcoming more illegal immigration into the United States, but they are also enriching Mexican drug cartels that benefit from smuggling migrants across the border.
Migrants are paying cartels up to $6,000 to help smuggle them across the border, according to Dannels, a member of the Homeland Security Advisory Council and the National Sheriffs' Association's border security chairman.
Besides when these illegals reach here and treated with the most willing and enthusiastic border security in the whole world, these illegals set up meth houses to produce and sell meth.
Read More: Five reasons why the immigration crisis in America is going to bury Joe Biden and help Donald Trump in 2024
Three illegal immigrant cousins, including at least one who had already been deported, were sentenced to around 60 years in prison for producing and selling methamphetamine in Norcress, Georgia. The Mexican cousins ran a meth lab at a family home less than 200 feet from an elementary school, according to the Justice Department.
Besides, this is just the tip of the iceberg which illegal immigration is brewing inside the US, especially in the southern states. Texas is witnessing the worst of its fears as migrants wreak havoc in Texas. A section of them, are on a spree of damaging properties as well as harassing civilians.
As per the latest reports, illegal immigrants have torn down fences, left "bricks of marijuana" and even stolen vehicles from a ranch near Carrizo Springs, Texas, and it is happening more frequently since the election of President Joe Biden, a rancher told the Daily Caller News Foundation Wednesday.
The condition is worsening every day. The illegal immigrants have been given a free hand by the Biden administration, but most importantly have been limited by the White House to keep those illegal immigrants within the southern states. With Biden's latest order he surely wants to make the illegals settle in the south and generate a vote bank at the cost of the American taxpayer in the southern red states.