Liberal darling, sexual deviant and purported elderly killer – Andrew Cuomo of the Democratic party has resigned and will quit office in the next two weeks. Andrew Cuomo – best known for sexually harassing as many as 11 women was not until very long ago a complete liberal darling. He still might be, as 'feminists' rushed to his support despite the shocking accusations against him. Now, however, being seen as a Cuomo admirer can be risky. So, liberals and Democratic media charlatans prefer to keep their opinions on the man to themselves these days. Very conveniently, the Democrats are getting rid of the man for his sexually inappropriate behaviour.
But we have a very pertinent question to ask. Is Andrew Cuomo just a sexual deviant? Is he just a women molester? What about the thousands of elderly New Yorkers living in nursing homes, who were killed by Andrew Cuomo and his administration last year? Is Andrew Cuomo not going to be held responsible for his murderous order, allowing Covid-19 patients entry into nursing homes – despite being fully aware of the fact that this decision could put the most vulnerable of New York's population in harm's way – as it did, leading to the death of a reported 15,000 aged people.
But that carnage is not why Cuomo has resigned. Andrew Cuomo has resigned because of the #MeToo scandal. The Democrats, very cleverly, have allowed Cuomo to resign on one count alone, and that is his animalistic sexual behaviour. Had they made him resign for the deaths of thousands of elderly people in New York last year, the United States and its people would realise how Democrats have messed up in states ruled by them.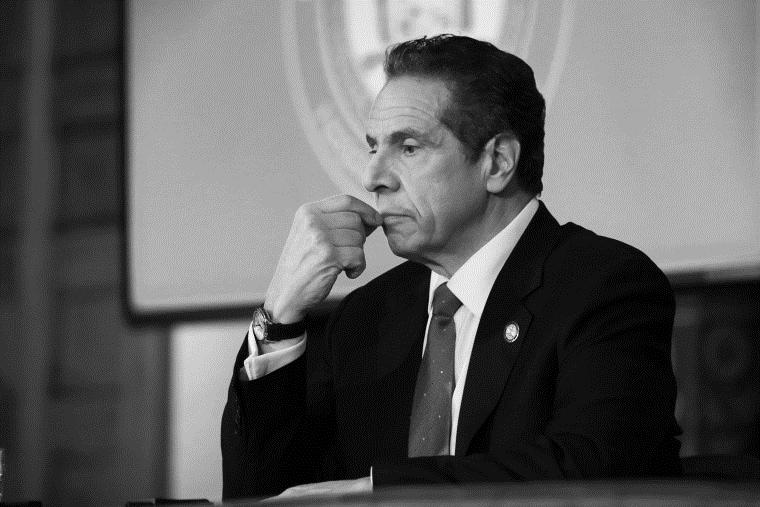 Joe Biden called Andrew Cuomo's Covid-19 response the "gold standard" for coronavirus crisis management. Liberals and Democrats were riveted by his daily press briefings; for which he actually won a special Emmy award. However, then came a report in January this year from the office of New York State Attorney General Letitia James, stating Cuomo underestimated the number of nursing-home deaths by as much as 50 per cent.
On February 12, Melissa DeRosa, a top aide to Cuomo, said in a call with state Democratic leaders that the Cuomo administration intentionally delayed the release of data pertaining to deaths from Covid-19 within nursing homes in fear it would've triggered a potential federal investigation by the Department of Justice and given an advantage to his political opponents. Interestingly, President Biden's Department of Justice civil investigation into the nursing-home tragedy in New York, New Jersey, Michigan and Pennsylvania was dropped just last week.
Read more: There could be more Cuomos in Democrat-controlled states who may have killed elderlies in nursing homes
It is almost as if Andrew Cuomo is the sacrificial lamb, who is taking the fall so that many other Democratic governors do not have to face the heat for their mishandling of the Covid-19 crisis. The timing of Andrew Cuomo's resignation and Biden dropping the investigation into nursing home tragedies across Democratic states is quite intriguing, and points towards a possible federal coverup of the death of elderly people.
Last week, Attorney General Letitia James said that Governor Andrew Cuomo "sexually harassed multiple women" while announcing the findings of an independent investigation. Although James said the probe was "civil in nature," it was unclear whether the governor would face criminal charges. However, US media reported that the district attorney's office in Albany, the state capital, had begun an investigation.
At a press conference conducted at the end of the five-month probe, James said, "Governor Andrew Cuomo sexually harassed many women and broke federal and state law." Cuomo, she claimed, participated in "unwelcome and non-consensual contact, as well as making repeated suggestive sexual comments that created a hostile work atmosphere for women."
It was after the release of this report that Andrew Cuomo called it quits, and was forced to step down as Governor by his party. However, while his sexual misconduct definitely had to be one of the grounds for his removal from office, it should not have been the only one. The death of thousands of elders in New York last year too should have been a reason why the man quit. That it is not, shows how the Democratic party and liberals have no regard for elder people and their lives.