The world at large is witnessing an Afghan deja vu with the US intelligence predicting that the Taliban could take over Kabul within 90 days. With the Taliban flexing its muscles amid a poorly managed US troops withdrawal, we can assume that Afghanistan has fallen. And in all fairness, it is Trump whom the world is missing right now.
Speaking about the present situation in Afghanistan, former US President Donald Trump blasted Joe Biden for putting no condition on the US withdrawal. Trump exclaimed that a violent Taliban surge in the wartorn country was "not acceptable."
Western analysts have been generally criticising the American troops pullout without slamming Biden's shoddy management of the critical process. A miffed Trump reportedly said that the US troops pullout, which Biden plans to complete by August 31 would have been "a much different and much more successful withdrawal" had he still been the President. He added, "Taliban understood that better than anyone."
In his statement, Trump claimed, "If I were now president, the world would find that our withdrawal from Afghanistan would be a conditions-based withdrawal."
The former US President added, "I personally had discussions with top Taliban leaders whereby they understood what they are doing now would not have been acceptable."
Well, to put it simply and precisely- Trump is right. Biden's Afghan policy is to exit Afghanistan without even dealing with the Taliban. The US President did not ensure that the Taliban is made subservient to the United States of America and is made to comply with some strict preconditions for a US troops pullout.
Trump, on the other hand, would have imposed some conditions on Taliban and put some conditions on the exit. The troops withdrawal agreement was originally concluded by the US with Taliban in Doha, Qatar on February 29, 2020, when Trump was the President of the United States. Formally called, "Agreement for Bringing Peace to Afghanistan", it never stipulated an unconditional withdrawal of the troops.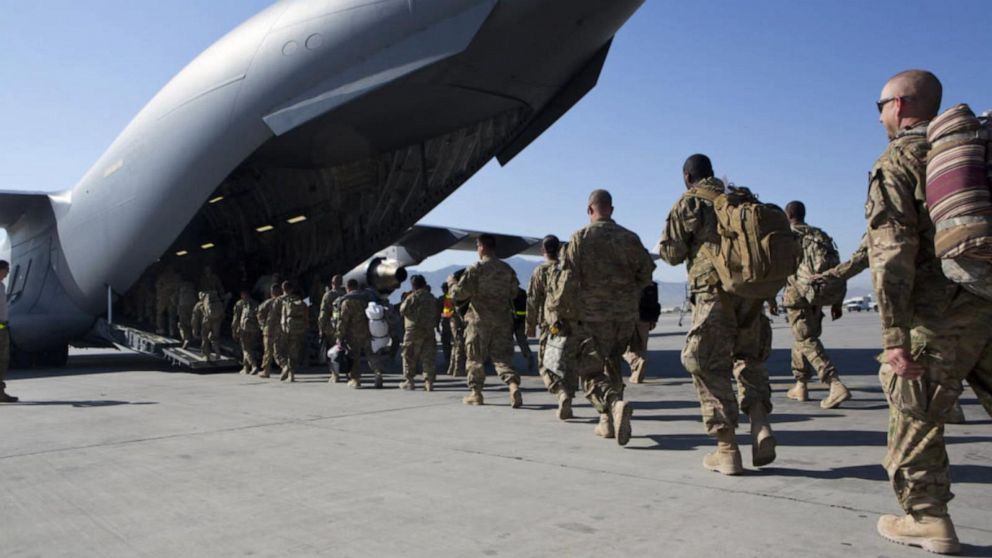 In fact, the February 2020 agreement negotiated by the Trump administration clearly and explicitly stated that "Taliban will not allow any of its members, other individuals or groups, including al-Qa'ida, to use the soil of Afghanistan to threaten the security of the United States and its allies."
But with Biden, it seems if he needed Taliban's permission for the US troops to leave. And once he got that permission, Biden simply pulled out American personnel without caring much for all the chaos that will be left behind in Afghanistan. What Biden has done can only be described as shoddy and this is why Afghanistan is staring right into a brutal power grab by the Taliban.
Moreover, there are a number of things that a global power can do apart from putting boots on the ground. Even though the Biden administration effected a troops withdrawal, it could have still stayed involved in Afghanistan. Take Pakistan's role for example. 'Sanction Pakistan' has been trending on Twitter.
Pakistan has been actively supporting the Taliban in its offensive against the people of Afghanistan. Even Pakistani Ministers are publicly supporting the Taliban. This is a part of Pakistan's policy to assert control over Afghanistan and yet Biden is silent over Pakistan's role in encouraging Taliban because of the strong pro-Pakistan lobby in the Democratic Party that doesn't want to sanction, scold or banish Islamabad.
With 8th province falling to Taliban,People of Afghanistan and people of USA must Question So called leadership of Afghanistan where 2 Trillion USD vanished that they received to build Afghan National Army? How come all ministers and generals became billionaires but

— Ch Fawad Hussain (@fawadchaudhry) August 11, 2021
On the other hand, Trump had understood Pakistan's nefarious designs. He knew how Pakistan was using American money in the US-led 'war on terror' to support the Taliban and facilitate the killing of American soldiers in the wartorn country of Afghanistan. This is why Trump had hammered Pakistan with repeated financial aid cuts and had substantially scaled down US-Pakistan relations.
Moreover, Trump understood that the US needed to choose India over Pakistan. Trump was ready to preserve New Delhi's interests in Afghanistan, in the form of all the infrastructure, roads, dams and schools constructed by India in the wartorn country. But Biden seems rather nonchalant about how India's interests are getting affected in Afghanistan.
With the US practically abandoning Afghanistan, the country is now becoming a point of Sino-Russian competition. China is shamelessly using Pakistan and Taliban to gain complete control over Afghanistan. Ultimately, the paper dragon wants to rob the wartorn nation of all its wealth, apart from reaching a tacit understanding with Taliban for not provoking separatism in Xinjiang near Afghanistan's Northern provinces.
On the other hand, Russia and Central Asian nations like Uzbekistan, Tajikistan and Turkmenistan want to keep the Taliban at bay. These Central Asian nations fear that Taliban's resurgence in Afghanistan would suddenly expose them to intrusion by hundreds of refugees, Afghan soldiers, Taliban fighters or terrorists and drug traders, who try to enter Central Asia. For Russia, helping the Central Asian nations is a part of its strategy to counterbalance the growing Chinese influence in the region.
At the end of the day, Biden is leaving Afghanistan exposed to all kinds of regional powers minus India. In fact, even Russia excluded India from a recent Afghan meet with the US, China and Pakistan. This does not augur well for the US or for Afghanistan, as India is Washington's only true democratic ally in the region. Had Trump stayed in power, India and the US could have collaborated on the subject of American troops withdrawal. But Biden simply rushed the pullout of American soldiers without even trying to coordinate with India. And the results are for everyone to see.
Now, the entire world seems to be missing Trump, as a democratic regime in Afghanistan is falling prey to the Taliban.