When you are surrounded by countries which have hypersonic missiles, what do you do? Japan asks this question to itself on a regular basis. It is surrounded by China, North Korea and Russia. They all have hypersonic missile technology. What this necessitates, you might wonder, is for Japan to have similar technology as well, right? Worry not. Japan is working to build a hypersonic missile arsenal for itself. But not only does a country facing a constant threat from China require hypersonic missiles, it also requires a deterrent against Chinese hypersonic weapons.
Imagine building only hypersonic missiles in response to Chinese hypersonic weapons. It would be illogical because hypersonic missiles cannot take down incoming missiles of their own kind fired by enemy nations. So, Japan needs an interception system that can destroy incoming hypersonic missiles. And Japan is working to build just that kind of a system.
Japan's 'Railgun' Trump Card against China
According to Nikkei Asia, the Japanese Defense Ministry will develop a means to intercept hostile missiles using magnetically powered projectiles. The ministry is focusing on railgun technology that can launch projectiles with power generated when an electric current is applied to a magnetic field. The projectiles are faster than those shot from conventional interception systems and can be fired continuously.
A railgun is an electromagnetic gun that could fire projectiles at Mach 7 — seven times the speed of sound — targeting ships, missiles, and planes. Japan aims to integrate the railgun system with long-range missiles in order to develop extensive interception capability. Therefore, railgun bullets will be twice as fast as incoming hypersonic missiles – enough to intercept and destroy them in a timely fashion.
Railguns are capable of firing interceptors at different speeds. Operators can change the speed of an interceptor by adjusting the amount of electrical power they utilize.
Japan's fiscal 2022 budget includes a 6.5-billion-yen ($56 million) allotment for the development of prototypes of military-use railgun technology. This comes in the backdrop of Japanese Prime Minister Kishida Fumio's cabinet approving 5.4 trillion-yen ($47.2 billion) worth of defense spending in the fiscal year 2022. The draft budget represents a 1.09 percent per cent rise in annual spending.
Japan Could Emerge as a World Leader in Railgun Technology
Building railguns is not easy. Making them work, meanwhile, is a different ballgame altogether. The United States tried building railgun defences for years, but did not succeed in its endeavour. On the other hand, Japan has witnessed some significant breakthroughs in the research stage of making railguns itself.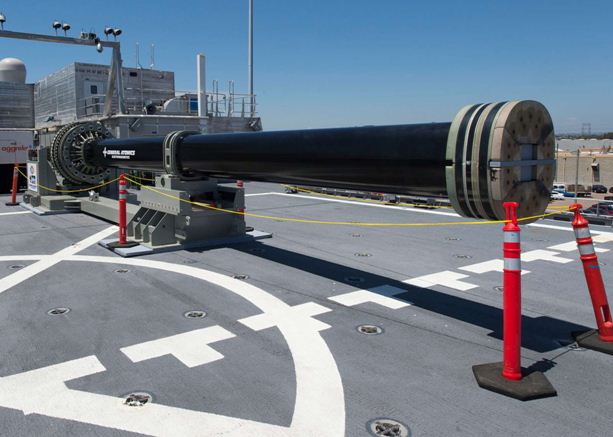 Existing intercept missiles are limited to speeds of about 1,700 meters per second. Interceptors fired from electromagnetic railguns are expected to reach speeds of over 2,000 meters per second. According to Nikkei Asia, during the research stage, a prototype achieved a speed of nearly 2,300 meters per second.
As such, Japan could emerge as a global leader in railgun defense technology. If Japan is able to make this breakthrough, its railgun technology will become a global sensation. Do you know what this would do to China's ambitions in the East and South China Seas? They would be sunken.
Japan's Hypersonic Missile Program
Japan already has a bomb in the basement. It is a "near-nuclear state".  So, you may think what is new about it? Well, being a nuclear power or a near-nuclear power isn't just about making the bomb. It is a huge logistical game to be precise.
In Japan's case too, the means to carry nuclear warheads are just as important as the capability to launch an offensive nuclear programme at will. And Japan is making weapons that can breach China's defences quite easily. Japan has an exciting hypersonic weapons programme.
Read more: Appetite for hypersonic weapons brings Japan a step closer to the nuclear option
These are next-gen weapons that travel faster than five times the speed of sound, fly at low altitudes and remain highly manoeuvrable, making it hard for missile defence systems to intercept them. The Japanese military is presently considering developing a hypersonic anti-ship missile with a special warhead that will tear through the decks of Chinese aircraft carriers and destroy them ruthlessly. Japan plans to deploy such anti-ship missiles on its island bases starting in 2026.
Japan is thus producing some magnificent weapons capable of keeping China on the edge. Japan is becoming a bigger military force with every bold move that it is making. Tokyo has realised it has to fight China sooner or later, and it is preparing for it on a war-footing.