Recent developments in Kazakhstan have raised red flags in China. Beijing fears the ongoing riots in the country may churn out ramifications for its Belt and Road Initiative. Consider the security situation in Almaty for instance, the largest city in the Central Asian country.
Infuriated at back-breaking inflation and protectionist economic policies, people here are up in arms against the government. They are setting government buildings on fire. 2000 arrests have been made. 18 security officials have already lost their lives. Moscow alleges the role of "external forces" behind this chaos and has already invoked the Collective Security Treaty Organization (CSTO) mechanism to deploy its forces on the ground.
China whines at Russian moves in Kazakhstan
On the geopolitical side of this development, the US has questioned the legality of this deployment. But the most exciting development came from Beijing. Chinese foreign ministry on Thursday carefully criticized Russian involvement in Kazakhstan without naming Moscow. A spokesperson from the Chinese foreign ministry was quoted by Global Times as saying, "What happened in Kazakhstan is its domestic affairs. It is believed its govt can properly handle with." This is significant, especially when Russia and China appear to be in bed with each other.
Also Read: Russia shows US and China who is boss in Central Asia
This development again solidifies the claims that the Sino-Russian partnership is nothing more than a marriage of convenience. Their interests keep on diverging as they move afar from the US-related issues. Their policies are highly confrontational in the Central Asian and the Arctic region. Banking on easy loans, notorious BRI projects and debt trap policy, China had aspired of undermining Russian interests in the Central Asian region.
Why does the Central Asian region matter for China?
In all five countries of the Central Asian region, namely Kazakhstan, Kyrgyzstan, Tajikistan, Turkmenistan and Uzbekistan, Chinese influence has grown manifolds over the past decade. This is a resource-rich region. It houses 40 billion barrels of oil reserves and 500 trillion cubic feet of natural gas reserves. For an energy-starved country like China, the region is no less than a treasure trove.
Apart from being resource-rich and in close proximity to China, the region also holds paramount importance in meeting China's BRI ambitions. Two of the six BRI corridors pass through the region connecting China respectively to Europe and Iran and West Asia. China needs support from these nations to reach Europe via rail and road links.
Of all, Kazakhstan is of the greatest importance. Mind the fact that Chinese President Xi Jinping had introduced BRI (OBOR) during his visit to Kazakhstan only, back in 2013. Beijing is rapidly investing in east-west infrastructure projects across the Central Asian republic that has overshadowed previously launched programs backed by the U.S. and Russia.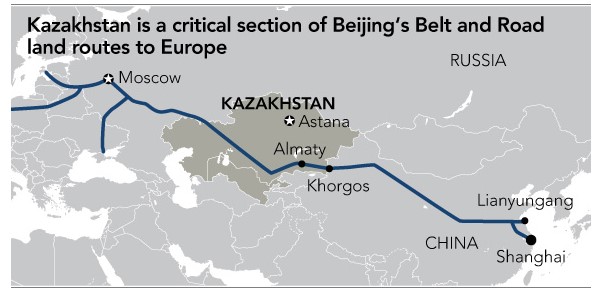 Why did Russia intervene?
China aspires to link Shanghai to European nations located on the western flank of the continent via Kazakhstan. But Russia's intervention could prove as a big impediment. Russia is now undoing the accomplishments of years of Chinese labour in one go. With the CSTO intervention, Russia has successfully established the supreme authority of the Russian security umbrella, not just in Kazakhstan but all of the member countries of the CSTO.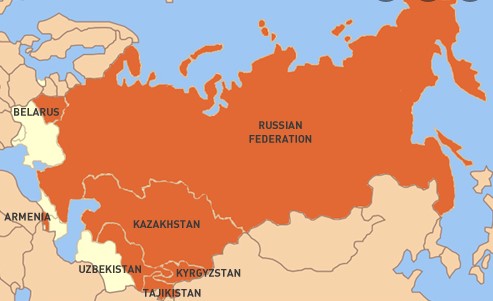 Russian credibility had taken a massive hit following the Kremlin's refusal to back Armenia in its war against Azerbaijan last year. However, Russia's overwhelming support to the Kazakh government would help Russia win support from these nations again.
Also Read: Backed by Russia and India, Central Asia is holding China's BRI to ransom
Russia has always looked askance upon Chinese involvement in the region, especially upon Beijing's overstepping of Russia's red line in the security arena. For instance, China today accounts for about 18 percent of the total military purchases by Central Asia as compared to about 1 percent at the beginning of the last decade. China is also eying building a military base in Tajikistan.
But Russia won't sit idle either! Recent developments have shown Russia is back with a bang. Russia wants to send a strong message to Beijing and the US; Russia has always been and will remain the supreme commanding authority in Central Asia. Flabbergasted at Russia's bold intervention in Kazakhstan, China is left with few options on the table other than whining and grumbling in pain.