China, under the leadership of Xi Jinping, has attempted to control the entire South China Sea with its fictitious 9 dash line claim. While the aggressive foreign policy approach had allowed Beijing to pursue these claims; with the country at its weakest, the global pressure has now forced China to abandon its 9 dash line theory.
Beijing appears to be shifting towards a new legal theory to justify its claims in the South China Sea. Malaysian Foreign Minister Saifuddin Abdullah told reporters last week that Beijing now "speaks less of the 'nine-dash line' and more often of the 'Four Sha.'" Member countries of the Association of Southeast Asian Nations (ASEAN), he noted, have witnessed the transition.
This is the first instance where the Chinese Communist Party has made a retreat on its claims in the South China Sea. The unprecedented development goes on to show how increasing global pressure and a reinvigorated ASEAN have forced Xi Jinping to make this humiliating retreat.
China replaces 9 dash line with 'Four Sha'
The global pressure on China has reached new levels, with relatively friendly organisations like the European Union and ASEAN taking steps to contain Beijing's influence in their backyard. On the domestic front, China is facing even more problems. The growth rate has reached at best absolute zero and at worst, double-digit negative growth. Many factors have contributed to this. Be it the exodus of companies out of China, the real estate debacle, energy crunch, failing one-China policy, the list goes on and on.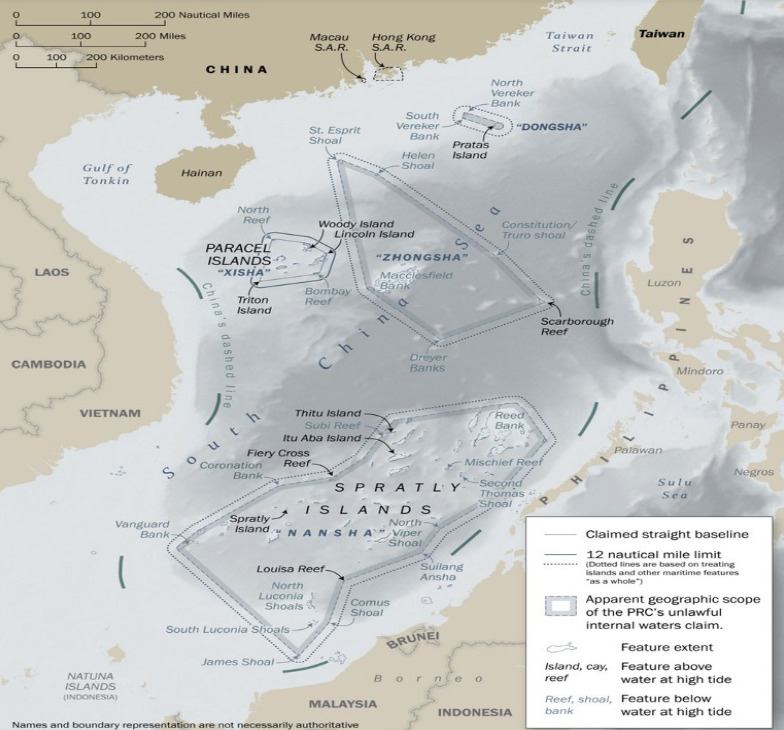 The situation is so precarious that even a paranoid Xi Jinping has been forced to change course in the South China Sea. China has shifted to a new legal theory to justify its claims. "Four Sha," or Four Sands Archipelagos, are the four island groups in the South China Sea that Beijing claims to hold "historical rights" to. These island groups are known as Pratas Islands, Paracel Islands, the Macclesfield Bank area and the Spratly Islands.
Julian Ku, a professor at Hofstra University School of Law in Long Island, New York, stated, "The nine-dash line has proven to be a really easy target for critics of China's South China Sea claims." He added that the tribunal ruling did not specifically discuss China's Four Sha theory, although it would also be difficult to support.
Back in 2016, an international tribunal has already invalidated the 9 dash line claim saying China has no legal basis for it. Although Beijing rejected the ruling, other nations have endorsed it, and to this day, the international community has been pressing on China based on the ruling. In particular, the major ASEAN member countries have started hurting China in their respective capacities. All the China hawk member countries have even come together to present a united front against Communist China.
ASEAN's anti-China actions have started having its impact
Late last year, Indonesia invited Brunei, Malaysia, the Philippines, Singapore and Vietnam to meet next year as a part of the ASEAN Coast Guard Forum, which met virtually in October. Vice Admiral Aan Kurnia, chief of Indonesian maritime security agency Bakamla, said, "We will share experiences on how to respond in the field when we face the same 'disturbance'", in a veiled reference to China.
Read more: Is ASEAN headed for a major split right in the middle? Indonesia's sudden moves indicate so
Indonesia is not a part of the South China Sea disputes, but Beijing says its "nine-dash" line covers the Exclusive Economic Zone (EEZ) of Indonesia's Natuna Islands. In addition to this, Malaysia and the Philippines both share contentious South China Sea disputes with China. Now, all these countries in their respective capacities are collaborating with countries like Russia, South Korea, Japan and India to stand firm in the face of Xi Jinping's bullying tactics.
All these developments have made Xi Jinping scared to the core. He is not confident if the PLA and CCP will be able to hold ground and support the claims in the South China Sea. Now out of desperation, China has entirely shifted its approach. It has given up on the 9 dash line and has come up with another equally baseless Four Sha claim. Xi Jinping and the CCP have made this retreat in hopes of consolidating their strategic claims in the South China Sea. But, replacing one fictional claim with another does not make it real, and in the end, all these claims will fall like a house of cards.