The deed is done. The deal has been signed. Twitter is now a privately-owned company, controlled entirely by Elon Musk. The Tesla and SpaceX CEO initiated a hostile takeover of Twitter after having refused to join its board of directors. He refused to join the board of directors after becoming Twitter's largest shareholder. Twitter initially tried holding the fort against Elon Musk's offer to buy the company out. Musk was offering an unprecedented $54.20 for every share of the company. The total size of the buyout was $44 billion. Musk had declared at the very onset that he would not negotiate the price and that his offer was the "best and final" one.
On Monday, Twitter budged. It gave in to Musk's might and announced that Elon was the new owner of the microblogging platform. Twitter saw the writing on the wall after Musk announced that he had secured funding. Subsequently, the board went into negotiations with the Tesla chief. According to Wall Street Journal, on Friday, Musk met "privately with several shareholders of the company to extol the virtues of his proposal" and also made video calls to them to push for his case.
Liberals Lose Their Minds
The deal was drenched with the tears of liberals. Twitter, as well all know, has been a bastion of the Left and its allies for years now. It became a town square for liberals to control the narrative. Twitter's machinery itself had been corrupted by liberals, which targeted conservatives by suspending their accounts, deleting their tweets, or using the infamous 'shadow-banning' mechanism.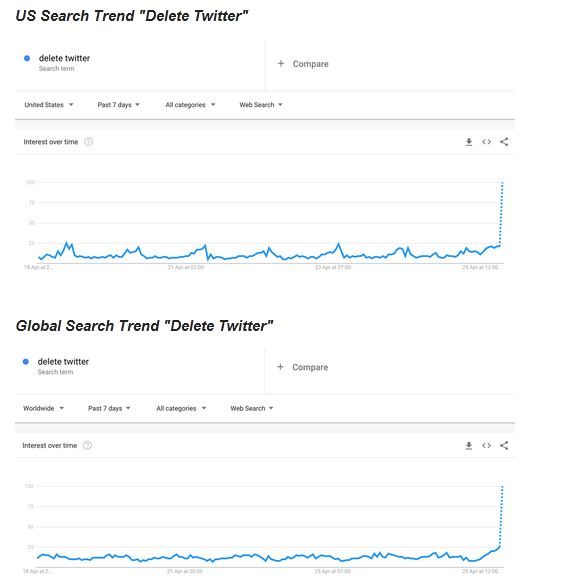 On Monday, it all came back to bite liberals in their posteriors. Across the liberal media platforms like CNET, The Independent, and Newsweek, the ways of leaving Twitter are trending. The liberal gang is in panic mode like never before and they are hurriedly leaving Twitter.
The "Delete Twitter" hashtag campaign has gained momentum and is spreading like a wildfire.
Many have begun quitting Twitter. Black Lives Matter activist, Shaun King was among the first to call it quits on Twitter. Before he left, he wrote, "At its root, Elon Musk wanting to purchase Twitter is not about left vs right. It's about white power. The man was raised in Apartheid by a white nationalist. He's upset that Twitter won't allow white nationalists to target/harass people. That's his definition of free speech."
Read more: Muskified Twitter is a death knell for the global liberal ecosystem
Erik Larsen, Jameela Jamil, and Howard Dean were among the many prominent liberals who quit the platform as soon as it was announced that Twitter was sold to Elon Musk.
https://twitter.com/robreiner/status/1518594546380132352?s=20&t=M7JcZc6oz2US3Q-xpATASw
https://twitter.com/SenWarren/status/1518702084048179200?s=20&t=SWZBKGXaLfMoE212TCWvkA
Liberals Allege Bias
On Monday itself, some liberals seem to have gotten a taste of their own medicine. Numerous prominent liberals complained on Monday evening that they were losing Twitter followers. Naturally, they were linking the drop in their follower count to Musk's takeover of Twitter.
Neera Tanden, a high-profile supporter of Hillary Clinton, said that she had "just lost 2000 followers." She asked, "Anyone else losing followers?" Anti-gun activist David Hogg responded in the affirmative and said, "Oh I thought it was just some really bad takes I posted but guess I'm not alone – 3000 today."
Star Wars actor Mark Hamill quote-retweeted Tanden's accusation, and said, "Just lost more than 8,000 followers in the last couple of hours. Was it something I said?"
Read more: TFI Global had predicted a hostile takeover of Twitter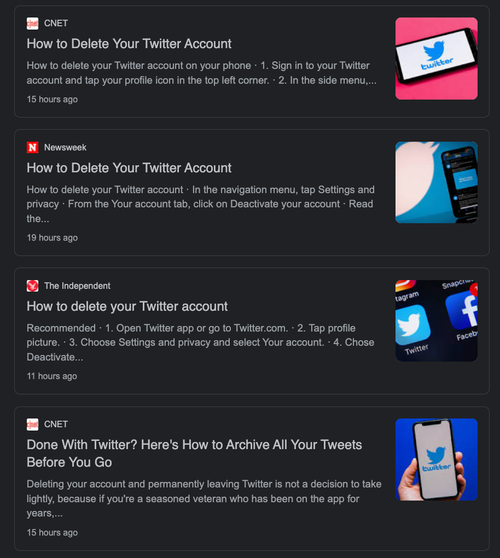 The future is ours. The future is of free speech. Imagine being able to put your opinion out on this platform without the fear of getting shadow-banned, suspended, or having your tweets deleted. Individuals are going to get empowered. Elon Musk is all set to make this a reality. For liberals, this is tantamount to a loss of hegemony, which is why they are all suffering an existential crisis.