Last week saw a tiny bit excited Erdogan getting down in Riyadh with hopes of setting straight the weakened relationship that Ankara held with the kingdom. Erdogan's charm offensive at Saudi did create headlines but the bruise of the past is yet to fade from one person in particular. The crown prince MBS.
Ankara's role in dragging Saudi to the global stage in the aftermath of the Khashoggi murder was the poison that ripped apart the two middle eastern superpowers for this long. Even if Erdogan looks to bury the past with a new amicable relationship, a not-so naïve MBS is sure to keep in mind the happenings of the bygone times.
Erdogan's charm offensive
With soaring inflation, depletion in the value of the lira, and dwindling popularity, Erdogan is staring right at a crisis. With the unsolicited intervention in the Ukraine war, Russia has also turned out to be a no-fly zone for Erdogan. With every door getting closed, the only green pasture that has the scope for Turkey to benefit is Saudi. The ice-breaking meeting in Jeddah with MBS proves the same. Erdogan might have gained quite a salvage from the meet and a reliable Saudi can pull Turkey out of the economic quagmire, or this is what Erdogan hopes.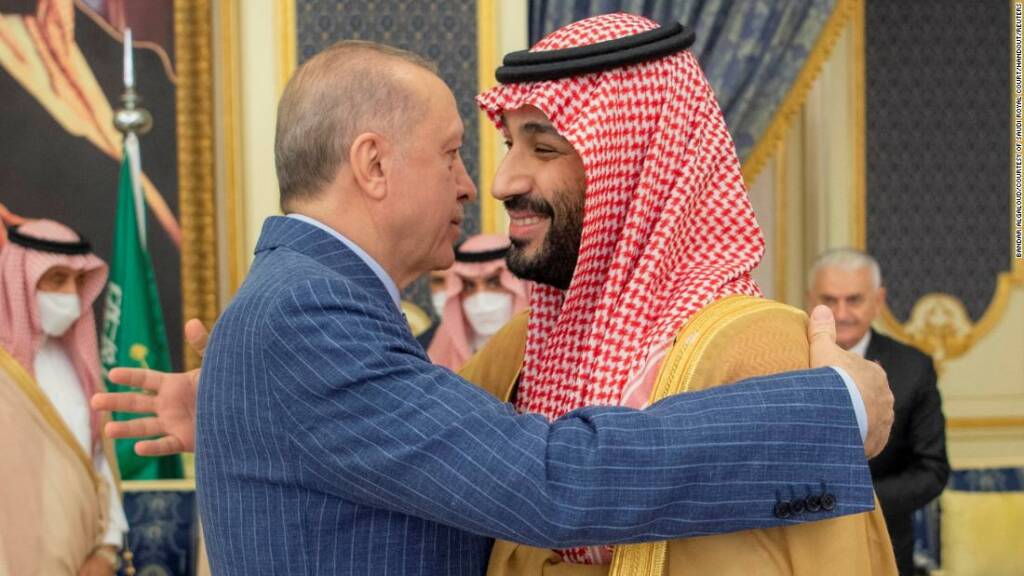 Difficult deals with MBS need the balancing act that could berate even your close acolytes. Erdogan is currently in that phase. The media portals affiliated with the Muslim Brotherhood in Cairo have been fostering a base in Istanbul with hard-hitting criticism directed at the current regime of Abdel Fattah el-Sisi, the president of Egypt. The media portals found a haven in Istanbul with Erdogan rendering a protective shield to counter any act of oppression from Cairo. Erdogan has been a dedicated supporter of the Muslim brotherhood and has gone to the wrong side with Cairo over the coup that took place in 2013.
Read more: After flexing muscles for quite some time, Erdogan realizes that it is best to be friends with Saudi and Israel
Turkey bows before its new masters
For six long years, the Egyptian channel Al-Sharq operated freely from Istanbul with no consequences from Cairo and cultivated a strong connection with Erdogan and his acolytes. Adulation for Erdogan's policies turned out to be a common motif for this portal whilst it was no ends barred criticism of the neighboring regime in Cairo. The cordial ties that the media houses enjoyed got frozen out by MBS in the last week. Saudi happens to be a close affiliate of Egypt. It seems El-Sisi has wielded his influence with MBS to coax Erdogan to put a stop to Muslim affiliated media houses in Istanbul.
I was told the Turkish state is seeking a rapprochement with the region, and . . . the Egyptians set a very clear condition, which was closing down those TV channels that were broadcasting from Turkey and narrowing the space for their work," said the owner of Al-Sharq
A harrumphed Turkey has been pressing Al-Sharq to bring down their criticism of the regime in Egypt. Requests started transcending into threats and finally, it dawned upon the media portals to shift their base from Istanbul.
In a public statement, Mekameleen, another Egyptian media portal said it would move its studios and other activities out of the country "due to the circumstances that are not hidden from anyone" — widely seen as a reference to the rapprochement between Ankara and former rivals. It thanked Turkey for its "generous hospitality" in recent years but said that it needed to move its operations in order to continue "conveying the whole truth".
El Sisi after ascending into power has been showing no mercy in its crackdown on Muslim Brotherhood members and their cabals. As Istanbul stoops to economic Bizzare of an unprecedented level, Erdogan is left with no other option than to dump the media houses for diplomatic gold.
As of now, Al-Sharq is looking toward transferring its operation to France.
Watch –