Food is a necessity, it is one of the most vital things humans need to survive. But, the Russia-Ukraine war has loomed a food crisis across the globe. Especially over the European Continent as Ukraine has fallen.
Till now, the EU was with Ukraine and fulfilling every demand raised by NATO allies like USA and United Kingdom. However, when the stakes are high in hope of preventing a potential 'food scarcity,' The EU may ditch NATO and its allies.
Russian President Vladimir Putin has given a 'hand' to European Nations by ensuring food supplies but, only if a few food-related sanctions are eased. The NATO allies, US and UK are saying it's not possible. But, the EU nations' recent activities indicate sanctions will ease. So, a crack has started to erupt.
Italy and Germany lay down their guns
Most Russian hawk nations in the past three months have started to soften their tone. Recently, Italy's Prime Minister Mario Draghi and Russian President Vladimir Putin discussed ways to help ease the international food crisis.
In a very rare sight, Mario Draghi has quoted Putin's words that the food crisis is occurring due to certain west sanctions. Furthermore, Italy wants to see if it can unblock these huge quantities of grain in Ukrainian ports in the Black Sea with Russia.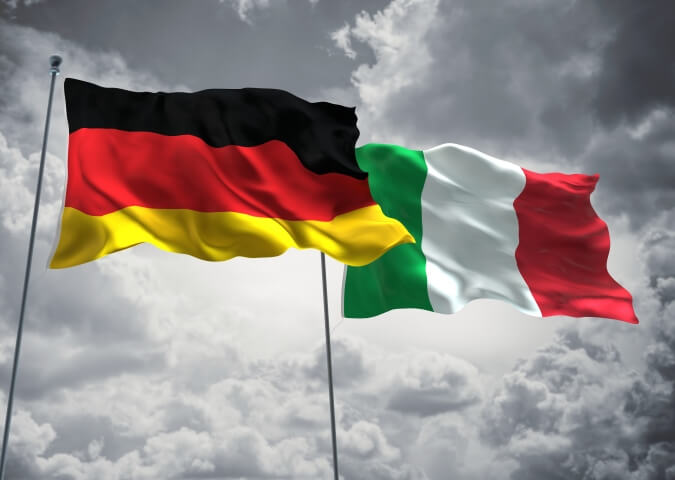 Not only this, but Italy has also proposed a peace treaty plan between Russia and Ukraine. On this treaty, Russia hasn't uttered a single comment. But, the whole west went crazy as it was not part of their agenda.
In addition, Russia has proposed to build a food corridor between Ukraine and Europe to help the bloc ease its food crisis. Surprisingly, Germany indicated that it accepts Russia's offer! A high-ranking Berlin official told the media that the proposal was realistic.
The official said, "I think that in order to lift anything [such as sanctions], we would not rely on the [Russia's] promises – we would need to see something happen on the ground first – this is where the complexity of the matter lies." Now, this is a dramatic shift in Germany's Russia policy.
At present, the EU is the worst hit by the consequences of the Russia-Ukraine war. Now, the bloc is struggling to secure its food supplies from Ukraine due to the blockade imposed by Russia on the Black Sea. So, for Germany and Italy to feed their population and keep their industries up and running, a deal with Russia is unavoidable.
Read More: Germany (unofficially) joins Russia's side
NATO strikes back
NATO has made it very clear, that the sanctions won't be lifted at all. The White House said there would be no talks about relaxing sanctions on Russia in order to secure grain exports.
Whereas, the UK has also rejected the idea of lifting sanctions, and welcomed the suggestion of Black Sea nations, such as Turkey, escorting the Ukraine grain shipments after Moscow ruled out the involvement of Western forces. So, take note of the tone, the grain will be escorted out of Ukraine by NATO states because it does not wish to engage with Russia.
Whereas, Germany and Italy have already signaled that they will change their stance on the war in order to secure food and energy. This is where a disagreement arises between their opinions.
Keep in mind, that Germany and Italy are considered big guns of the European Union. Whatever the decision is of bigger nations, smaller EU nations march behind them. And the food is a really sensitive issue and one of the basic necessities.
Slovakia has already secured its food grains and made sure exports of more than mere 400 tonnes do not occur. So, be very clear that EU nations need food and they won't deny the Russian offer for long.
Read More: 'Slovakia's food is for Slovakians,' Slovakia's trade restrictions leave EU fuming
A major NATO-EU conflict is on the cards, and the reason is food. What could happen between these ally states is a wave of sanctions against each other, followed by trade bans and, eventually, the collapse of diplomacies. If NATO does not accept the EU's demand in the near future, its existence will be at risk.
NATO allies will begin to pull apart as more countries join the club of Germany and Italy. more than 20 million tonnes of grain are stuck in silos in the country and the EU wants to secure its food supplies at any cost.
ALSO WATCH: