In terms of entertainment quotient, our neighbors to the northwest never disappoint. This week too was action-packed, full of drama on the political and economic front. But the funniest story this week, especially for India, came from a different vertical. Several prominent Pakistanis, from the Prime Minister to Forever-21 Shahid Afridi, took to social media to condemn terrorist Yasin Malik's conviction in the murder of an Indian soldier. The entire campaign, wherein they accused India of choking the voice of a "freedom fighter" was assinie, considering Malik himself had surrendered for the crime in an Indian court of law. But logic has never been the strong suit of a man who tried to stealthily tamper a cricket ball by biting it in front of twenty-one television cameras.
India's continued attempts to silence critical voices against its blatant human right abuses are futile. Fabricated charges against #YasinMalik will not put a hold to #Kashmir's struggle to freedom. Urging the #UN to take notice of unfair & illegal trails against Kashmir leaders. pic.twitter.com/EEJV5jyzmN

— Shahid Afridi (@SAfridiOfficial) May 25, 2022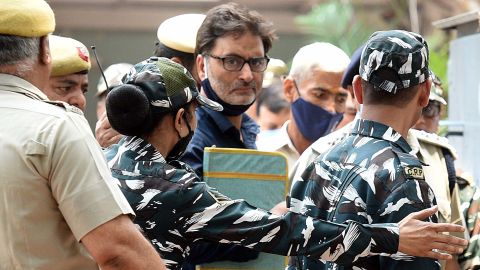 On the political front, Imran Khan's long-awaited march to Islamabad from different parts of the country finally began. However, it ended abruptly, and in complete chaos. Different sources furnish different reasons for Imran to have dumped his supporters midway as they walked hundreds of kilometers. According to one media source, the march was disbanded after the protestors clashed with the police in front of the assembly building in Islamabad. However, upon disbanding the march, Imran has issued an ultimatum, giving the government six days to resign and call for new elections. A second source claims that after the reaction and response that Khan had received on his campaign against the government and the military establishment after being ousted as Prime Minister, Imran had expected much larger crowds to join the march. Disappointed with the turnout, he realized that a strategic retreat might be his best option at the moment. However, a third media source has a very interesting angle, and this has been corroborated by senior Pakistani journalists across the spectrum.
Dawn, one of Pakistan's leading media outlets, has reported that in the end, the military establishment got to Khan. It was difficult to establish channels of communication with Khan, but finally, a businessman, a former chief justice, and a retired general managed to speak to him. It is not clear what they offered in exchange for disbanding the protests that were increasingly turning violent, but some reports suggest that an assurance was made to Khan for the dissolution of the assembly and fresh elections in June. Another leaked audio tape doing the rounds in Pakistani media and social media seems to indicate that Imran tried cutting a deal with former president and foreign minister Bilawal Bhutto's father Asif Ali Zardari, who has once again emerged as an important operator in the military establishment that is known as Pakistani politics.
Read more – Pakistan Watch: Hina's new boss Bilawal, Another round of begging in Saudi, Balochistan Vs China, and a Heroin Bust
Clearly, things have not gone as per Imran Khan's plan. His march left a trail of bloodshed and violence across several parts of the country. The turnout was much smaller than expected. His disbanding the march midway has left his supporters feeling confused and betrayed. His new ultimatum, issued because the old did not work out, has made him look completely powerless. And the latest leaks about his conversations and deals have made his credibility take a plunge He seems to have lost whatever leverage he had, and how the military establishment finally deals with a dissident who continues to be in the country and continues to lose public support, will be interesting to watch.
Read More – Pakistan Watch: The Country is fast turning into Sri Lanka, with the Sharifs Playing the Part of Rajapakses
Meanwhile, things look dismal as ever on the economic front. A day after Pakistan's begging sessions at the IMF to revive a suspended bailout program ended inconclusively, Pakistan raised its fuel prices by thirty rupees per litre. The realisation that there is no fooling the IMF and other international agencies, seems to have finally dawned on the government and the military establishment, who decided to raise fuel prices to meet the IMF's expectations after many months of resistance. Subsidizing fuel heavily was a populist measure that Imran Khan had brought about, and would have soon led the country to bankruptcy. However, its removal will have terrible economic consequences. Already the price of power has been hiked by seven rupees per unit, and inflation is likely to skyrocket, since the rise in the prices of fuel will impact the retail prices of goods and raise people's cost of living. Whether the country will come out of both the political and the economic turmoil that it is in remains to be seen.