The myth that Moscow has imposed a food blockade on Europe has busted; and such claims have now started to fall flat. As the battle in Ukraine progresses, the world is becoming more aware of the harsh reality of the conflict. There remains no ambiguity about the fact that Moscow has been doing everything it can, to persuade Kyiv to restore wheat supplies. Rather, it is only Ukraine that is putting up hefty demands before the world to unlock its much sought-after food reserves. Now, it is being reported that the warring country has completely refused to allow the shipment of wheat from its ports until its demands are met to provide it with anti-ship missiles.
Zelensky is behaving like that kid who has grown up but still refuses to accept the realities. He still believes his wailing attitude will continue to grant him sympathy. But he is wrong.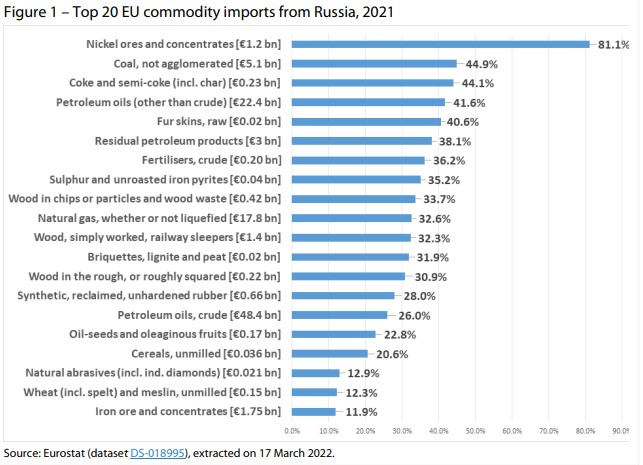 The EU has been a key trading partner of different agri-food products with both Russia and Ukraine. Europe relies heavily on foodgrain imports from Russia and Ukraine, due to which, the current war in Ukraine has brought them to their knees. Moreover, the Ukraine-Russia crisis has also increased the prices of fertilizers, pushing food production costs even higher and has therefore only added to the misery of the West.
Read More: EU and Ukraine are fighting over wheat like mad mongrels
Zelensky's continuous rejections
As per a report by Illinois, 75 million tons of grain could be sitting idle in Ukraine. So, today if the whole of Europe is going to bed hungry, only and only Ukraine is responsible for that.
Ukraine is also making a hash of Turkey's efforts to pull the EU out of the burgeoning food crisis. Turkey recently proposed a grain corridor to facilitate the export of grains from Ukraine. The proposed plan required Turkey to escort the grain vessels to international waters, after which, Russian warships would escort them to the Bosphorus Strait, from where, they would be exported further. Russia readily accepted the plan, but it was Ukraine's rejection that threw the spanner in the works of Turkey.
In another move, Moscow proposed four potential corridors:
Through the Azov Sea
Through the Black Sea
Overland through Belarus along the route to Baltic ports
A trade route running across Western Europe
All these trade routes could have solved the EU's food problem, which has pitiably resorted to begging to Africa to meet its food needs. But Zelensky, who has been living on borrowed lungs of Europe, brazenly rejected all the viable solutions.
Read More: Russia's irresistible food offer to Turkey has sounded the death knell for Sweden and Finland
The real motive behind all this
These outright rejections by Ukraine are indicative of Kyiv's unwillingness to export its grains without holding the EU hostage for financial aid and long range strike capabilities.
"Effective security guarantees are required for maritime shipments to resume. These guarantees must be provided through the supply of appropriate weapons to Ukraine to protect its coasts from maritime threats and the involvement of the navies of third countries in protecting the relevant part of the Black Sea," the Ukrainian President recently said in an interview.
This statement greatly signifies what the ulterior motives of Ukraine are! The definition of "effective security" for Zelensky is not defensive security but offensive one, suggesting that defending Ukraine is not his topmost priority but attacking Russia is. On the first front, he wants to gain from the exports of grains to Europe, and at the same time, he wants to go offensive on Russia by using anti-ship missiles. This way, Ukraine might even end up attacking Russia's food vessels bound for Europe or Africa, that will surely aggravate the food crisis in the world.
Also Read: Putin buys Erdogan out  
But, some anti-Russia voices in the West are still adamant about blaming Moscow for their famished state. US ambassador to the UN, Linda Thomas-Greenfield, blamed Russia's war in Ukraine – which Moscow calls a "special military operation" – for worsening global food shortage, but it is clearly not the case. Ukraine was offered many options to solve the global crisis, but it did not accept any of these; as it wanted to blackmail fellow European nations for securing weapons to attack Russia. As TFI Global has earlier reported, there are high chances that Zelensky might just flee to Switzerland.
Thus, there is no objectivity in Ukraine's "anti ship missile" demands in return for resuming food exports. The US-led Western media's assertions that it is Russia which is keeping Europe deprived of food have been proven false.