Iran chokes the most strategic route for supplying Middle Eastern oil to the rest of the world. We are talking about the 'strait of Hormuz' here.
'Strait of Hormuz' is used as a route to supply almost 20% of the oil supply from Iran and other Middle Eastern countries.  And Iran's move to block this strait is bound to send shock waves around the Western capitals.
The Strait of Hormuz, as previously said, is a strategic location for Middle Eastern countries. It is located between Oman and Iran, and connects the Gulf countries (Iraq, Kuwait, Saudi Arabia, Bahrain, Qatar, and the United Arab Emirates) to the Arabian Sea and beyond.
In reality, it forms a chokepoint between the Arabian Gulf and the Gulf of Oman, making it the world's most vital oil conduit. Over one-sixth of worldwide oil production and one-third of global liquefied natural gas transit over the 39-kilometer strait (LNG).
Furthermore, Iran's location on the banks of the 'Strait of Hormuz' gives it an advantage over other Middle Eastern countries.
And Iran has done a pretty good job of leveraging this opportunity. Iran has been exploiting this strait for its own interests. For example, the Iranian government many times has threatened to cause issues for oil ships in the Strait of Hormuz in response to US sanctions aimed at Iran and hence strangling its economy.
But lately, Iran itself has been creating many tussles in the region hence chocking this strategically narrow route. A few days back the media reported that Iran's Revolutionary Guard had seized two Greek oil tankers near the Arabian Gulf. The Greek authorities said that Iranian helicopters landed gunmen on the two tankers, after which the ships were directed towards the Iranian coast! Greek foreign ministry in a statement told, "The ship has been seized by the Iranian authorities. We have no communication with them at this time."
And more lately, the US navy had a tense encounter with Iran's paramilitary Revolutionary Guard in the strategic Strait of Hormuz.
You must be wondering why Iran would take such moves. Any such moves would ultimately clog up the path for transporting its own oil. Iran, being Iran, has already devised a new oil transit route. Iran has built a bypass that will allow it to avoid shipping through the Strait of Hormuz. The new terminal sits near Jask port in Oman's Gulf of Oman, just south of the Strait of Hormuz, allowing ships bound for the Arabian Sea and beyond to bypass the strait.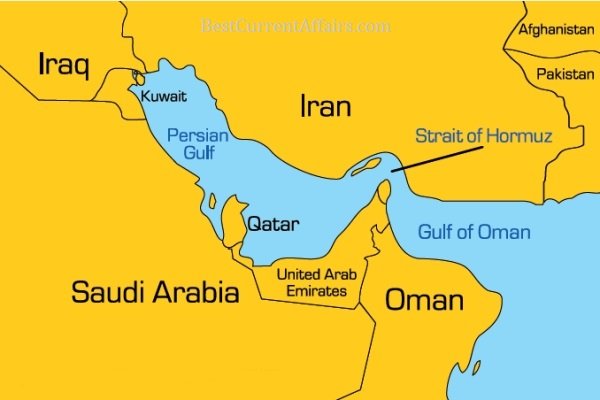 "This is a strategic move and an important step for Iran. It will secure the continuation of our oil exports," ex-president Hassan Rouhani said.
"We had a terminal and if there was a problem, our oil exports would be cut off," Rouhani acknowledged.
And now, by deliberately choking the Strait of Hormuz, Iran is attempting to cause difficulties for both the western world and the rest of the Middle Eastern countries.
Obviously, Middle Eastern countries lack an alternative route to carry their oil to the rest of the globe, similar to what presently Iran has.
And the west would undoubtedly suffer because these western countries are heavily reliant on Middle Eastern oil supplies.
Therefore, through its blockade in the Strait of Hormuz, Iran has effectively blocked Europe's access to Iraq's, Kuwait's, and UAE's oil. This would further stiffen Russia's energy leverage on Europe and weaken EU's position in Ukraine. So, it would be hardly surprising if Russia had already given tacit approval to Iran's bold manoeuvres in the region.