In 2014, Shinzo Abe brought the concept of "collective defence". Streets in Japan were concerned about a significant shift in Tokyo's position since the Second World War. People were taken aback by the abrupt shift from a Japan that had been following the path of pacifism entrenched in its constitution under Article 9.
However, people have come to realise that the change was necessary. The re-emergence of Japan as an independent voice in the last decade has made it an important geopolitics player.
Japan and Philippines
Japan's vice minister of defence Tsuyohito Iwamoto's recent visit to the Philippines reemphasized that Japan would continue its "proactive pacifism approach."
Tokyo has reaffirmed its commitment to assisting Manila in modernising the Philippine military during a visit to Manila by Iwamoto, according to Filipino authorities on Tuesday.
After meeting with several significant Philippine defence and military officials on Monday, Iwamoto met with Jose Faustino, the country's acting defence secretary. Iwamoto also met with Gen. Andres Centino, head of the armed forces, to explore "bilateral engagements anchored on existing defense cooperation agreements."
Centino expressed his gratitude to Japan for contributing to the acquisition of the Air Surveillance Radar System under the military's modernization plan. The Japanese company Mitsubishi Electric Corp. was given the 5.5 billion pesos ($98 million) contract, which was signed in August 2020.
The two countries have agreed to bolster security cooperation and expand joint military drills to counter China's increasing maritime assertiveness.
Threats from China
The Philippines is facing territorial challenges from China. China's nine-dash line has threatened the maritime borders between Beijing and Manila. Luzon Strait, Sabah area, Sea area west of Palawan and Luzon, and Sea area north of Borneo are the major bone of contention between China and the Philippines.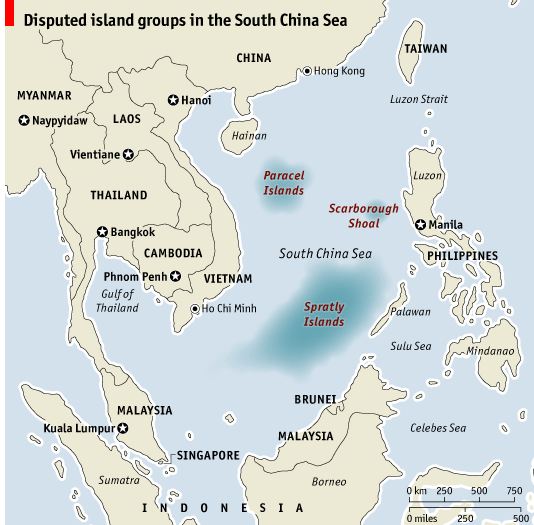 Source: The Economist Intelligence Unit
Japan and China too are locked in a bitter territorial dispute in the East China Sea majorly over the Senkaku islands.
Coming together of both the countries will prove to be an effective resistance against China's expansionism.
Shinzo Abe and Pacifism
Japan and the Philippines' partnership has seen new highs after Shinzo Abe was elected to the Prime Minister's office. Tokyo and Manila brokered a new defence deal in February 2016 that permits the Philippines to receive defence technology and equipment from Japan.
In August 2020, the two countries reached an agreement for the Philippines to buy a warning and control radar system made by Mitsubishi Electric. This was the first sale of Japanese defence equipment to a Southeast Asian country under Duterte.
Before Shinzo Abe assumed the Prime Minister's office, USA effectively controlled Japan's foreign policy by pressuring it to take a pacifistic stance in accordance with the terms of the San Francisco Treaty, which was signed after the Second World War.
Shinzo Abe's salami slicing of the Constitutional provision, which many observers refer to as devitalizing Article 9 of the Japanese Constitution, which forbade Japan from taking a proactive stance, was implemented. Since then, Japan has been taking proactive stances to counter China's expansionism in the Indo-Pacific region.
Read More: The very concept of "Japan" and "Japanese" are under siege now
Japan's changing stance
However, that wasn't the case when he resigned due to health concerns in September 2020. Japan since then has cosied up to China. It had again started to toe US's line on foreign policy and defence matters. In the last four months, Chinese and Russian military activities in the surroundings of Japan surged by 2.5 times. The Senkaku Islands, which Japan claims as its own territory, have been invaded 15 times by China in the past six months, according to Singapore Post.
But after Shinzo Abe's sudden demise, people want his ideas to be implemented by his party and the current Prime Minister Fumio Kishida has finally sensed the streets.
The reaffirmation of Japan to the Philippines is a step in the right direction. Japan recently has also vowed to increase its defence budget. Japan will also increase its defence budget by two times to around £86 billion which is 2% of its GDP.
Kishida has also vowed to throw away Japan's pacifistic constitution and will push ahead with plans to amend the Constitution, saying, "We will deepen parliamentary debate over the Constitution further so a concrete amendment proposal can be compiled."
The change in stance by Kishida and him finally treading on the path shows how Shinzo Abe has changed Japanese Politics forever. Nationalism will define Japanese Politics now.