The Kremlin might now be tired of refuting false claims of the Biden administration and the Western media. "President Putin had undergone advanced treatment for cancer," "Russia is losing the war," "Russia is preparing to use chemical agents in the ongoing Russo-Ukraine war," the US government has gone too far in its speculation spree.
Putin is severely ill
The Biden administration has long asserted that Russian President Vladimir Putin is suffering from ill health or he might get assasinated. Putin, 70, has been the subject of media conjecture over the past few months. As per the West's claims, a specialist in thyroid cancer named Yevgeny Selivanov recently visited Putin in the southern resort city of Sochi, where the president received cutting-edge cancer therapy. Well, it looks like the western media has a thing for spreading fake news and dancing on Biden's tunes.
Now what comes from the CIA chief is contradictory to the US' administration itself. President Putin is "far too well," according to CIA director Bill Burns, despite rumours that the Russian leader is ailing.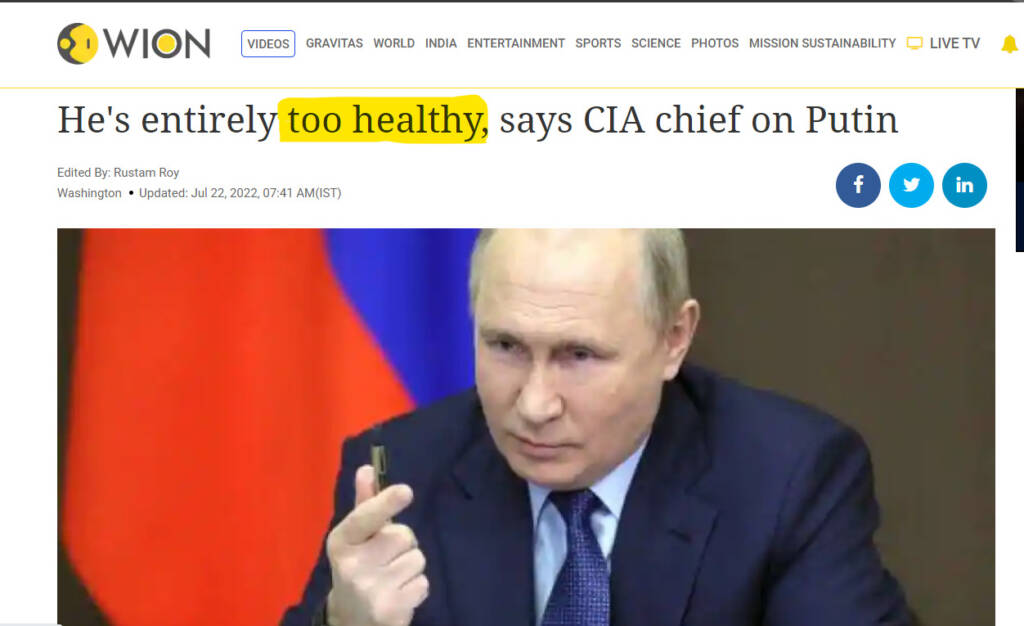 "There are lots of rumours about President Putin's health and as far as we can determine he's completely too healthy," the CIA director said at a security summit in Colorado.
The Biden administration is busy spreading rumours about Putin ever since Russia invaded Ukraine. From his health to Russia losing the war, all sorts of baseless speculations have been made. The US has been trying to bolster confidence of a lifeless Ukraine by spreading such damning pieces of news against Russia.
Read More: The US admits it deliberately spread fake news to hype Putin's war in Ukraine
Putin will carry chemical attacks
Moreover, in March the Washington Post reported that the US government believes Russia could soon carry out chemical attacks on Ukrainian soil. US security and diplomatic officials pointed to possible preparations by Russia for deploying chemical munitions and warned that the Kremlin may seek to carry out a "false-flag" attack that could attempt to pin the blame on Ukrainians, or perhaps Western governments. When asked about more details, the officials brazenly declined. Guess what, this attention-grabbing assertion has also turned out to be an official "fake news".
NBC News has now reported that the US administration had no evidence that suggested that Russia was preparing to use chemical agents in the ongoing Russia-Ukraine war. NBC quoted three U.S. officials as saying that there is no evidence Russia has brought any chemical weapons near Ukraine.
Read More: French President Emmanuel Macron rips into Joe Biden for escalating the war
Putin facing an imminent coup
Former CIA Moscow station chief Daniel Hoffman came up with his own theory against the Russian leader. He peddled that "Putin's close aides could attempt a coup in a very secretive manner so that they are not caught by the president."
Furthering his ludicrous argument, the former CIA official added, "It'll happen all of a sudden. And he'll be dead." Hoffman then went on to predicting possible Putin's successors. Chief of Putin's Security Council Nikolai Patrushev, director of Russia's secretive intelligence agency Alexander Bortnikov and Defense minister Sergei Shoigu are the three named by the former CIA official.
To date, not only the Russian president is firmly seated in his chair, the US administration has also failed to furnish any credible evidence backing the former CIA official's claims. The US, under Joe Biden's leadership, has stooped to a historic low in its ill-thought, politically-motivated campaign against Russia.