Away from the media glare, Kosovo has reportedly turned over a leaf on Serbia. As per Bloomberg, Kosovo's Prime Minister Albin Kurti has stressed that the "time is ripe" to strike a deal with Serbia. As per him, Kosovo and Serbia have no alternative but to reach a final agreement on normalizing ties.
If one remembers correctly, Kosovo and Serbia were baying for each other's blood after Kosovar authorities suspended issuing documents to Serbs entering the country. It was almost certain that a war between Serbia and Kosovo would happen.
As both nations were about to fly off the handle, Kosovo suddenly backtracked on its decision and restarted issuing documents to Serbs. Later on, it was revealed that Russia's interference in the dispute made the situation between nations cool as a cucumber.
But, what Kosovo has done now is something that happens once in blue moon in such cases. Kosovo by extending an olive branch to Serbia for formal peace is rejecting NATO's proposal of interference.
NATO's proposal for Interference
 Just a few days ago, NATO had expressed its vile intentions of flaring more tensions in the Balkans. Reuters reported that NATO eyes to increase its 'peace-keeping' forces within the region. Reportedly, NATO Chief Jens Stoltenberg stressed that he will increase its peacekeeping force in Kosovo, should there be an escalation of tensions with neighbouring Serbia.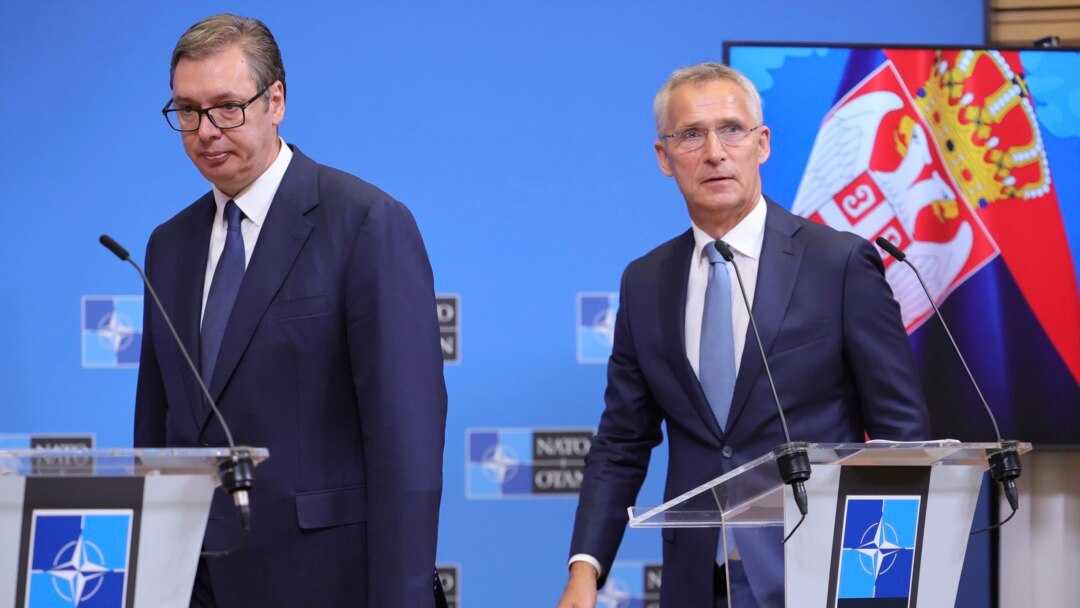 The NATO chief stressed, "If needed, we will move forces, deploy them where needed and increase our presence. We have already increased the presence in the north. We are ready to do more." Furthermore, these statements by NATO were made on the eve of EU-facilitated talks between Serbia and Kosovo.
When, Serbia and Kosovo were trying to solve a major crisis. NATO had made its intentions very clear that the alliance wants a full-blown conflict between Serbia and Kosovo. So, NATO could get an opportunity to thwart Russia.
Eventually, the talks between Serbia and Kosovo ended abruptly. The nations failed to resolve differences further fueling tension between the estranged Balkan neighbors. As the deadline of Sept. 1 was approaching, NATO was all armed and ready to wreak havoc in the Balkans. But, Kosovo has made NATO fall from  its grace.
Read More: Serbia and Kosovo can't coexist because Kosovo is Serbia
 Kosovo knows the consequences
 Kosovo's denial of NATO's proposal of extending a friendly hand to Serbia is no rocket science. We at TFI had predicted this way ago that Kosovo would indeed become a Ukraine 2.0 if a possible war breaks out and it appears that Kosovo realized how dangerous the situation could become.
The newborn baby was merely depending on NATO, whose existence is already being questioned due to its abject failure in Ukraine War.
It is known to everyone that NATO's constant push upon Ukraine, triggered the Russia-Ukraine war. However, the war has demonstrated NATO's inefficiency. The biggest military alliance in the world has constantly fallen short of its commitments.
Ukraine is now in the middle of a terrible conflict, even pumping money into Ukraine has failed to yield any significant victory over Russia.
On the other hand, Serbia is armed to teeth with Russian support. At present, Serbia's military might is 5 times more than that of Kosovo. Furthermore, Russia is already knocking the door in Europe's backyard, namely the Adriatic Sea near Kosovo.
Read More: NATO-backed Kosovo declares war on Russia-backed Serbia. A suicidal step
Kosovo is now ready for an agreement  for both nations to come close and fulfill their ambition of landing with a membership in the EU. Earlier, it was ready on the behest of the west to annihilate Serbia. However, it appears that the country has realized what needs to be done and has opted to resolve the crisis before NATO intervenes.