Russian Partial Mobilization: Ever since Russian President Vladimir Putin announced partial mobilization for the war in Ukraine, the Western cabal has only undermined Russia in their narrative war. You must have seen several media articles and videos claiming that Russians are actively protesting against Putin and refusing to participate in the partial mobilization exercise. However, a lie could only survive until the truth takes over it. What's exactly happening in Russia is entirely different from what is being claimed. And, the Kremlin is allowing west' clowns to play as they contradict their own prior assertions again.
On September 21, Russian President Vladimir Putin announced a partial military mobilization of the Russian Reserve Forces to join the war in Ukraine. This, in turn, gave the Western media a golden opportunity to lock horns with Russia. Media reports started to circulate that Putin spurred a mass exodus from Russia of young prospective soldiers and their families to neighbouring countries. Even Ukrainian government officials endorsed and promoted several claims like, 'more than 700,000 Russians have left Moscow ever since Putin announced partial mobilization'
They are running.
The russian army is also running.
Maybe bunker-man is putting together the best ever running team for the Olympic Games?
Well, bad news… they still do dope tests there. pic.twitter.com/bBQeHlmU7G

— Defense of Ukraine (@DefenceU) October 5, 2022
Then, media reports claimed that Putin was under fire from disgruntled Russians and that the demonstrations were taking place all around the Russian capital. These assertions did set a precedent in some way and actually prompted doubts like whether Putin is actually unpopular with the Russian people.
Russians lining up for military recruitment

On 3rd October, a media report by Al-Jazeera exposed the cracks in the ongoing media narrative. As per the report, thousands of Russians mobilized for military service in Ukraine have been sent home after being deemed unfit for duty.
Mikhail Degtyarev, the governor of the far-eastern Russian district of Khabarovsk cited that out of thousands of men who had submitted for enrollment in the previous ten days, many were ineligible.
Then, a media report by AFP entirely demolished the claims that were being pushed vehemently by Western media outlets. According to this report, more than 200,000 people have already joined the Russian army as Putin announced partial mobilization. Interestingly, Russia had initially set the target of recruiting 300,000 troops for the war in Ukraine.
No doubt that these two reports caught the western media conglomerates off-guard. Global media is now realizing that Russians are actually endorsing partial mobilization amidst the ongoing war. Even Russians who cannot participate in the war are eager to fight this Ukraine war.
Read More: 94% citizens of Donbas, Zaporizhzhia and Kherson vote to stay with Russia, Putin begins paperwork 
Is Putin really unpopular?
The other thing that the media reports are claiming is that there are protests taking place against Putin. That is not entirely wrong, however, asserting that every Russian detests Putin is completely untrue.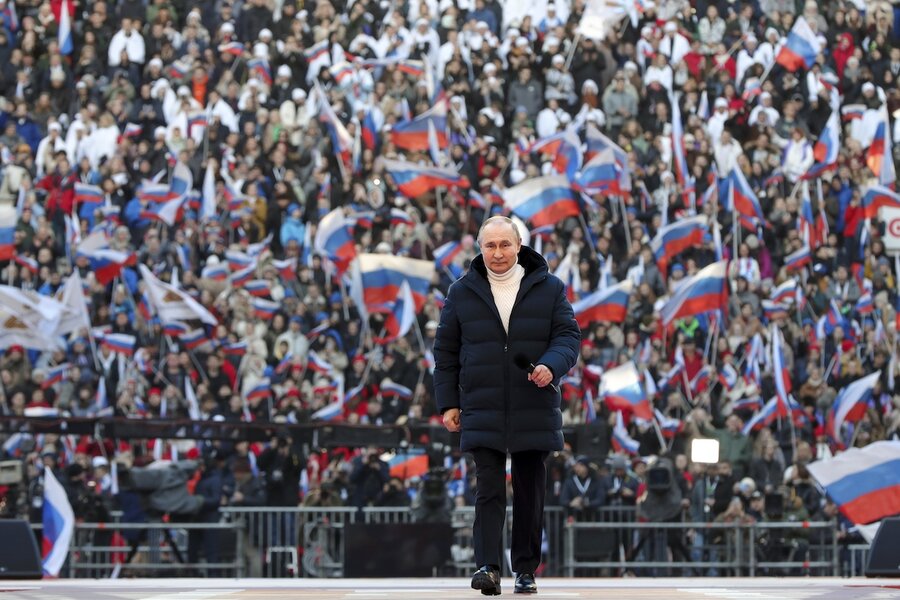 Most Russians adore Vladimir and a recent event in Moscow proves so. To celebrate the annexation of Zaporizhzhia, Kherson and Donbas region, Kremlin hosted a concert in Moscow's Red Square. There was a hefty crowd at the celebrations and all of them were raising slogans in support of Russia and Putin. Huge video screens showed Putin leading the spectators in three cheers of "Hurrah!" for the annexed territories, followed by a rendition of the national anthem.
Furthermore, as Putin welcomed the liberated territories into Russia, chants of "Russia! Russia!" from the flag-waving crowd in the vast square was something that Liberal media never took cognizance of.
Read More: Putin dispatches Russia's nuclear train as Ukraine rejects the final peace offer
Russians continue to back Putin and the war against the West and Zelensky. People appear to be queuing up for military recruitment willingly in Russia, which may explain why Western media is alarmed and running campaigns against Russians.