According to CBS news, the 101st Airborne Division (Air Assault) of the U.S. Army has been sent to Europe for the first time in almost 80 years amid rising tensions between Russia and the NATO military alliance led by the United States. 
The unit is named "Screaming Eagles." It is a light infantry force trained to arrive on any battlefield in the world within hours and is prepared to engage in combat.
Reportedly, CBS News has stressed that it has traveled with Brigadier General John Lubas, the division's deputy commander, and Colonel Edwin Matthaidess, commander of the 2nd Brigade Combat Team, for the hour-long trip to the very edge of NATO territory, which is only about three miles from Romania's border with Ukraine.
The Odessa Factor
More than 4,700 soldiers from the 101st Airborne's home base in Fort Campbell, Kentucky, have been deployed to reinforce NATO's eastern flank.
While giving the interview to CBS, Colonel Edwin Matthaidess stressed that his troops are the closest American forces to the fighting in Ukraine.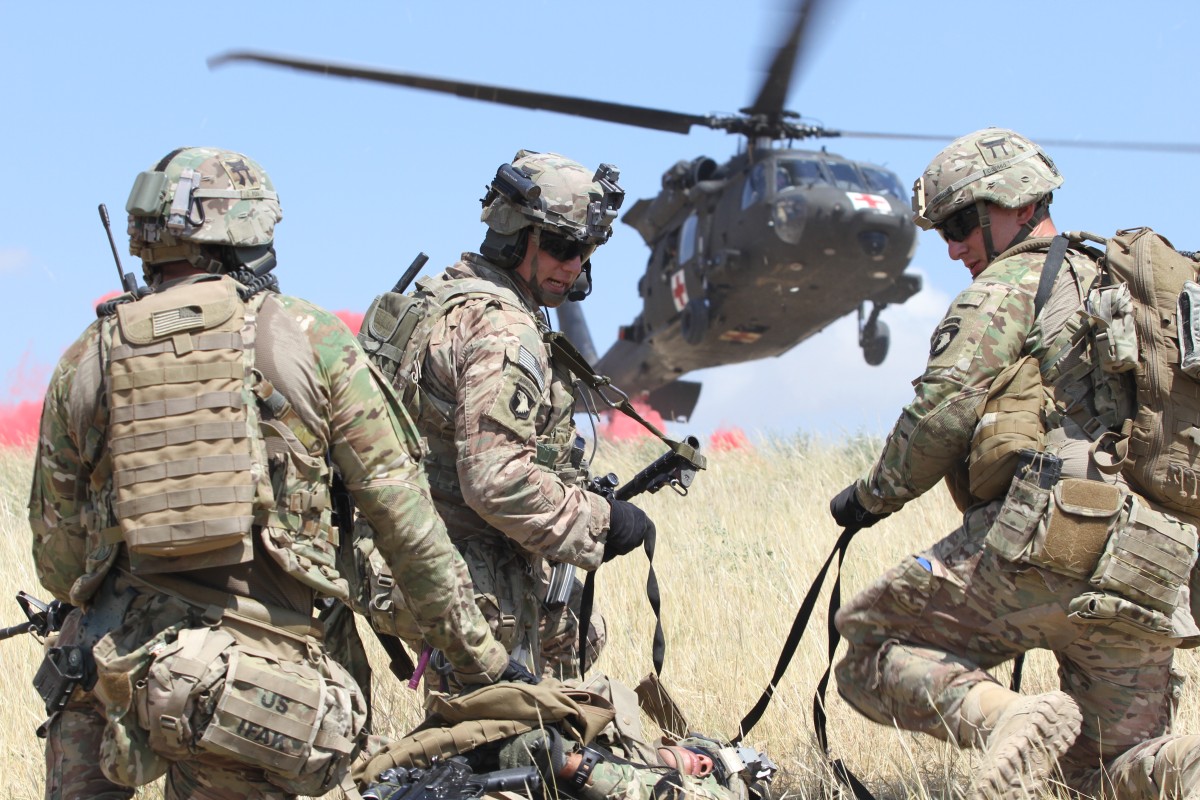 From their vantage point, they've been "closely watching" the Russian forces, "building objectives to practice against," and conducting drills that "replicate exactly what's going on" in the war.
The unit is training at Romania's border with Ukraine, which is just 144 miles away from Odessa port. It is eyeing to lock horns with Russia to save the Odessa port. 
Reportedly, the Unit head has stated, "Their (Russia's) goal is to cut off all Ukrainian access to the sea, leaving the country and its military forces landlocked. That threat, so close to NATO territory in Romania, is why one of America's most elite air assault divisions has been sent in, with some heavy equipment."
The Screaming Eagle's commanders have stressed that they are always "ready to fight" and they're in Romania to defend NATO territory; if the fighting escalates or there's any attack on NATO's territory, they're fully prepared to cross the border into Ukraine.
Read More: Poking the Russian Bear: US performs nuclear-bomb-drop mock drills
A serious provocation! 
The Center for European Policy Analysis noted in a statement a few weeks ago that NATO must fortify its position in the Black Sea otherwise, Russia may seize complete control of the area.
It appears Biden and his representatives have taken it too literally and are now aggravating the situation in Odessa, which has not been taken over by Russia yet. 
Russia launched a massive missile attack on Ukraine, severely damaging Odessa's vital electrical infrastructure. Following that, the UK started using surveillance planes to patrol the Black Sea. In retaliation, Russian SU-27 jets were quickly launched, and one of them even fired a missile at the RAF spy plane.
Read More: China plotted to paralyze Russia's defence manufacturing sector by sending faulty chips
Russian forces have been attempting to advance into the Kherson region along the Black Sea coast for more than seven months in an effort to seize the crucial Ukrainian port cities of Mykolaiv and Odessa. Now, it appears that the US is preparing to join the battle.
A city that hasn't been destroyed yet is now facing a threat to its existence, and for that, only the West has to blame.
Biden may be inciting Russia to strike Odessa for his personal political gain ahead of the November elections. This irrational move of Biden could put innocent lives in danger.