African leaders are determined to free their lands from terrorists and insurgents. They have realised that all it takes is unity among neighbours to make the world's superpower realise that its plans to create trouble and chaos in their lands will fail. 
On Monday, the US held Rwanda responsible for the war in the east Democratic Republic of Congo. US diplomatic spokesman Ned Price told the media, "State support for armed groups is unacceptable and we reiterate our concerns about Rwanda's support for M23," 
He further stated, "We encourage countries in the region to work together to restore peace, security, and respect while respecting each other's sovereignty and territorial integrity." 
In August, the US Secretary of State Antony Blinken visited both DRC and Rwanda and warned about reports of Rwanda supporting the M23, which he described as "credible." 
Since 20th October, M23 has been advancing into the Rutshuru territory of DRC.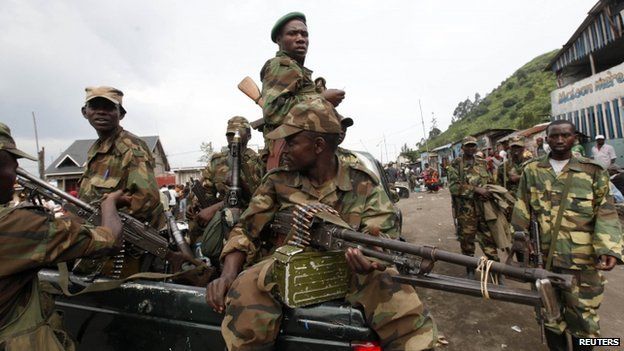 M23 is a terrorist group which operates in the east of DRC. Infamous for its brutality, M23 has committed countless murders, mass rape, and execution of villagers and orphaned children. There are several investigations and testimonies which have revealed M23's gruesome actions over the years. Rwanda actively finances and backs M23, which has created an extensive network of smuggling of DRC's mineral resources on the instructions of president Paul Kagame. 
How did Kenya get involved in DRC?
We at TFI explained that Kenya's president William Ruto is deploying his military to east DRC to battle the M23. Kenya and DRC are both members of the East African Community, which is a regional political and economic group in East Africa. Ruto knows that in order for progress and development to take place, peace has to be established. And that peace cannot take place if M23 continues its atrocities, therefore he decided to deploy Kenyan soldiers to the regional peacekeeping force of East Africa which is going to eliminate M23. 
Ruto is giving priority to the concept of African unity which can ensure a peaceful future and prosperous economy for the region. 
Now, the BBC reported that Kenya is deploying the first contingent of the regional peacekeeping force in DRC. In fact, Ruto presided over the flagging-off ceremony in Nairobi for the Kenyan military battalion which will join the regional forces. Some Kenyan soldiers have already created logistical support systems in September for the operation.
Read more: Burundi is suddenly an island of calm because western puppet has the reins in his hands
Impact on the West
We at TFI also explained that M23 receives support from the West. The UN peacekeeping mission in DRC, which has been in the country for a very long time, is hand in glove with the M23. The US and Europe provide arms and funds to the terrorist group through the UN mission MONUSCO in the name of humanitarian aid. Congolese people, who are aware of the nexus between M23 and the UN, have protested against it.
After examining the whole situation, the US has come to the conclusion that M23 will get eradicated by the combined efforts of the Congolese military and Kenyan forces. The US knows that its plans to create destabilisation efforts and political instability in DRC will inevitably fail and it cannot afford to fund M23 anymore considering its failing economy. 
Read more:  Italy's new Prime Minister is good news for Niger
Therefore, the US decided to throw Rwanda under the bus by issuing a statement against it despite evidence which clearly shows that it backs M23. 
Kenya has made the US realise that its interference in the internal affairs of another nation will have adverse repercussions. Ruto's call for unity has prevented the success of Biden's divisive agenda in DRC.