The growing strategic importance of the Caribbean on the geopolitical scene has resulted in the region being caught in a crossfire between the US and China.
While more or less the Caribbean nations are trying to pursue an independent approach in dealing with other countries, the US and China are not yet ready to give up their hegemonic intentions in the Caribbean region.
Though it will be too soon to tell who will emerge victorious in this dog fight, for now, we can certainly say that St Kitts and Nevis is not going to dance to China's or US's beats.
New St. Kitts and Nevis PM's first visit to Taiwan
The new prime minister of St. Kitts and Nevis, Terrance Drew is leading a delegation on a four-day Taiwan visit for the first time. This marks his first visit to Taiwan since becoming the political leader of the Caribbean nation in August. During the visit, both sides will exchange views on bilateral cooperation projects and topics of mutual interest. Upon arriving in Taiwan, Drew emphasised that Taiwan and St. Kitts and Nevis are friends and partners in international development.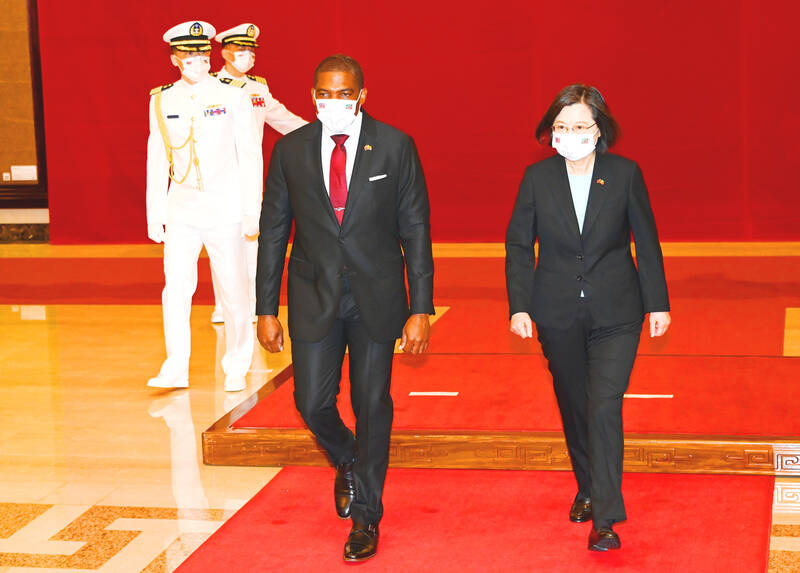 It should be noted that only 14 countries worldwide officially recognize Taiwan. St. Kitts and Nevis are one of 5 Caribbean countries that are on this list and have official diplomatic relations with Taiwan. Further, Taiwan was the first country to diplomatically recognize the Caribbean state as an independent country in 1983. 
Read More: Barbados aggressively corners West at COP 27
Relevance of St. Kitts and Nevis's relationship with Taiwan:
For Taiwan, it is of much strategic importance to be recognized as an independent nation on the global stage. However, only a handful of countries have formal diplomatic relations with Taiwan and recognize it as a sovereign nation while many have cut diplomatic ties with Taiwan to align themselves with China.
The new St. Kitts and Nevis PM in his visit to Taiwan said that the visit aims to strengthen the friendship between the two nations and that St. Kitts and Nevis will continue to support Taiwan's inclusion in international organizations. This growing "friendship" between Taiwan and the Caribbean nation is certainly not good news for China and its imperialistic agenda.
US-China dogfight over Taiwan
The clash between US and China over the Taiwan issue is not new. The tense relationship between China and US plunged to a new low after Nancy Pelosi's visit to Taiwan.
Read more: G9 is Haiti's friend but its puppet Prime Minister's enemy
Taiwan has been seeking US support for its independence agenda. Growing ties between Taiwan and other nations have been encouraged by the US to counter China's growing influence. The Caribbean region is one of the main arenas of growing geopolitical disputes between China and the US as most countries that recognize Taiwan are located in the Caribbean region. These include Haiti, Belize, St. Vincent and the Grenadines, Saint Lucia, and St. Kitts and Nevis.   Now, Taiwan's question of diplomatic survival as a state depends much on the smaller nations' support in the Caribbean.
With St. Kitts and Nevis willing to challenge China and taking the initiative to deepen ties with Taiwan is certainly a step in that direction.