Operation Barkhane: There are countries which pretend to be allies of African nations but in reality are backstabbers. They continuously to spread falsehoods, hoping they will seem convincing. Through this, they wish to continue their presence in Africa, which has endured a lot due to their presence. France is also doing the same in Sahel region to keep its influence alive.
France's President Emmanuel Macron has announced the end of Operation Barkhane in the Sahel region following the departure of French forces from Mali. While announcing Mission Barkhane's end he stated that a new strategy will be hammered out with African partners.
Macron, while addressing top general and diplomats at a naval base in Toulon, stated, "I have decided, in coordination with our partners, to make official today the end of the Barkhane operation,"
However, the decision of Macron will have no consequence on around three thousand French military personnel deployed in countries such as Niger, Burkina Faso and Chad.
At its peak in Sahel region, France had deployed its 5,500 troops in different countries of Sahel.
What is Barkhane?
France launched Operation Barkhane a decade ago, citing reasons to assist nations of the Sahel region in fighting against various Jihadist and rebel organisations. But the main reason as seen by analysts is that the French wanted to enlarge their influence in Sahel. After some time it was revealed that France was hand in gloves with islamists in order to stay in Sahel which led to Mali getting out from the joint military force of G5 Sahel.
Read more: Nationalism in DRC is on the rise as the DRC army is all set to defeat M23 rebels
Mali saw the true colours of the West
Mali expressed its disappointment with the French's actions in West Africa. Its interim prime minister, Abdoulaye Idrissa Maiga, condemned France at the UN, saying that his nation was "stabbed in the back" in the wake of the French government's decision to withdraw its forces from Mali.
Later, the foreign affairs minister, Abdoulaye Diop warned France at the UN and accused it of violating Mali's sovereignty and security, telling, "The government of Mali reserves the right to exercise its right to self-defence if France continues to undermine the sovereignty of our country and to undermine its territorial integrity and its national security."
Similarly, the Niger's president also criticised the West for the deteriorating security situation of Sahel. He stated that G5 is a "dead" group in wake of Mali's departure.
France's actions in West Africa were monstrous. It is evident from the incident from January 2021, in which a French air strike struck a wedding ceremony being held in Mali. It resulted in the death of 19 innocent people.
Read more: Malawi's refugee crisis—Made in USA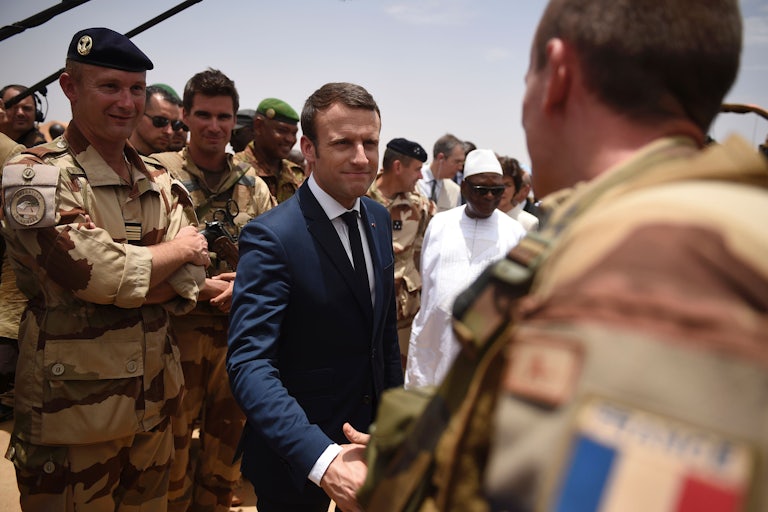 Russia's entry in the Sahel
The widespread resentment against France in Mali prompted it to forge relations with Russia. Its president Assimi Goita bought military equipment from Russia and recently its Finance Minister Alousseine Sanou announced that Moscow will send $100 million worth of food, fertilisers and fuel.
Mali also invited the private Russian military company, Wagner, to get rid of terrorists and insurgents.
Similarly, its neighbour Burkina Faso, another significant nation in Sahel, has moved closer to Russia.
There was a protest by the locals in the nation in support of Russia. Wagner Group's founder Yevgeny Prigozhin, who is close to Putin, commended Burkina Faso's president Ibrahim Traore, calling him, "a truly courageous son of the motherland."
Macron's strategy to keep its influence alive
Now, coming back to the subject of Macron's official announcement. On one hand, France is stating that it is ending Operation Barkhane, responsible for massive carnage, and on the other, it will not do anything regarding its troops which are still deployed in Sahel countries of Niger, Chad and Burkina Faso.
We can see here that France is blatantly trying to mislead African countries. It knows that it is responsible for many war crimes and bloodshed in the region and there is widespread animosity against its military. Therefore, France, through this announcement, is trying to show that it respects the sovereignty and territorial integrity of Sahel countries. But it is trying to keep its influence in Sahel alive, which is already on ventilator support.
However, African leaders are well aware of such tactics by the West. They know that its malevolent intentions will send their countries on an unending path of misery and instability, hence they are taking strict measures which are meant to drive the US and Europe out of their territory.