The three day US-Africa summit has begun. The summit is organized by the Biden administration. Although the purpose of this summit on paper is to boost trade opportunities, however there's much more to it.
By now it has been widely discussed how the Russia-Ukraine war has put the West on an energy crisis mode and it has begun its neo-scramble for Africa to secure its alternative supplies. Africa's geo-political importance has grown recently and the US needs Africa now more than ever. We at TFI explained how Europe is gradually losing trust in the US. This has forced it to beg its way into Africa to secure its own exclusive alternative source of energy.
The US-Africa summit is nothing but a eye-wash. The US knows its credibility in the resource-rich African continent is declining rapidly. This summit is just another desperate attempt by the US to stay relevant in the region by offering a plethora of promises.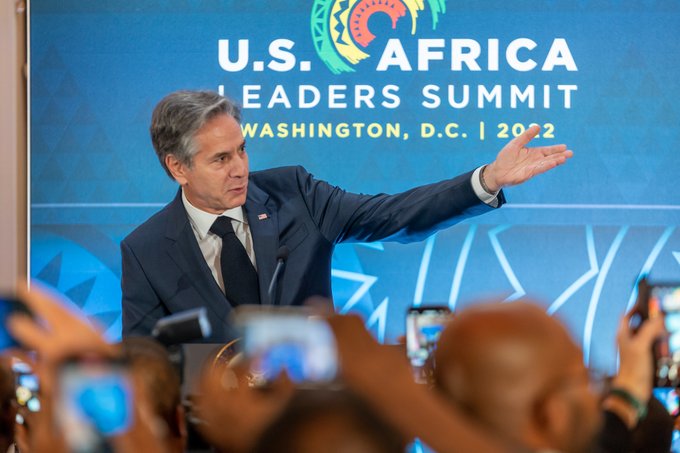 US-Africa summit to win African hearts
In the times of changing geo-political realignments, Africa too is now taking its independent stand on issues. Although the West tried its best to garner support from Africa but many African countries had abstained from voting at the UNGA to condemn Russia's invasion of Ukraine which shocked the US.
On the other hand, we had explained to our readers before how Zelensky had to face embarrassment when he sent his Foreign Minister to Africa to gather support but met with cold response from African leaders and had to cut short his trip. Before this, most African leaders had also refused to participate in the virtual meeting with Ukrainian President Zelensky.
All of this shows that Africa is clearly not impressed by the West and are exploring better options and forging new ties which suit their national interest. Since the US is not used to such an African position, it is obviously pinching the US. Now it is adopting various measures to close the growing trust gap with Africa. Thus, Biden is now hosting 50 leaders from African countries as part of the US-Africa summit.
African leaders challenging US hegemony
There are may instances which show that today African leaders have realised that their unity can alone save the continent from becoming a victim of the West's divisive agenda. Thus, in the interest of a peaceful and progressive Africa, many leaders are coming together and joining hands. Recently, France was driven out of the Sahel region and its troops had to leave Mali ending almost a decade of  deployment, in a humiliating departure. Again, the West's hegemony also ended in the Horn of Africa region with the demise of the TPLF which shattered Biden's dreams of controlling and exploiting the region.
 Africa is enormously wealthy. However, today the African leaders have realised that Without honest African unity, the continent will continue to be at the mercy of imperialist authority and exploitation. Now African countries have pledged to work together to fight against problems like terrorism in the continent.
This is not all. Africa has now become more and more assertive about its national interest and are even challenging the predatory motives of western MNCs. Nigerian government recently turned down Tesla's offer to mine Lithium and instead asked Tesla to set up its battery industry in Nigeria.
This new-found confidence and asseriveness of Africa has essentially meant that the continent can't be taken for granted any longer by the West. Today Africa is demanding to be treated as equal partners when it comes to forging ties with other countries. This has given sleepless nights to the US.
Prior to this US-Africa summit hosted by Biden, another summit was held in 2014, under President Obama where many promises were made to Africa, like it proposed $20 billion investments in electricity, $7 billion in government financing to encourage US exports and investments in Africa although many of these promises remained unfulfilled.
 This US-Africa summit is a golden opportunity for Africa to use this opportunity to its maximum benefit and deal with the US at its own terms.  It is the right time for the continent to prove that the dawn of the African century has arrived. Today the continent is a major stakeholder in world politics and is in a position to define the geopolitical narrative of the world at large. This is the time for Africa to rule the roost.