According to a media report, Cuba along with nations like Luxembourg, Tajikistan, and Sudan are having discussions with the Indian government to adopt India's rupee trade settlement mechanism.
Reportedly, the Rupee trade mechanism was launched by the Reserve Bank of India (RBI) in July. The system is similar to what countries like Russia already have in place following sanctions on Moscow since the country waged a war against Ukraine.
The Indian government is looking at ways to bring countries that are particularly short of dollars into the ambit of the Rupee trade mechanism, and Cuba might be a perfect fit for the job, as per the government official aware of the development.
Cuba extends support
Reportedly, Cuba has also shown interest in opening a special rupee account called 'Vostro accounts.' So, one could easily suggest that Cuba wants to enhance its cooperation with India.  This development is particularly noteworthy as officials from India and Cuba have met several times.
October marked their most recent meet . If one recalls, the Indian and Cuban delegations recently met in order to establish a line of credit agreement worth €100 million for the purchase of rice from India. Additionally, the two nations decided to strengthen their economic ties.
And now, this development has come out that Cuba and India might join hands to trade by completely keeping American dollars off the table.
Read More: Austria's chancellor Karl Nehammer commits political suicide by poking Putin in the eye
Time to shine?
If the relations between two nations, i.e. India and Cuba actually reach a consensus and elevate further, Cuba might finally have the chance to outgun US in its 60 yrs old rivalry. For a long haul, Cuba has seeked to reverse its worst crisis since the fall of the Soviet Union, with growth contracting every year.
More than half of the nation's food, fuel, as well as agricultural and pharmaceutical inputs, are imported. The COVID-19 pandemic, local economic missteps, and U.S. sanctions have all combined to destroy Cuba's capacity to produce tradable currency.
Cuba is also rapidly reeling under debt while still experiencing a shortage of basic necessities like food, personal care products, medicine, and fuel. These situations can never be considered good signals for a nation.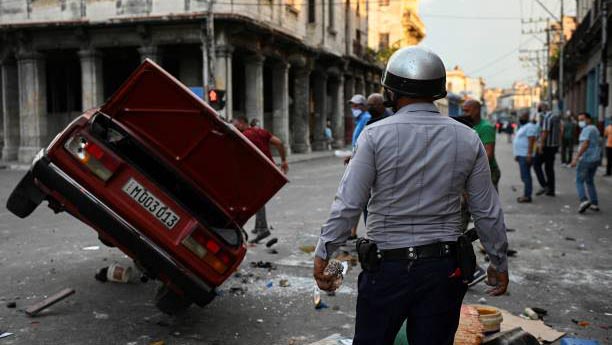 And thus, Cuba has decided to move past America's hegemony.
Read More: Cuba is stuck in the "Bermuda Triangle" of slavery
Cuba stopped accepting dollars in 2020 citing U.S. sanctions and stopped selling convertible currency for pesos to the public soon after, stating it simply did not have the cash. In addition, it has also started to incite Caribbean islands too to set the charge against American influence.
Cuba already is considered quite close to Russia and now, India is also joining in Cuba's effort to lay siege on American dollars. If things continue to escalate like this, America is very soon going to have sleepless nights.