Western Sanctions on Russia: As we turn the calendar over, it's been 10 months of the West sanctioning Russia and it is the right time to look back and analyse if they have worked.
While Europeans were still dealing with Covid-19, the Ukraine war knocked Europe's door. 
The EU placed unprecedented sanctions on Russia after the start of Russia's military operation in Ukraine, specifically targeting various economic sectors. 
Ursula Von der Leyen asserts that the effects of these sanctions have had a substantial effect on the country's industrial sector, with President Biden claiming that the West sought to turn the ruble into rubble. Not only this, European countries also aimed to 'decouple' their economy from Russia.
However, it is important to question if the assertions made by Western leaders about the Russian economy are accurate or if they are only an attempt to divert attention away from the demise of their own economies. 
First off, it's crucial to remember that Russia did have a firmly established, stable economy when it went for the special operation in Ukraine. According to the IMF, it had one of the lowest levels of debt on the entire globe in 2021, at about 17% of GDP.
Also noteworthy is the fact that Russia is a significant exporter of a number of other essential commodities in addition to oil and gas. According to the World Economic Forum, it is the greatest exporter of wheat, semi-finished iron, nickel, and nitrogen-based fertilisers in the world. It is the second-largest exporter of vanadium, which is used to produce vast amounts of electricity and steel, and cobalt, which is used to build rechargeable batteries. 
In practice, it appears that the Russian economy has resisted Western sanctions very well. Of course, it would be naive to think that the widespread exodus of Western firms and the implementation of restrictions, such as the prohibition on Russian banks using SWIFT, have had no impact on the economy. But it appears that Russia had already put in place back-up plans to effectively lessen the effects of the sanctions placed on it.
For instance, Russia developed its National Payment Card System "MIR" in 2014 to be used in the case when cards were disconnected from the global payment system. More than 50% of Russians, according to the National Payment Card System, possessed at least one MIR card. The cards helped after Visa and Mastercard suspended Russian operations. 
Additionally, Russia has been able to sell some of its crude oil to Asia that was formerly sold to Europe. For instance, India has increased its imports of oil dramatically from Russia since February. In May of this year, China's imports of crude oil from Russia reached a new high, up by 55% over the previous year. The similar trend continued till the end of year. Russia is also redirecting its supplies of gas and other natural resources.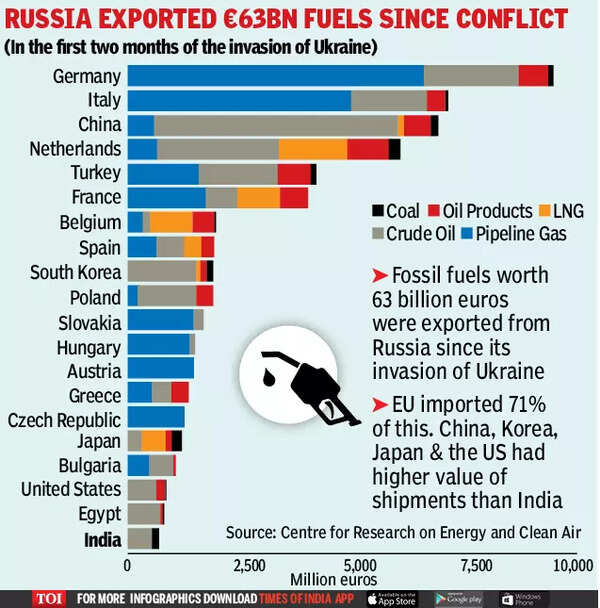 The Ruble has already recovered to its pre-war level. Russia appeared to have been negatively impacted by the Western world's extensive sanctions, but only temporarily. However, it has been able to reduce the impact of the sanctions and is projecting a return to development in 2024 thanks to foresight and efficient economic management.
Further, the Russia and EU's trade has increased in volume from February to August. Data from Eurostat, demonstrates that imports from Russia climbed dramatically in the majority of EU members, including Germany, France, Italy, and Poland. 
Germany and Russia's trade grew by 33% in 2022 from 2021. In Italy, it was a 100% increase, in France 84%. The trade of Slovenia and Luxembourg increased 346% and 262% respectively. 
Guy Verhofstadt, a Belgian MEP, declared that the sanctions the EU imposed on Russia in response to the situation in Ukraine were a total failure.
Verhofstadt, who was the prime minister of Belgium from 1999 to 2008 and has been a member of the European Parliament since 2009, asserted on Twitter that the impact of the nine sanctions packages the EU has imposed on Moscow "is less than 0." 
1 picture says it all…

9 packages of sanctions and the effect is less than 0 !

We are rewarding Russia for its war against us ! pic.twitter.com/k80XbYIkjA

— Guy Verhofstadt (@guyverhofstadt) January 2, 2023
The data from Eurostat underlines how Western sanctions are all fur coats and no knickers. Further, the Ukraine war has only led to an increase in refugees, skyrocketing energy prices, rising inflation, and a growing possibility of a recession in Europe.