Mozambique's northern province of Cabo Delgado is one of the most volatile regions in the country. The insurgency in this region is an ongoing Islamist insurgency fought between militant Islamists and Mozambican security forces. Conflict in this region began in 2017 and militant attacks have forced close to a million people to become internally displaced. Cabo Delgado is a resource-rich province with natural gas reserves and other resources like ruby, graphite, gold, etc. The province also is host to an estimated U.S.$60 billion worth of international investment in gas projects. However, Cabo Delgado has not been able to benefit from its vast reserves of resources which is on one hand being plundered by global hegemons like the US, Europe, and their Multi-National Companies (MNCs) and the province has been ravaged by its insurgency problem on the other.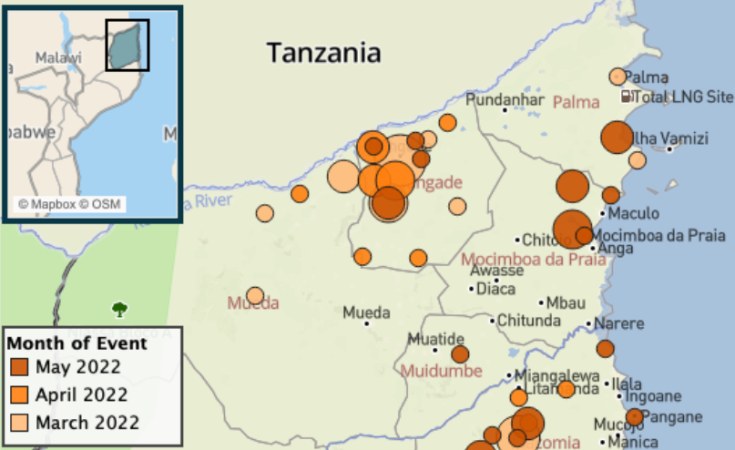 Insurgency in Cabo Delgado
The deadly insurgency in Cabo Delgado that began in 2017 is the biggest stumbling block in its growth and development. The main insurgent faction is al-Shabab (not to be confused with Al-Shabaab which is active in Somalia) popularly known as Ansar al-sunna and they pledge their allegiance to the militant group Islamic State. The insurgency had intensified by 2020. In recent years the ISIS-affiliate Al Shabab has launched several attacks in Cabo Delgado which has left several people dead and thousands of people displaced. It has also caused international concern as it adversely affects the mining and natural gas sectors of the country where the US, Europe, and China have major investments. The magnitude of the insurgency issue in Cabo Delgado can be gauged from the fact that regional grouping involving several member countries has had to step in to deal with mounting violence. Considering the scenario, since 2021, troops from Rwanda and the Southern African Development Community (SADC), have been deployed in the country. Countries like South Africa and Botswana too have sent their troops to join the mission to eradicate Al-Shabab's reign of terror.
Read More: Mozambique, South Africa, and Botswana show how to exploit the West 
Likewise, the insurgency crisis and the resultant security situation have also been major hindrances to Mozambique's economic development despite being rich in resources like graphite. The US & China make high profits at the expense of Mozambique's resources. Resources like graphites which are in increasing demand for e-vehicles are shipped to China, the US, and Europe for the processing which deprives locals of manufacturing jobs. Thus this has created a double whammy for Mozambique.
Local militias join the fight against Insurgents
The death and destruction caused by the insurgents have not just been limited to Mozambique but it has spread across to other provinces as well. Therefore to deal with this menace recently the government has approved local militias to assist the government, SADC, and Rwandan forces to fight insurgents who are causing instability in the region and committing brutalities.
Read More: US-China-Australia fight for Cabo Delgado, while Mozambique suffers silently
Mozambique must now put an end to this crisis once and for all. African countries like Ethiopia have seen progress in seeing some semblance of normalcy returning to the country after a devastating crisis. Now, it's time that Mozambique to eliminate its insurgency crisis so that the country can benefit from its vast reserves of resources. The European Union (EU) is hunting alternative sources of energy and Mozambique has the third largest proven gas reserves in Africa. Thus, its gas can serve as an alternative for the EU. However, for any meaningful deal to be reached that equally benefits Mozambique and its people it must improve its security conditions in the country. The insurgency issue has become its Achilles heel in its path to development. It must overcome the security challenge by carrying out operations to stop the militant's expansion and to restore peace essential to embark on a new journey of development.