As Africa awakens to the fact that working together is the key to stability, peace, and progress, more and more countries on the continent are putting their best foot forward
Egypt-Kenya: Free Visa Entry
Now the East African country Kenya has decided to strengthen its ties with Egypt. The day won't be far when Kenyan and Egyptian citizens can travel more freely to each other's countries than ever. In a recent development, Kenya and Egypt have agreed to establish free visa entry for diplomatic and official passports holders, scheduled to start from April 1.
Furthermore, Foreign and Diaspora Affairs Cabinet Secretary, Alfred Mutua, stated that they are also working together to finalize a 100 percent visa-free regime between both countries for ordinary passports within six months by October 1, 2023. He added that the agreement on free visa entry for diplomatic and official passports of both countries is in line with the African vision of the African Continental Free Trade Area ( AfCFTA). Both countries are to start and finalize discussions toward a free Visa regime for ordinary passports by October 1.
This agreement has come as a result of bilateral discussions between CS Mutua and his counterpart, Egypt's Minister of Foreign Affairs Sameh Shoukry. Implementing a visa-free entry policy will be a major boost to the economies of both countries. It will certainly promote greater economic integration, and with the removal of bureaucratic obstacles, tourism will receive a significant boost.
Further removing barriers to travel can facilitate business opportunities and encourage trade between the two countries, all of which have been envisioned by the African Continental Free Trade Agreement, which can prove critical in transforming Africa's economies and improving the standard of living for its people.
Kenya's tree initiative
As per the report, the two countries have also agreed to cooperate in other areas. Mutua also mentioned that Kenya will import fertilizer from Egypt and will also support Kenya's Sh15 billion tree initiative through dam and borehole construction. This co-operation is also going to be a major area of focus. Kenya recently experienced one of the worst droughts in decades in 2022, which adversely impacted 4 million people, caused significant nature and biodiversity loss, and resulted in socio-economic loss between 3-5% of GDP.
In response to this, President William Ruto launched a nationwide tree planting campaign on 21st December 2022 to raise Kenya's tree cover to 30% by 2032. The campaign is targeting to plant 15 billion trees by 2032. Now, with Egypt's support, this tree initiative, which can be considered critical to Kenya's economic well-being, given the devastation caused by droughts, will mark a new era of cooperation between the two countries.
Read More: Putin drives Biden to the edge with the help of Israel, Sudan, and Egypt
Other areas of co-operation
In addition to the other areas of cooperation, Kenya has also invited Egyptian investors to take advantage of its PPP (Public-Private Partnership) system to build roads, light rail, and other infrastructure. Kenya will also adopt Egyptian-modelled irrigation techniques to grow food and reclaim arid and semi-arid areas.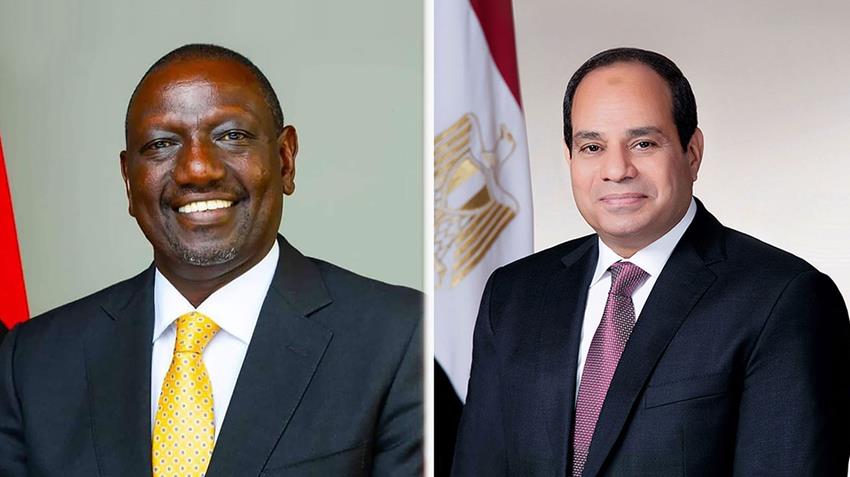 Furthermore, Egypt has agreed to offer Kenyan students scholarships in various fields including mechanized agriculture, water, marine engineering, and health.
Kenya's Charm offensive
As we have previously reported, Kenya's President Ruto has been actively engaging in diplomatic efforts to build new ties in Africa and beyond, with the goal of positioning Kenya as the anchor for peace, progress, and political-economic stability. Now, he has turned his attention to Egypt, and according to recent reports, Kenya will play a consistent role in finding a lasting solution that is beneficial to all in the ongoing unease between Egypt and other nations due to the principles of sharing waters of the Nile.
The construction and operation of the Grand Ethiopian Renaissance Dam (GERD) has been a source of tension between Ethiopia and downstream countries like Egypt, as the Blue Nile contributes 85 percent of the total water flow of the Nile.
Read More: Ruto's Strategic Diplomatic Endeavours Bring Him a Step Closer to IGAD Leadership.
Egypt is concerned that the construction and operation of the GERD could reduce the flow of the Nile downstream, which could have negative impacts on Egypt's agriculture, electricity generation, and the overall economy. As Egypt relies heavily on the Nile River for water supply, with more than 90 percent of its water needs coming from the Nile, this issue is of great importance to the country.
Kenya's offer to mediate the GERD tension holds significant geopolitical significance, as it aligns with the positive trend in Africa to look for regional cooperation and African solutions for African problems. If Kenya is successful in finding a middle ground for all the parties involved in the conflict, it will not only be a major achievement for Kenya but will also give a boost to Africa's mission for forging greater unity in the continent.
Read More: Egypt has joined BRICS' de-dollarisation campaign
Overall, this move by Kenya demonstrates its commitment to playing a key role in promoting peace, stability, and regional cooperation in Africa.