Few commentators anticipated that China's peace plan for Ukraine, which officials had been following all week, would include any specific solutions to the problem. They were right in their assumptions. On the first anniversary of the Russian invasion, foreign ministry of China issued a statement calling for the "sovereignty of all countries" to be respected, but it did not specify what this meant for Ukraine. The plan's 12 components each rehashed Chinese talking points regarding the conflict without presenting a resolution.
Zelensky's hypocrisy just got revealed 
Released by the foreign ministry, the plan urges an end to Western sanctions against Russia, the establishment of humanitarian corridors for the evacuation of civilians, and steps to ensure the export of grain after disruptions caused global food prices to spike last year.
The proposal mainly elaborates on long-held Chinese positions, including those all countries' "sovereignty, independence and territorial integrity be effectively guaranteed". It said nuclear power plants must be kept safe and the threat or use of nuclear weapons should be opposed.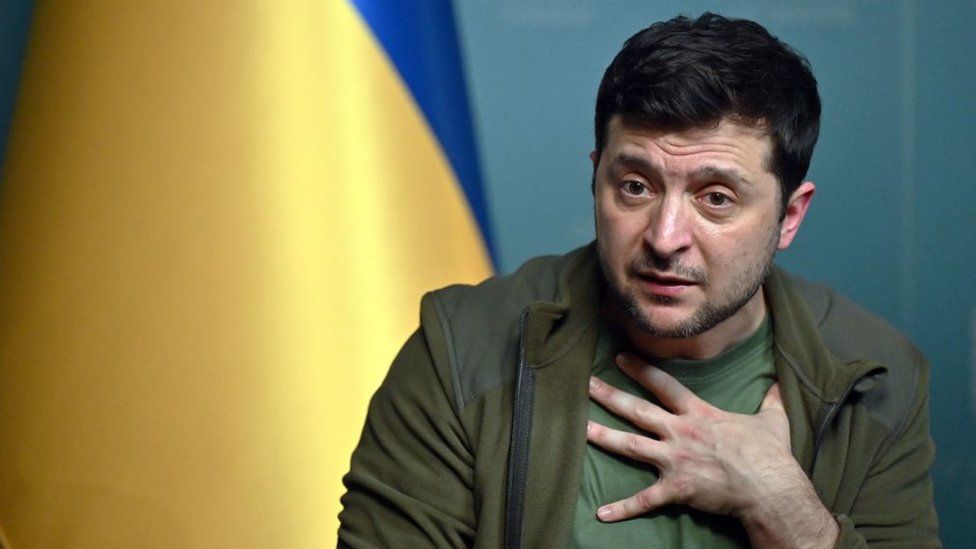 The Chinese peace offer is the result of a frenzy of diplomatic discussions that began on February 17 at the Munich security conference. There Wang Yi, China's top diplomat, presented a bullish front to western officials, denying claims made by Antony Blinken, the US secretary of state, that China was on the verge of sending weapons to Russia. Josep Borrell, the EU's foreign policy chief, said such a move would be a "red line" for the bloc. Wang insisted China wanted peace.
Read More: China asks EU to accept defeat in the Russia-Ukraine war
Although EU and NATO officials reacted extremely skeptically to a 12-step plan from China to end the war in Ukraine and called it out for its Pro-Russia bias, Zelensky himself stressed he was willing to keep the door open for a Chinese-led dialogue.
"I think the fact that China started talking about Ukraine is not bad. But the question is what follows the words," Zelenskyy said at a press conference in Kyiv. "I think some of the Chinese proposals respect international law, and I think we can work on it with China. Why not? Our goal is to gather many around us to isolate one [Russia]."
Given that Zelenskyy is ready to criticize nations like Hungary and Germany for growing too close to the Russians, this was somewhat odd.
You see, the president of Ukraine is engaging in a diplomatic long game with Xi Jinping, the president of China, who is Moscow's top friend. Despite the Chinese's "no-limits cooperation" with Russia, there are good reasons to avoid upsetting them. Instead of pushing Beijing away and running the possibility of Xi Jinping sanctioning significant weaponry transfers to Russia's armed forces, Zelenskyy prefers to keep it on board as an investor, trade partner, and possible middleman. China's substantial financial resources will probably contribute to Ukraine's reconstruction after the devastation of war in the coming years.
To be clear, Beijing and Kyiv are hardly strangers. Before the war, China was Ukraine's leading trade partner as well as being a massive market for Black Sea barley and corn. It also invested heavily in Ukrainian infrastructure such as ports and telecommunication. At pains to avoid ructions with such a crucial partner, Kyiv even abstained during a U.N. vote last year to condemn China's persecution of its Uyghur Muslim minority.
Read More: China is planning to invade Russian Far East as Putin remains occupied with Ukraine
Chinese exports to Ukraine are dominated by electronic goods such as mobile phones, computers, and other machinery & equipment. The bulk of Ukraine's consumer goods imports such as clothing, footwear, and bicycles come from China. China is also a big provider of medicines (e.g. antibiotics). China mainly imports commodities from Ukraine such as iron ore, agricultural products, and basic metal products. Grains (mainly maize, barley, and wheat) accounted for half of China's agricultural product imports from Ukraine in 2020. The only important high-tech product that China imports from Ukraine is jet turbine engines. China buys nearly half of Ukraine's iron ore production, barley, jet turbine engines, and vegetable oils.
According to a recent report, China has retained its status as Ukraine's top foreign trade partner in January-February, 2023, with combined bilateral trade of US$2.3 billion, or averaging just over US$1 billion a month. China is a key trade partner for Ukraine, providing 14.4 percent of its imports and a destination for 15.3 percent of its exports.
China mainly exported machinery, equipment and vehicles, fuel and energy products, and chemical products to Ukraine. It imported food products, metals, metal products, and some machinery, equipment, and vehicles.
Not only this, Ukraine even joined China's Belt and Road Initiative in 2014, and a BRI trade and investment center opened in Kyiv in 2018. Chinese companies have been investing in Ukraine's ports. COFCO, China's state-owned agribusiness giant, invested US$50 million in Mariupol – now a frontline city in Donetsk province, which has been besieged by pro-Russia separatists since 2014 – to triple its agricultural transshipment capacity. Chinese companies also have been involved in projects to dredge the Ukrainian ports of Yuzhny (north of Odessa) and Chernomorsk (south of Odessa).
Read More: China makes the last-ditch effort to prevent its faulty weapons from getting exposed in Ukraine
Pre-conflict, Chinese companies also saw opportunities in Ukraine's energy sector, including renewables (solar and wind) and nuclear power. Ukraine hopes to become self-sufficient in uranium and there have been discussions with the China Development Bank about Chinese investment in this sector. China imports nearly all of the uranium it uses.
In June 2021 Ukraine and China signed an intergovernmental agreement to promote joint cooperation in infrastructure development, while the country is estimated to have borrowed as much as US$1 billion – 12 percent of the country's total budget deficit in 2020 – from China to finance road construction projects.
The Beijing-based China Harbor Engineering Company (CHEC) also won the tender for a dredging project at Ukraine's Black Sea port of Chornomorsk. The CHEC beat four companies from Ukraine and Europe with a bid price of about $15.6 million, the Ukrainian Sea Ports Authority (USPA) said in a statement on Facebook. Under the project, the Chinese company had to carry out the dredging at the port's approach channel and deepen one of the port's operational areas, it said.
Money can buy anything, including the unwavering devotion of a country that has been devastated by your strongest ally. Zelensky's false bravado is restricted to Western countries solely because he is aware that any action taken against the Chinese could hamper the free movement of products and money, further jeopardizing an already battered Ukraine.