Africa is a continent that has struggled with democracy for a long time, being marred by crises, conflicts, and coups. Even when elections have taken place in African countries, the role of foreign actors has been significant. The role of outside lobbyists in African elections has been widely reported by various media outlets. These lobbyists play an important role in influencing elections in Africa in return for hefty payments. Moreover, political leaders in Africa have also hired these lobbyists to bolster their chances in elections, often disregarding the consequences.
One such powerful lobbyist is Ari Ben-Menashe, who has been hired by various African countries from time to time, sometimes ignoring the risks associated with his involvement in politics. Political leaders or governments from various African countries, such as Burkina Faso, Zimbabwe, and Tunisia, have hired Ari Ben-Menashe, an Israeli businessman, controversial lobbyist, and consultant in the past. His influence in Africa is significant and can also be dangerous. Let us delve deeper.
Burkina Faso
It is well-known that Burkina Faso has recently experienced two coups in eight months. On September 30, 2022, Captain Ibrahim Traore led a coup and became Burkina Faso's new leader, deposing Paul Damiba, who had only come to power in January last year through his own coup.
Read More: Western intelligence's nefarious activities in Africa inspired Game of Thrones
According to a report, Damiba, the Burkinabe Lieutenant-colonel, deposed President Roch Marc Christian Kabore in January and hired a well-connected former Israeli intelligence officer to unblock millions of dollars in suspended US aid and even court Middle East security assistance. The report further states that President Paul Henri Damiba hired Ari Ben-Menashe and his Canadian lobbying firm, Dickens and Madson, for $500,000 to press Congress and the Joe Biden administration to release "all frozen funds" and approve an additional grant of undisclosed size.
The US had halted nearly $160 million in US aid to Burkina Faso after determining that the ouster of Roch Kabore constituted a military coup. Additionally, the Millennium Challenge Corporation, a US government foreign assistance agency, had paused a $450 million multi-year electricity grant in Burkina Faso.
Ben-Menashe's influence and power in Africa or elsewhere can be gauged from the fact that he had promised to set up meetings for Damiba with the then-acting Israeli Prime Minister Yair Lapid and Saudi Crown Prince Mohammed Bin Salman "to start a discussion about the security situation in North Africa." The contract also stated that Israel was to supply the land-locked Sahel country with military equipment for its fight against Islamist militants.
Tunisia
As per a report, Ari Ben-Menashe was reportedly paid $250,000 to advocate for Nabil Karoui, a defeated Tunisian presidential candidate, even though Karoui denied ever hiring him.
The report states that the payments were made via two intermediaries: Karoui's wife Salwa Smaoui and Salim Hamdadou, who Ari Ben-Menashe identified as a friend of Karoui's. The payments were made soon after the first round of the Tunisian elections, which saw Karoui advance to the second round along with eventual victor Kais Saied.
Ari Ben-Menashe stated that Smaoui and Hamdadou paid him because Karoui was in jail at the time on money laundering charges unrelated to his lobbying. However, according to the initial lobbying contract filed with US authorities, four days before his arrest on August 23, 2019, Karoui had hired Ben-Menashe to help arrange meetings with US officials and boost his profile ahead of the elections.
Read More: DRC, Zambia and more; How the West controls election results in Africa
Furthermore, Ari Ben-Menashe reportedly maintained regular, ongoing telephone communications with the US government to advise Karoui until the contract was terminated sometime in October. He also claimed to have gotten Karoui out of jail through some "friends" in the US but declined to identify them. This meddling in Tunisia's elections is not without consequences, as the country bans foreign financing of elections and has a cap on campaign contributions that's below the $1 million called for in the initial contract. The Democratic Current party even filed a criminal complaint with the public prosecutor at the Tunis Court of First Instance, calling the contract a criminal act.
Zimbabwe
There are reports about the Zimbabwean government paying Ben Menashe in 2002, US $400,000 to promote its battered image abroad, according to a United States public relations firm, O'Dwyer's PR Daily. The online PR company claimed that Ben Menashe received US $400,000 through Dickens & Madson, due to heavy travel-related expenses.
Furthermore, Ben Menashe is also the person who helped manufacture the "evidence" that resulted in treason charges against Zimbabwe's opposition leader. His 2003 testimony in the subsequent trial led the judge to brand him "unreliable and contemptuous," as per a report.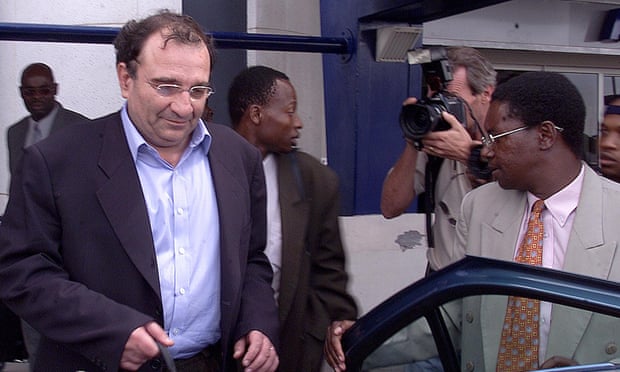 Ben Menashe also has a reach in other countries like the Central African Republic. According to a report on Nov 11, 2011, Jacques Bouchard Jr., a director of international business at Heenan Blaikie LLP, met the then-president of the Central African Republic and signed a contract on behalf of Mr. Ari Ben-Menashe that promised to obtain "at least a dozen" Russian attack helicopters for CAR.
Read More: Democracy in Peril Chapter 1- Dark Side of Israel in Africa's Election Rigging
As per the report, the contract also outlined specific lobbying services to be performed for the Central African Republic by Mr. Ben-Menashe and his Montreal-based company, Dickens & Madson (Canada) Inc. The first order of business, the contract reads, is to lobby for "a gift from the Russian Federation of at least 12 KA50 helicopters as well as training and maintenance activities associated with those aircraft," plus a grant "whose value could reach US$50 million."
We have previously informed our readers how Western lobbyists can influence DRC's elections as political leaders approach them to bolster their chances.
Read More: Western powers hold Africa's elections hostage
It is astounding that a single businessman, a controversial lobbyist, or consultant can hold unlimited power over so many countries in Africa. However, what does it mean for the continent and its people? It must not be forgotten that when foreign lobbyists are hired, they often represent the interests of a foreign country or organization rather than the interests of the country that hires them. Not to mention that it may also undermine democratic processes in Africa, where democracy has already suffered so much. In turn, it may lead to the erosion of trust in the legitimacy of elections in Africa. So African leaders, don't let foreign lobbyists lead you down the garden path to your own downfall. It's time to kick the habit of depending on them for short-term gains and start investing in the long-term future of your nation.