Ukraine, amid war-torn chaos, has emerged as the go-to surrogacy haven for Western couples seeking parenthood. But behind the brave smiles of new parents lies a shadow of corruption, abuse, and economic struggles, calling for a deeper look at the nation's surrogacy tale.
Ukraine has long been known as a surrogacy hotspot, with a quarter of the world's surrogate babies born there in 2018. Despite the ongoing war, surrogacy clinics in Kyiv are still attracting foreign couples, including those from Italy, Romania, Germany, and Britain, eager to have a child.
That percentage has likely increased since Moscow banned the practice for foreign couples last year, with Russian lawmakers citing the need to "prevent the trafficking of our children."
Dark Shadows of Corruption and Abuse
In Ukraine over 1,000 children have been born in Ukraine to surrogate mothers since the start of the Russian invasion, with more than 600 born at the BiotexCom clinic in Kyiv, one of Europe's largest surrogacy clinics. Pechenoha, one of the staff of Biotexcom said "I have not met a single woman with a good economic situation who has decided to go through this process out of kindness."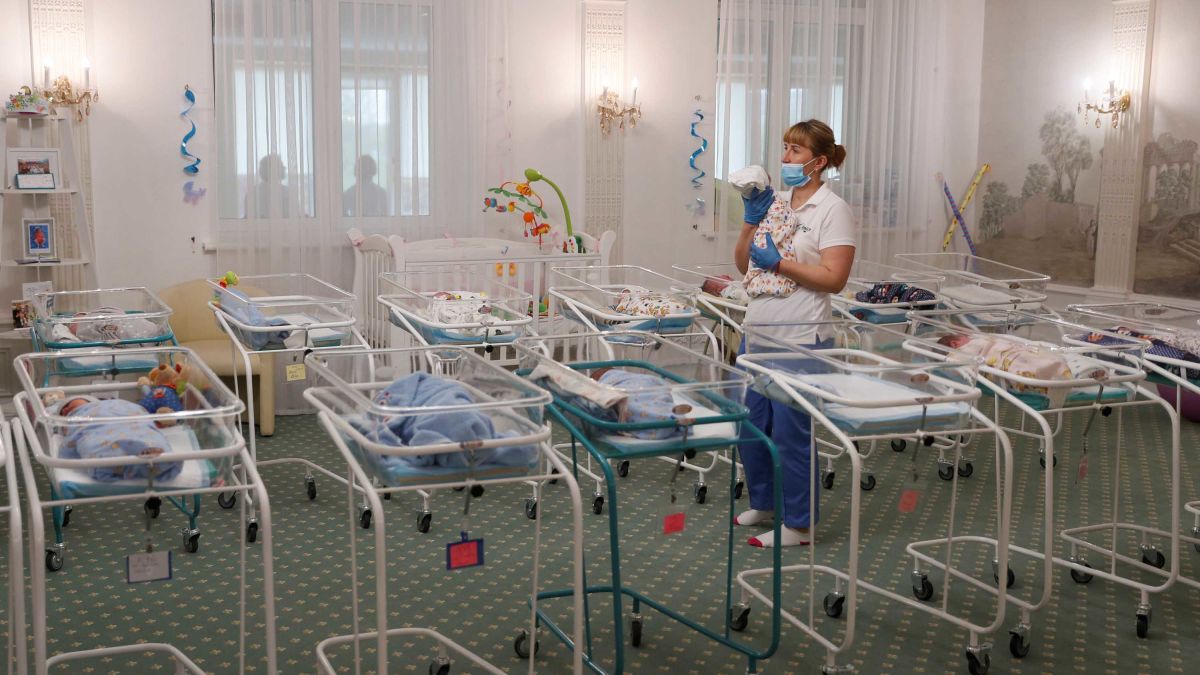 Economic Setbacks and the Call for Women's Return
However, behind the apparent success of the surrogacy industry, allegations of corruption and abuse have surfaced, raising concerns about the authorities' protection in both Kiev and Washington. The industry has faced criticism, with some referring to clinics as "children factories" and calling for restrictions on foreign use of Ukrainian surrogate services during periods of martial law. 
For the surrogate mothers, financial reasons often drive their decision to carry a child for others, but the process is significantly less joyous. 
One Ukrainian woman told Al Jazeera in 2018 that the German firm promised her an apartment for the duration, but forced her to share it with four other pregnant women, and to share a bed for seven months of her pregnancy. Another said that women who left their accommodation and failed to return before a curfew would be subjected to fines, as would women who criticized the company or attempted to communicate with the foreign parents. 
Read More: With the click of a button, Zelensky has burnt his legacy to the ground
"We were treated like cattle and mocked by the doctors," she said.
Moreover, Ukraine's economy has faced significant setbacks due to Russia's invasion, with a staggering 30% contraction in 2022. As a result, Ukraine is pleading to its women to return from abroad to bolster the economy.  Bloomberg reported, Ukraine is planning an incentive scheme to call Ukrainian women back into the war-torn nation from Europe. 
Owing to the war, many intelligent and talented individuals, particularly young women, have left Ukraine. The exodus of skilled individuals from the country is becoming a hindrance to Ukraine's economic progress, resulting in the loss of valuable human resources. 
Read More: Zelensky officially declares himself the dictator of Ukraine
However, Ukraine's focus on encouraging Ukrainian women to return seems surprising, as it appears to be based on misinformation and plain lies. It's unrealistic to believe that by simply bringing back women, Ukraine wants to generate a revenue of $20 billion. 
Now, let's not forget Ukraine being labeled as a "European hub of Sex Tourism." Before the Ukraine war, sex tourism in the country was on the rise, attracting foreign visitors seeking sexual activities. Unfortunately, Ukrainian women gained an infamous reputation for engaging in prostitution for meager earnings. Which clears the air and give answers to our questions. 
Now, despite the complexities of the surrogacy landscape and the ongoing conflict, Ukraine's surrogacy clinics have emerged as the top choice since Feb 2022. 
It seems like even amid conflict, people are eager to be parents, but with the industry's reputation for corruption, it's not just baby bumps that have everyone talking! 
Watch More: