Xi Jinping – we all think of him as an invincible dictator who rules China using brute force. Well, that is most certainly the case. But that's it. This despotic Chinese ruler is a "roaring lion" only within the comforts of the Chinese territory. Outside, he is a drenched cat who shivers at the slightest gust of wind. From forcing his diplomats to strictly follow the "wolf warrior" mode of operations, to now pleading world leaders to 'cooperate' and work together with China – the CCP General Secretary most definitely seems to be suffering from a bipolar disorder of sorts. 
China today faces global criticism and scrutiny over a variety of issues. There are just too many issues which the free world order can use against China. For Beijing, the heat is getting just too much now, which is why Xi Jinping is changing his tone and tenor. According to the Epoch Times, Xi Jinping changed his "wolf warrior" tone to "cooperation" and "fusion" with other countries at a July 16 virtual conference with US President Joe Biden, Russia's Vladimir Putin, and other world leaders of the Asia-Pacific trade group, APEC.
The report added that in the latest speech, Xi didn't mention the topics previously mentioned almost every time when he delivered messages overseas, such as the Chinese regime's ambition "to shape mankind's common future," and his criticism of Western countries "trying to teach China" by pointing out China's human rights issues. Furthermore, Jinping also did not get into verbal brawls with the heads of other countries during the meeting. 
The CCP General Secretary was quoted as saying, "We should tear down the walls [barriers between countries], instead of building walls. We should open up the borders instead of isolating. We should fuse [with each other], instead of decoupling…Cooperating and achieving win-win results are the unique right way."
Despite the fact that China has hardly opened its markets for the free world order to operate safely in, Xi Jinping had the temerity during the APEC meeting to say, "Opening the border and interacting with each other is the general trend. We should promote the freedom of trade and investment, and make it easy. Then we can safeguard the multilateral trading system with the World Trade Organization at its core." Xi then urged the countries "to strengthen our economic and technical cooperation."
Read more: Frustrated Xi Jinping directs anger at English teachers as youth dig anti-CCP content despite censorship
In his enthusiasm to please leaders of the free world order, Jinping also offered China's cutting-edge spy-surveillance systems to the member countries. This large-hearted positive behaviour by Xi Jinping comes no less than two weeks after he said China will not allow "sanctimonious preaching" or bullying from foreign forces, and anyone who tries "will find themselves on a collision course with a steel wall forged by 1.4 billion people". This bullish speech – replete with supposed courage and bravado came on the 100th anniversary of the founding of the CCP.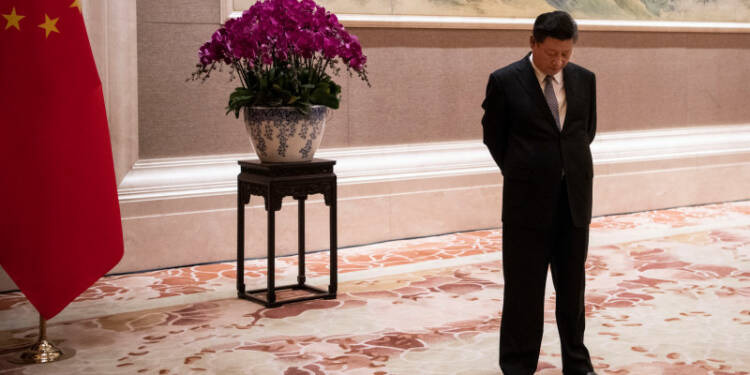 In his speech on July 1, Xi reiterated longstanding pledges to "restore" Taiwan. Xi said this remained an "unshakeable commitment" and added, "No one should underestimate the resolve, the will and ability of the Chinese people to define their national sovereignty and territorial integrity." 
Much like China's recent construction of 100 "nuclear missile silos" and the red rogue country's plans to induct its third aircraft carrier this year, Xi Jinping's bravado is all bark no bite. While the "missile silos" which China wanted the world to believe would store nuclear weapons have turned out to be wind turbines, China's under-construction 003 aircraft carrier is toothless since it will not have any new fighter jets. Similarly, Xi Jinping is a brave, stern and invincible leader only domestically. 
When faced with the outer world, the man turns into a baaing sheep. And this could just prove to be an opportunity for the democratic world to teach China a lesson – now that its leader's reality is out in the open.