China is building its third aircraft carrier and it is expected to be launched this year. Perhaps inspired by James Bond 007, China is building a gigantic type 003 aircraft carrier that can work to its benefit when trying to level the playing field with the United States. It will be China's second domestically built aircraft carrier and the largest ship that has ever served in the Chinese fleet. Unlike China's current Liaoning and the Shandong aircraft carriers, which are curved at their ends like ski jumps, thus limiting take-off weight, the 003 carrier is expected to have a catapult.
This system would allow the aircraft carrier to launch planes with more fuel and weapons—and not just fighter jets. Reportedly, China is also working on its fourth aircraft carrier – which will be nuclear-powered. One would obviously think that China is enhancing its naval might with an eye on Taiwan and to repulse a joint U.S.-Japan offensive against it when it does invade the island nation. That is most definitely the case. China is indeed trying to build its capabilities on the naval front to counter its challengers.
However, as much as China would like the world to believe that it has arrived as a major naval force, the reality is starkly different. As a matter of fact, China is definitely building the 003 aircraft carrier and might even launch it this year, but it simply does not have the fighter jets required to weaponise the gigantic ship. Now, pray tell, what good is an aircraft carrier without the aircraft?
According to a report by the South China Morning Post, China is likely to launch its third aircraft carrier later this year, but is not yet ready to equip the advanced platform with a modern ship-borne fighter jet because of the technical limitations of the jets so far available. Beijing-based naval expert Li Jie said Type 003 would be equipped with the world's most advanced electromagnetic catapults to launch the J-15 jets. But here's the catch – the J-15s are already used on the two existing carriers which China has commissioned. So, the new aircraft carrier would effectively bring nothing new to the table.
Lie Jie said, "The J-15 will be used for several years, because Chinese aircraft engineers so far failed to deliver a next-generation carrier-based fighter jet." A military insider told SCMP that China was developing a new carrier-based fighter jet, the J-18, while denying rumours that the J-18 would be chosen from either the FC-31 Gyrfalcon stealth fighter jet developed by the Shenyang Aircraft Corporation or the J-20 stealth fighter from the Chengdu Aircraft Industrial Corporation.
Read more: "It is so intense you can see it from space," China is dumping human waste in West Philippine Sea
The military source was quoted as saying, "The People's Liberation Army is not happy with the FC-31 and the J-20, because both are failing to meet technological and technical requirements to be the next-generation carrier-based catapult-launching aircraft."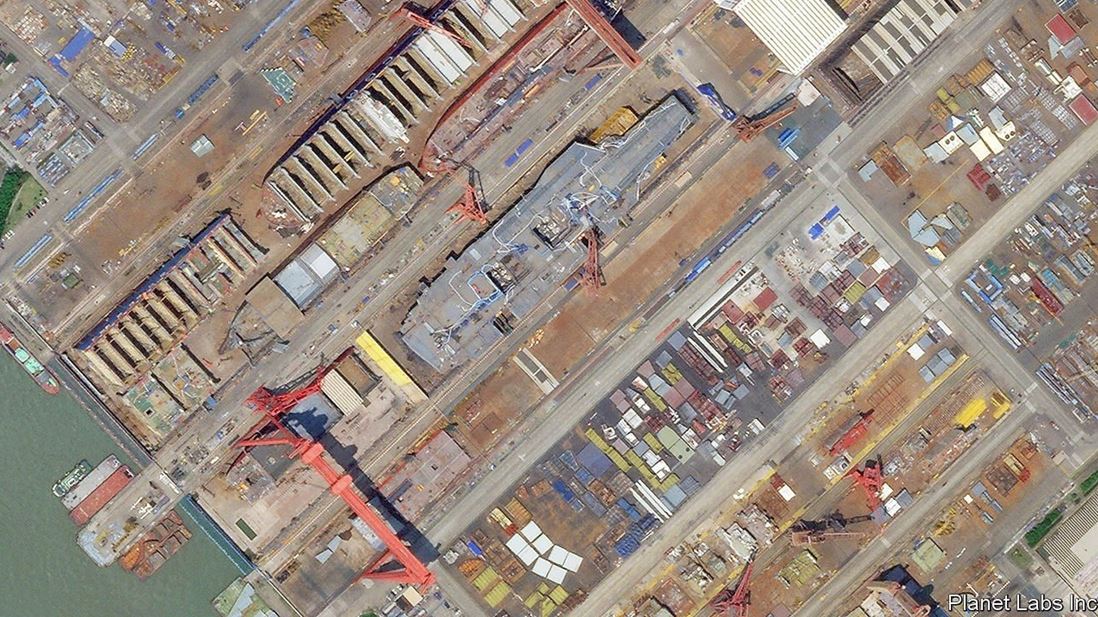 But China's plans to develop a "J-18" fighter jet for the 003 carrier are also bound to hit a roadblock since the Communist nation depends solely on intellectual property theft to keep its sham of a defense industry running. According to a report by U.S.-based think tank 'Rand Corporation', China's investment and progress in military capabilities comes from the theft of intellectual property rights or overseas mergers and acquisitions, and its domestic innovation capabilities are insufficient. Therefore, China's weapon system still lags behind the United States by "several years".
The report analyses that China has failed to stimulate military innovation and is currently lacking in three key research and development areas, including cutting-edge semiconductors, stealth submarines and aircraft engines. Therefore, China's endeavour to manufacture new aircraft for its upcoming carrier is also bound to hit a roadblock. What China will be left with is a massive carrier with no new aircraft. It would have to make do with what it has already managed to somehow manufacture by stealing foreign intellectual property and military secrets.
Much like how China's new missile silos are being made to solely fool the world and have no material inside them which can be shot at enemies, the country's aircraft carrier too promises to be a toothless, yet massive space-occupier, which can, at most, be used by Xi Jinping to parade around in order to satiate his fragile ego.