Xi Jinping's crackdowns are never-ending. They are eternal, all-pervasive and directed against everyone. Nobody can escape Xi Jinping's hammer. Loyalists, competitors, opponents – they are all treated equally when it comes to being hounded by Jinping's personal internal security agencies. Xi Jinping has been using China's domestic security agencies for furthering his own political interests for the past one year now, which is when he launched an inward purge of the CCP to cleanse it of all competition which could make his claim to the throne in next year's National Peoples Congress difficult. 
Fu Zhenghua, deputy director of the social and legal affairs committee of the Chinese People's Political Consultative Conference (CPPCC) is the recent stalwart in China who has come under disciplinary investigation at the directions of Xi Jinping. China's Central Commission for Discipline Inspection (CCDI) said in a statement on October 2 that Fu Zhenghua is suspected of "serious violations of the law and of party discipline." A report from Chinese state news agency Xinhua accused Fu of "overweening political ambition and very poor political integrity," and of spreading groundless criticism of party policy and political rumours.
Who is Fu Zhenghua?
Let's just say, Fu Zhenghua has been Xi Jinping's loyalist for the past decade. Before taking up his post at the CPPCC, Fu Zhenghua had served as justice minister and deputy police chief for the Beijing municipal police department. As chief of Beijing's police, Fu led an intense crackdown on the city's sex industry, which paved the way for his promotion as executive vice-minister for public security. The illegal sex industry which Fu Zhenghua busted was said to have influential political connections.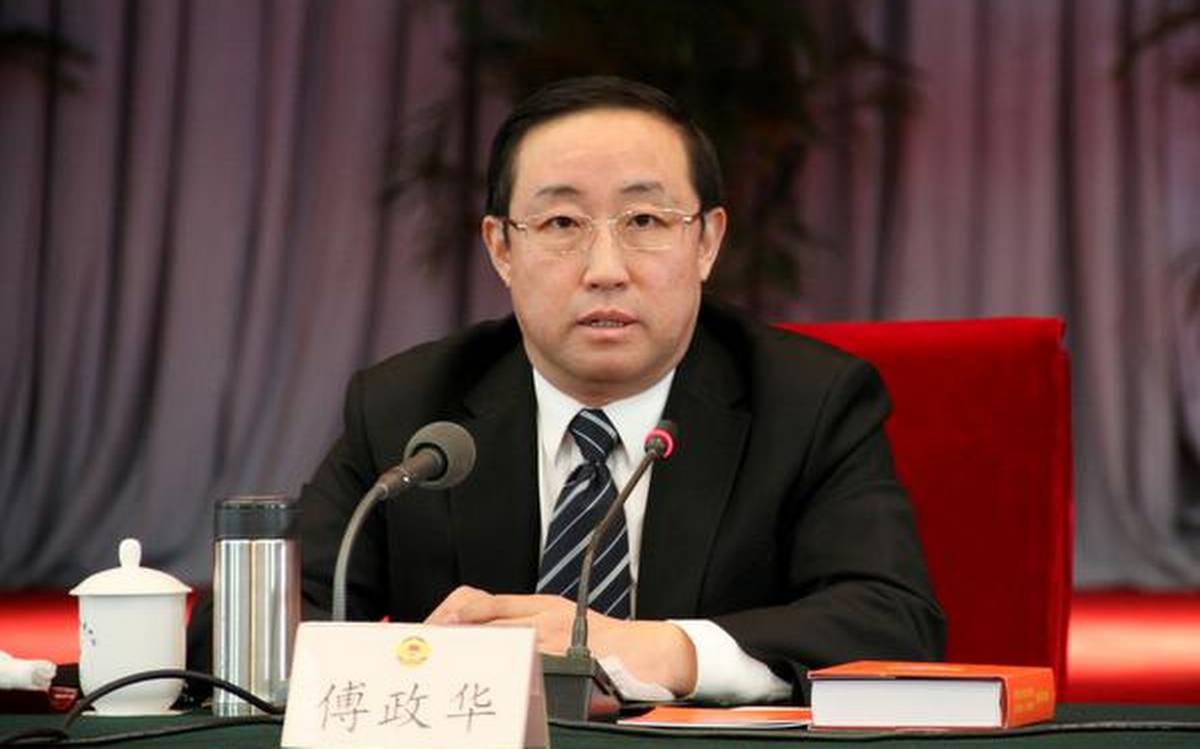 In 2013, Xi appointed him to spearhead a graft probe into Zhou Yongkang, China's former security tzar and retired member of the Politburo Standing Committee. As the deputy minister of public security, in 2013, he unleashed a sweeping crackdown on opinion leaders and influencers on Chinese social media. In the same year, the trusted lieutenant of Jinping rounded up human rights lawyers and activists from across China. 
A human rights activist surnamed Zhou quoted by Radio Free Asia, who was among those targeted in the 2015 crackdown, said Fu Zhenghua was also behind the persecution of peaceful critics of the CCP, and of members of the banned spiritual movement the Falun Gong.  
What Does the Crackdown against Fu Zhenghua Say?
The announcement of an investigation against Fu Zhenghua comes just days after the CCP announced it was expelling former vice minister of public security Sun Lijun, accusing him of "forming cliques and cabals to take over a key department," and of having a private stash of confidential documents.
Independent political commentator Wei Xin said the fall of Sun and Fu Zhenghua comes ahead of the 20th Party Congress likely to be held in late 2022, and amid a growing sense of paranoia from the CCP leadership that those tasked with enforcing its totalitarian surveillance state could also turn against it. Quoted by Radio Free Asia, Wei said, "The central government is increasingly relying on the domestic security apparatus to maintain the stability of the regime." He added, "Now, everyone in the [law enforcement system] is a suspect. They are seen as politically unreliable will never win the ultimate trust [of the CCP leadership]."
Xi Jinping is an insecure little despot. The insecurity of CCP General Secretary Xi Jinping stems from the realisation that his regime is heavily disliked, and that he is himself seen as an oppressive leader who wants to remain in power for as long as he is alive. As reported by TFI recently, Xi Jinping has set out on yet another purge spree, and he is targeting the low rung CCP officials and workers now. 
In the latest purge, China's top public security agency has declared that the remaining forces of several former high-ranking Chinese Communist Party members loyal to leaders other than Xi Jinping must be rooted out. It seems Jinping is acting on some specific intel this time around. On September 1, the CCP General Secretary asked young communist regime cadres to be "brave to fight" the enemies and be loyal to the communist leadership at the Central Party School in Beijing. A day later, China's top anti-corruption organ said on its official website that certain "interest groups" seek to seize state power.
With the crackdown on his trusted aide, Xi Jinping has made it abundantly clear that what he wants from loyalists is absolute submission, and that despite having the same, he has the right to incarcerate them at a time of his choosing. Jinping seems to be fearing a coup against him from within the CCP. With the National Peoples Congress scheduled for late 2022, the man is willing to take no chances, and is cleaning the party of all potential opponents. 
In August, Xi had demanded absolute loyalty from CCP members, and had launched an ideology drive to ramp up their faith in the party, while also simultaneously launching the crackdown on internal dissent. Xi feels that many people are joining the CCP without any ideological motivation. For Xi Jinping, loyalty to the CCP means loyalty to himself. Therefore, he is finding new ways to change the CCP. He is desperate to assert, strengthen and consolidate power. And all of this stems from Jinping's insecurity alone. Insecurity is the man's biggest bane, and it promises to be his end as well. At some point, the CCP will rise as one unit against Jinping, since taking continuous crackdowns would become intolerable for the party.