Vaccines protect you against diseases — they boost your immunity and help curb the spread of deadly pandemics, unless and until you are getting yourself inoculated with faulty jabs.
Negative efficacy registered after two doses of Pfizer and Moderna
A study released by medRxiv, which is yet to be certified by peer review, recently indicated that two shots of Pfizer and Moderna vaccines offer no protection against the Omicron variant at all. Instead, two shots of these vaccines may register negative efficacy past three months of getting the second dose.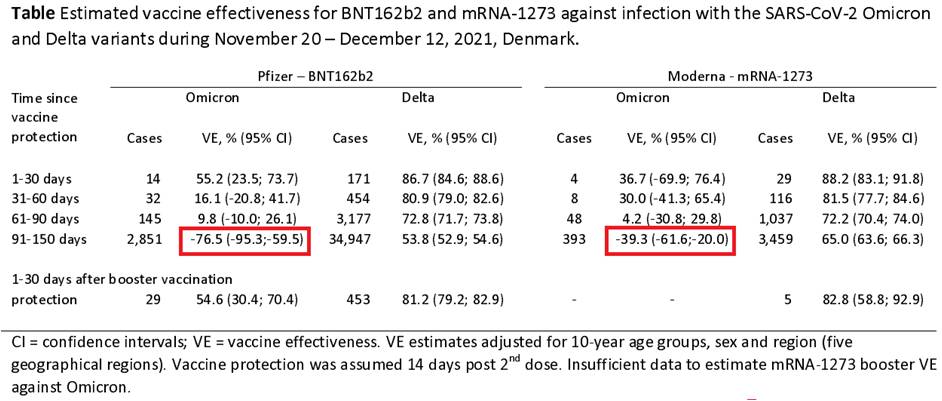 As the table suggests, people vaccinated with two doses of Pfizer vaccine maybe 76.5% more likely to catch Covid-19 than those still unvaccinated. The figure stands at 39.3% for those inoculated with two doses of the Moderna vaccine.
This uncertified study shows that people are better off remaining unvaccinated than being inoculated with these vaccines in long run (more than three months).
Also read: 'Pfizer paid experts to lie,' Pfizer funded a concerted hit job on AstraZeneca's vaccine and got caught
Mind the fact that this data is specifically registered for vaccine efficacy against the Omicron variant; the vaccine's efficacy against the Delta variant still stood at above 50% level even after three months of getting the second jab.
The same study also reveals that a third "booster" shot may yield positive efficacy results above 50% level against both variants. All in all, this study conveniently concludes that getting a booster shot is necessary for maintaining vaccine efficacy at desired levels. However, it missed out on an important point. It didn't touch upon the fact that this negative efficacy episode may repeat itself after 3 to 5 months from now.
MedRxiv study in conformity with an Israeli study
The study by medRxiv is not the only study that questions Pfizer's efficacy. An Israeli study recently published in Nature Communications had also shown a decline in antibody levels and immune system compounds after four to six months. The study had revealed that people jabbed with Pfizer vaccines in January had a 51% increased chance of contracting the virus in July compared to those who were vaccinated in March or April.
Also read: 'Pfizer falsified data,' British Medical Journal reveals the biggest vaccine scam ever
In November, several allegations concerning data reporting were levelled against Pfizer. As per the British Medical Journal, Brook Jackson, who was employed at the research organisation Ventavia Research Group, alleged that the Pfizer company falsified data, unblinded patients, employed inadequately trained vaccinators, and was also slow in responding to the adverse incidents reported in Pfizer's pivotal phase III trial.
FDA under fire for Pfizer approval
But it is not just the vaccine maker that is now finding itself faring in hot waters; the Food and Drug Administration (FDA) of the USA is also facing the same stumbling block, which has lately come under extensive scrutiny for giving its approval to the vaccine despite glaring discrepancies.
The FDA is now facing a lawsuit filed by Public Health and Medical Professionals for Transparency (PHMPT), a group of doctors and scientists who were earlier denied access to the documents in its possession, tied to the approval of the Pfizer-BioNTech COVID-19 vaccine.
In response, the FDA told a federal judge on November 15, that it had possession of 329,000 pages and that it would be able to release a maximum of 500 pages per month after thorough perusing and redaction. At that rate, FDA will require 55 years to fully release the documents in question.
Also read: FDA took 108 days to approve Pfizer vaccine but wants 55 Years to explain how
Pfizer is also accused of harbouring covert ties with the Chinese Communist Party (CCP). All in all, there is no scarcity of reasons why this company must be exposed to a thorough investigation by the federal agencies.
Even phasing out Pfizer and Moderna vaccines for better vaccines from India, like India-made Covaxin, must be considered. The iniquitous alliance of Big Pharma and the deep state has so far prevented Indian vaccine makers from accessing the American markets. It is high time that Americans press their government to get easy and early access to advanced Indian vaccines.